Two weeks ago, Inter's crosstown rivals put on a brilliant display of defending at the San Siro to prevent Barcelona scoring - for the first time this season. Milan got 7-8 men behind the ball for large parts of the game, allowed Barca to have the ball in safe areas, then snatched it back and countered with devastating effect.
AC Milan manager Massimiliano Allegri, under fire since the start of the season for the shoddy planning that saw 13 first-team veterans leave the club simultaneously, will be smiling again. Not only did his unfancied side complete a famous win over Barcelona, but theirs was a win fashioned out of age-old Italian principles – sound defending, tactical thoroughness and street wisdom.
Ahead of the second leg at Camp Nou, Goal.com highlights the areas which the Rossoneri could capitalise on if they hope to get a positive result on Tuesday.
Barcelona's defensive issues
At the San Siro, midfield general Riccardo Montolivo and captain Massimo Ambrosini worked with the defenders to close down the space Barcelona's playmakers had to use. With Andres Iniesta, Cesc Fabregas, Sergio Busquets and that man Messi all on-field, the Milan men lured them forward before banging the ball upfield for either Kevin Prince-Boateng or Stephan El Shaarawy to start an attack.
This tactic worked largely because both Carles Puyol and Gerard Pique were drawn forward. With both Dani Alves and Jordi Alba being attack-minded full-backs, the entire backline was too far up the pitch for defensive comfort.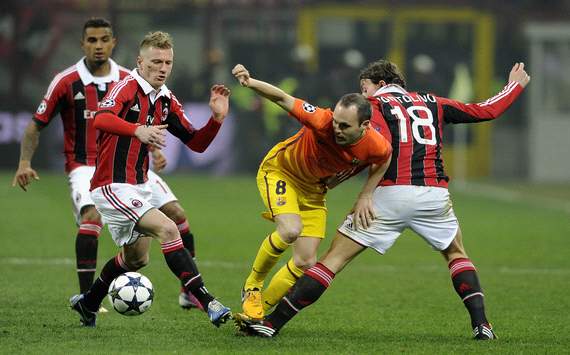 Milan's midfield kept Barca's wizards at arms length from the goal
This played right into Milan's hands – Philippe Mexes and Cristian Zapata stood fast at the back, kicked the ball upfront; then Montolivo or Ambrosini would chase and beat their harried opponents to the ball before launching a well-coordinated attack on the Barcelona goal. We can expect to see more of the same when Milan pay a return visit, because that is clearly a winning formula. And Barcelona are clearly weak at the back.
The second goal came from a brilliant long ball that Montolivo parried to M'baye Niang before it reached Sulley Muntari, who thumped it in with more than half the Barca team still on the wrong side of the half-line. To prevent a recurrence, it might help to play a three-man central defence consisting of Mascherano-Puyol-Pique, with Pedro being sacrificed.
This would naturally lead to a 3-5-2 – very unusual for Barcelona, but stranger things have happened. Like Barcelona going 2-0 down to AC Milan.
Neutralize Messi and his support cast

For all the world-class talent they possess, Barcelona depend hugely on the Argentine. Which is not entirely surprising – if you possess the world's best player, you have to give him the ball. Their systems are designed to facilitate his playing style. He is their principal goalscorer. In short, shut down Messi (and find a way to block Iniesta and Xavi as well) and you stop Barcelona.
It's not as exaggerated a conclusion as it might seem. Several of the major teams to have beaten Blaugrana since 2007 – Liverpool, Chelsea, Rubin Kazan, Inter Milan – are teams Messi has never scored against. Managers have long recognized the importance of keeping him and Iniesta quiet in order to contain the Catalan side. But that's easier said than done.
In the first leg, Barcelona did half the job themselves. Jordi Roura put Cesc Fabregas and Andres Iniesta on the same side of the pitch without defining their positions clearly; consequently, they got in each other's way and neither seemed to be sure of their role. Iniesta had Barcelona's best shot of the game, a curler that just missed the far post in the first half, and he often managed to cut in from the left, avoiding full-back Abate's close attentions. But he underperformed and with Xavi too being closed down, it effectively left Messi as Barcelona's only playmaker.
Well aware of his threat from the two defeats last season, Milan worked to shut him down wherever he went. They used multiple players across the pitch to cut off his supply and aggressively fight him for the ball. He tried repeatedly to dribble past midfielders Riccardo Montolivo and Massimo Ambrosini, but to no avail. They simply bullied him out of it.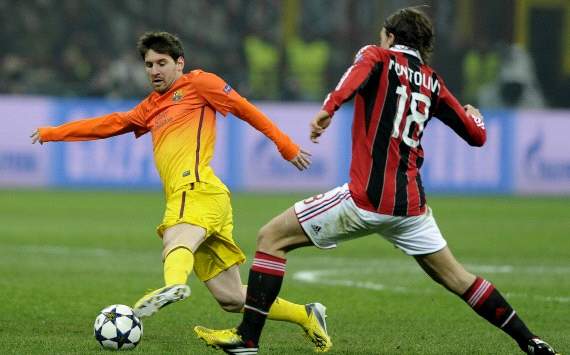 Messi had a bad day in the office against Milan at the San Siro

Philippe Mexes tailed him whenever he came near the Milan box, expertly blocking his shots and shadowing him all the way back to the half-line. It's rare to see a footballing genius of such pedigree cut as sorry a sight as Messi did at the San Siro. The wound received not so much a dash as a truckful of the proverbial salt when he subsequently failed to score in two games against Madrid.
If he manages a comeback against Milan at the Nou Camp to power Barca into the Champions League quarters, La Pulga will have restored the faith. And, like the quintessential rolling stone that gathers moss, once Messi finds his rhythm he sustains it. If that happens, AC Milan might well need a prayer.
Do you think that Milan can perform an encore at the Camp Nou? Send us your views by posting a comment below...


How do you stay up with football when on the move? With
http://m.goal.com
–your best source for mobile coverage of the beautiful game.