Alex Miller

Goal Rich List Editor


Follow on
COMMENT
Welcome to the football elite. The Goal Rich List indexes the stars still playing the game today who have been able to accrue the most wealth.
However, it is also a celebration of talent, flair, drive and dedication and the enduring ability of the game to take great numbers of individuals away from humble beginnings into a life of luxury.
Without question the volumes of money that have poured into the beautiful game over the last 20 years have moved the goalposts forever.
Massive salaries, bonuses, contract pay-offs, loyalty payments, image rights, sponsorship endorsements, TV commercials and receiving percentages of transfer fees all add up to mean that top footballers can now become rich beyond their wildest dreams.
A glance at the top ten shows that the game's biggest spoils go to the superstars who capture our imagination. Afterall, in an age of pragmatic tactics and shrewd systems designed to nullify the opposition, it is they who light up the sport through unpredictability, showmanship and sheer individual brilliance who ultimately deliver the TV ratings and fill our football stadia.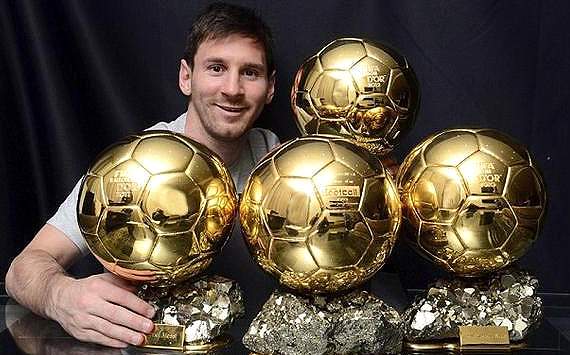 Football's finest | Four-time Ballon d'Or Lionel Messi is now paid a staggering £250,000 a week
To get into the top 10 in this year's Rich List, players must have accrued assets worth £42 million or more. For a player to have amassed that considerable wealth during their career means they will have performed at an exceptional level for a number of years and every player in the top 10 (with the exception of Rio Ferdinand) has either won, been runner-up or shortlisted for the Ballon d'Or. Lionel Messi who has won the accolade an unprecedented four times, signed a new deal with his Barcelona this season taking his weekly earnings to a mind-boggling £250,000 a week.
When we began our research towards the end of last summer we started with a long list of close to 500 footballers. I have looked back at salary levels for players throughout their careers, sponsorship and endorsement agreements such as boot and glove deals, image rights payments, transfer fees, contract pay-offs, loyalty payments, bonuses, branding and income from internationals. I have added these findings to player assets such as houses and businesses and considered payments made to charities, as well as tax related issues.
"Footballers could even be considered as underpaid when compared to stars in other top sports and showbusiness"
While ploughing through these considerations it also occurred to me that despite the considerable salaries and endorsements available to top players, money is not the only motivating factor for the majority of players. If it was, many would leave the game prematurely - but that simply does not happen. Despite being awash with cash, it is medals, success and the love of playing that are chief motivating factors driving on careers.
That is heartening to remember at a time when multi-national corporations are increasingly willing to pay lucrative sums to get close to the best players, clubs and leagues in order to boost their profiles.
Wealthy owners or organisations from the US, the Middle East, India or Russia are increasingly prominent in the game and their money will continue to find its way into the pockets of the leading players.
New leagues have emerged, meaning players have more options to weigh up than ever before. Russia, China, the US, Turkey, Brazil, Qatar and Australia are among countries now willing to pay to attract and retain top players.
These new revenue streams have strengthened the position of leading players and as a result we can expect salaries to keep rising and player power to increase - football is already one of the few areas in life where hugely successful oligarchs can be pushed around.
Over the coming seasons I would expect to see the numbers of mega-wealthy players (those worth over £25m) increase, reflecting this growing number of clubs willing to pay big wages.
The question is whether any other player can top the wealth created by David Beckham. The English star remains head and shoulders above any other player in the game in terms of maximising his brand value. Even as he approaches 38 years old he remains the most marketable footballing superstar.
He is a dedicated player who has been able to stay relatively injury-free, has captained his country, played for a number of top teams and won many titles. However, in many ways Beckham is an exception to the rule. He is blessed with film star looks and married a famous pop star. He has also been guided by superb management off the pitch and has carefully developed his image. He is extremely difficult to replicate and is in all likelihood - a one-off.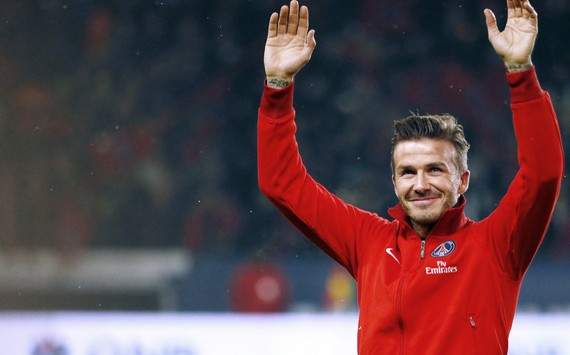 Brand it like Beckham | With his film star looks the midfielder is an ad man's dream

Pretenders to Beckham's wealth crown are Lionel Messi and Cristiano Ronaldo. They will become the wealthiest in the game once Beckham retires and these great rivals are simpler to understand - they have made their money for being among the very best footballers ever to have played the game.
Many people believe footballers are overpaid, but I would argue they earn the going rate - the amounts clubs and their owners are willing to pay - they could even be considered underpaid when compared to other top sports and entertainment stars.
Boxer Floyd Mayweather Jr has earned an estimated £55m from his last two fights alone, while at his peak Tiger Woods could command £80m a year. In Hollywood, A-list stars such as Tom Cruise can make £50m in a single year.
It is our leading players that continue to hypnotise and inspire us, while at the same time ensuring large corporations continue to invest heavily in the game. The elite players are the stars of a global show and without them there would not be such an interesting product with anywhere near as much appeal. In my opinion, they deserve every penny.