Tuesday night's battle at the Camp Nou will echo well beyond the confines of Catalunya. It is a resumption of an ancient battle: Total Football, the free-flowing style developed by Ajax in the 70s and practised to such good effect by modern-day Barcelona, versus Catenaccio, the hard-headed defensive style pioneered by Inter Milan in the 60s that is now a staple of Italian football.
There can be no two opinions about the enormity of the task Barcelona have ahead of them. They start the game needing to score two goals, and as it goes on their targets may well increase. Last season, their inability to score at Stamford Bridge came back to bite them when Chelsea scored in the return leg to knock them out of the tournament.
The Nou Camp has long been a fortress for the home side, who have not lost a Champions League game here in recent memory. Away sides have repeatedly been terrorized on the ultra smooth-and-green 'billiard-table top' surface, where the ball floats speedily across the surface, facilitating Barca's swift passing game. And the playing area will be just that wee bit larger, to facilitate greater movement and create more pockets of space.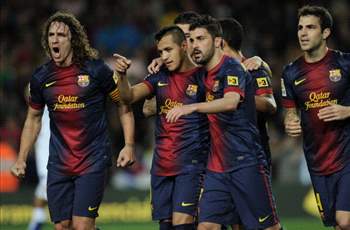 It may seem pedantic, but every yard of space counts for these guys and Barcelona often suffer in away legs due to this problem, as the home sides reduce the field width to the minimum standard required by regulation.
Playing to Their Strengths
Starting an out-of-sorts Alexis Sanchez would be unwise, and it might make more sense to start David Villa, with Cesc Fabregas and Messi playing right behind and Iniesta-Xavi operating in their usual one-two in the centre and on the wings. Sergio Busquets will hold the fort at the back and protect the defence, with Jordi Alba and Dani Alves coming upfront to support the midfield as proper wingers. The Alba vs Abate contest in the first ten minutes of the last match was an interesting duel, and Abate frequently getting up the pitch probably scared Alba off advancing beyond the half-line, denying Iniesta a crucial feeder line. Milan will no doubt look to repeat that.
On the Barcelona side, there are quite a few issues to sort out in attack. Barcelona's formation the last few weeks - since Vilanova fell ill - has been too static. Too many playmakers passing the ball in midfield; not enough attackers stitching up offensive moves. Over the course of 90 minutes at the San Siro, the most celebrated side in modern club football managed one credible shot on goal and numerous half-chances that crashed right into the entrenched wall of Milan defenders. Mind you, this was no parked bus. Milan's players fought for the ball in midfield and frequently went forward when they thought they had a chance.
Meanwhile, Barcelona's players tired themselves out by running around in passing circles that were pretty to watch but utterly useless.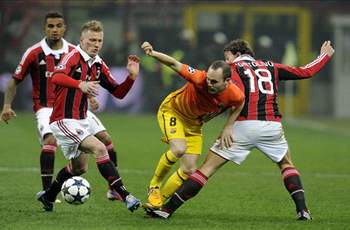 The Italians themselves have finally found a settled formation. It will no doubt be a nuisance to have neither Balotelli nor Pazzini on the pitch, and this will probably see Milan play more defensively than they did two weeks back. Montolivo-Amrosini-Muntari-Boateng looks to be working, and having four central midfielders (with Niang and El-Sharaawy playing forward) will allow full-backs Abate and Constant to stay put and watch their opposite numbers.
Despite not holding the ball up for large parts – Barcelona had a 73% possession rate – Milan's pressing in midfield was partly the reason they won: they broke up attacks before they could start. They will probably continue in that vein, but it is likely to be a tough ask on enemy territory and they will possibly concede at least once in the first half.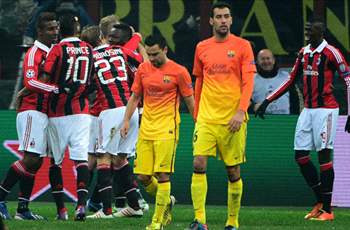 Three years ago, when Inter beat Barcelona across two legs they employed both approaches at different times : aggressive midfield pressing in the first leg to suffocate Barcelona's rhythm and score goals; and rugged defending in the second leg to protect their lead. It's anybody's guess as to whether Allegri will emulate the second part of Mourinho's Inter stratagem, but there can be no doubt that Milan will concede most of the possession to Barcelona and will defend like their lives depend on it.
At the end of the day, every Italian team's first principle is defence. That's what they're taught as kids in the academy. Protect your turf. You win by first ensuring that the opposition does not score. And, likewise, every Barcelona player's basic instinct is to sniff out space across the ground, occupy it and pass, pass and pass some more. You win by keeping the ball. Catenaccio versus total football, the latest installment of the age-old battle promises to be a real cracker.
Do you think that Barcelona can topple Milan at the Camp Nou? Send us your views by posting a comment below...
How do you stay up with football when on the move? With http://m.goal.com –your best source for mobile coverage of the beautiful game.