Ayush Srivastava




Feature

|

India




Follow on
When Wim Koevermans was announced as a successor to Savio Medeira in July 2012, there was great excitement amongst the Indian fans. This was after Savio Medeira's ill-fated reign where the Blue Tigers bowed out without a win or a goal in the AFC Challenge Cup in 2012.
It was thought back then, that the country's insipid displays in Nepal meant that Indian football had hit rock bottom.
That was before Wednesday, when a tame and defensive side coached by Wim Koevermans surrendered to Myanmar, meaning that there are big question marks over whether the Blue Tigers will even make the 2014 main edition of the Challenge Cup.
India's chances now rest on the hope that they shall finish as one of the two best runner-up's amongst the five groups. However even there, Bangladesh is already ahead of India, with two groups yet to play.
While the fans, staff and players alike wait for the scenarios in the other groups to pan out, one big question arises.
How did Indian football stoop to such a low level, that they have to hope for results to go their way, even to qualify in a tournament consisting of 'emerging and developing' nations of Asia?
And the blame lies squarely on a coach, who got it wrong on all fronts. A squad with players out of form, his starting eleven also failed to convince the Indian faithful. Add to that his tactical rigidity, even when one could see that changes were needed in the way the team lined-up.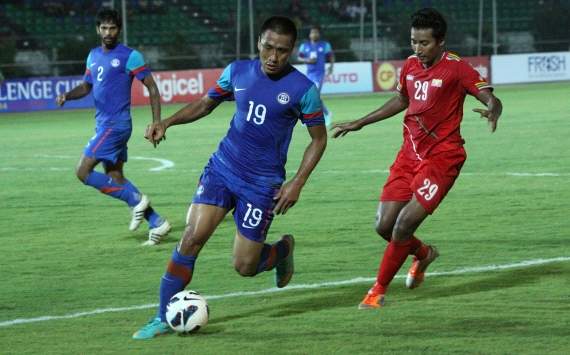 The Indian defense was under constant pressure...
Against far inferior teams like Guam and Chinese Taipei, it could be seen that India needed two strikers upfront. However Wim Koevermans defiantly struck to his 4-4-1-1 or 4-2-3-1 formation, even going on to employ the double defensive pivot of Mehtab Hussain and Lenny Rodrigues, which was uncalled for.
However nothing could match the inept decision making and tactics that one got to see against Myanmar. Handed a major reprieve by Taipei, who held the White Angels, India needed a draw against their hosts, to make it to the 2014 AFC Challenge Cup.
But the Dutchman then went on to do all that one should not have done in a situation. With the home fans egging their team on, Koevermans' side sat so deep, that often the defenders held a line well into their box.
With just Sunil Chhetri leading the line, Myanmar kept pressing forward in numbers and it always looked like a matter of time before the White Angels got that all important goal.
Instead of realizing his mistake and adding another player upfront who could hold the ball up, occupy a couple of the opponents and provide some relief to the under-pressure defense, Koevermans let the events unfold, watching passively from the side.
The 'pass-and-move' style that the Dutchman tries to use as his calling card was conspicuous by its absence, as Indian players thumped the ball clear and duly saw the White Angels returning at them with another wave of attack.
With Bob Houghton, atleast these long-ball tactics had a method to them, while here Sunil Chhetri was reduced to chasing lost causes, while Robin Singh and Jeje Lalpekhlua looked on from the bench before being brought in for the final 10 minutes or so.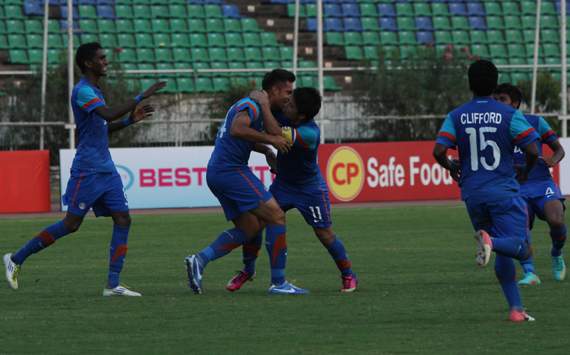 Nothing to be glad about...
Leaving nine players behind the ball, one cannot even say that it was the players' fault, as they seemed under clear instructions to try and hold back for a draw.
The inevitable eventually happened when Soe Min Oo gave his side the lead, with the Blue Tigers being undone by a winger breaching their deep back-line, which had no time to recover and paid the price.
Doing what he should have done almost half an hour ago, Izumi Arata and Robin Singh were thrown into the fray, but a frantic latecharge came too late to make an impact.
In the end, Koevermans looked to blame 'missed chances' for the debacle, but apart from Jewel Raja hitting the post and a late Arata effort that the keeper saved, one cannot remember a chance when the White Angels' custodian had to intervene.
Infact it was the home side that had more chances, with Subrata Paul always on his toes, while Kaw Zayar Win missed a couple of very good opportunities.
Koevermans summed up the day's mishaps by saying, "We have ourselves to blame."
Maybe he should have a good hard look at the mirror himself.
How do you stay up with football when on the move? With http://m.goal.com –your best source for mobile coverage of the beautiful game.