All eyes in the football world were amazingly transfixed on Old Trafford in last night's spectacle as Manchester United entertained a buoyant Real Madrid in the Champions League Round-of-16 second-leg with the reverse fixture at the Bernabeu finishing 1-1. The advantage was definitely with United, given Sir Alex Ferguson's tactics always proving to be decisive in such crunch situations.
Leaving out Rooney on the bench might have been viewed as a perplexing decision but it did pay off with United going in front just after the start of the second half through a Sergio Ramos own goal. The plot was set for a grand-stand finish but Nani got sent off for what looked like an unfortunate and unintentional high boot on Alvaro Arbeloa. This enormously tipped the scales in Real Madrid's favour with Luka Modric and the prodigal son Cristiano Ronaldo scoring in quick succession, meaning the Los Blancos went through to the last eight 3-2 on aggregate.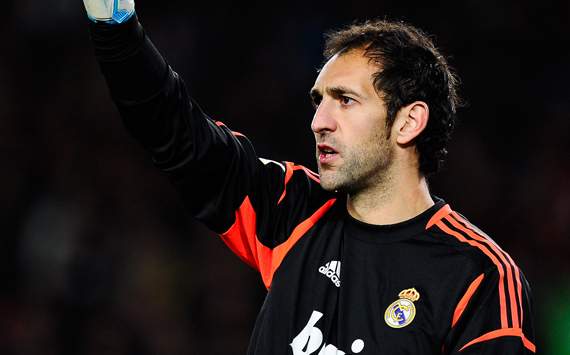 Considered a panic buy, Lopez has more than risen to the occasion
The above two paragraphs is all most people might be interested in given last night's controversial result. In retrospection, Real went through owing to Nani's shocking exit. But not many will pay heed to the former's 'stand-in' goalkeeper Diego Lopez putting in a world-class performance before and after the sending off. The keeper who is enjoying his second stint with the white of Madrid had a night to remember with some absolutely outstanding saves to keep out the likes of Robin Van Persie, Danny Welbeck and Nemanja Vidic.
In a fixture which was expected to be a platform for both sides' attacking prowess to outshine the other, all the limelight in the end was hogged by their respective keepers – David De Gea and Diego Lopez. It was undeniably a game of two legs as far as the goalkeepers were concerned. If De Gea was instrumental in thwarting Ronaldo & Co at the Bernabeu, so was the lanky Lopez unquestionably unbeatable at Old Trafford. Keeping Nani's red card out of the picture (which is tough), the men in between the sticks went a long way in deciding this high-profile Champions League encounter.
Lopez never switched off against United at Old Trafford
Lopez was first called into action on 21 minutes from a United corner. After some good play on the right, Giggs flashed in a corner which Vidic thundered onto the post. The ball ricocheted off the upright and rebounded off Danny Welbeck, just to find its way into Lopez's lap on the goal-line. Welbeck was caught offside and Lopez had his lucky break.
Later on 34 minutes, Lopez would have definitely had a bitter-sweet taste in his mouth. Van Persie was pushed to the outside by the Real defenders; but the Dutchman unleashed a stinging drive from an acute angle which the Madrid keeper unconvincingly parried into Welbeck's path. Quick to atone for his error, Lopez rushed out and made himself big, doing just enough to deflect the young Englishman's follow-up above for a corner.
The 31-year old keeper's low point in the game would surely have been the goal Real conceded after the break. Ramos stuck a leg out to stop a low Nani cross, but the ball went past Lopez with the keeper having absolutely no time to react.
By the time the former Sevilla stopper was called into action again, United were a man down and Real were 2-1 up, soaking the former's pressure. From a short corner, Lopez did well to save Michael Carrick's flick on. He would have definitely seen the ball late, coming through a horde of bodies, his reflexes fully activated to stop that one.
And lastly, in the second minute of five added on minutes after the regulation time, Lopez pulled out arguably his best save of the game. Vidic leapt high and smacked in a bullet header which Lopez dived majestically to his left and saved. The former Villarreal keeper adjusted magnificently to seeing the ball late, denying Vidic yet again. A goal then would have raised the Manchester team's supporters' hopes of a repeat of the Bayern Munich turnaround in the 1999 Champions League final.
But alas Diego Lopez had other ideas and the Real Madrid keeper among all the controversies surrounding his team on the night, valiantly held his own in goal and denied a stubborn Manchester United; who had some dangerous chances even after having Nani wrongly sent off.
And this hasn't been the first instance Lopez has been doing well in the Madrid goal. Since returning to the Santiago Bernabeu on 25th of January this year, Lopez has put in some really good displays like against Manchester United in the first leg and also against Barcelona in the two games played in the Copa Del Ray and La Liga.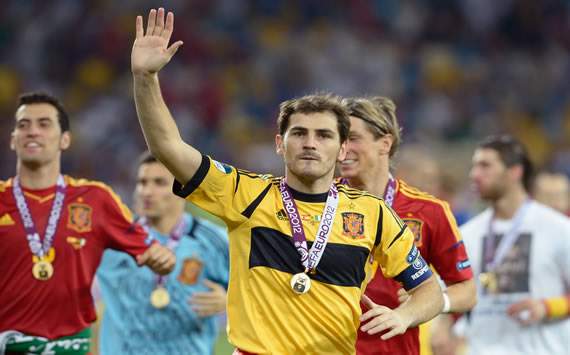 Do consistent displays from Lopez and De Gea mean toppling of the old guard in Spain's goal?
One would muse over a possibility of Lopez, and for that matter even De Gea receiving a Spanish national team call-up. Currently in unsurpassable form for their respective clubs, these two magnificent shot-stoppers definitely deserve a national assignment. And with Pepe Reina and Victor Valdes failing to impress for club and country and Casillas returning from injury, you can count on the selectors to herald in the next generation of Spanish goalkeepers or give an in-form veteran of sorts Diego Lopez a run in the side.
Another excusable fact is that four out of the eight goals Lopez has conceded since his January arrival came against Barcelona and Manchester United combined. And seeing last night's admirable performance against the latter, Lopez stands a chance of getting a longer run in the side.
A very interesting aspect of Jose Mourinho's management that works in Lopez's favour is the fact that the Portuguese has the boldness of giving chances to less preferred players if they show consistency. Take Raphael Varane's case for example. He started all of Real Madrid's ties against Manchester United and Barcelona despite Pepe being fit. Lopez can take a lot of heart from this situation. Although Casillas is showing signs of making a comeback, Mourinho will definitely give his other Spanish stopper a chance to showcase his recent consistency in the games to come.
At least in the next four games, with all due respect, Real have some beatable opponents in Celta Vigo, Mallorca, Real Zaragoza and Levante. Given this fixture list and Casillas' gradual recuperation, Diego Lopez's chances of an extended run in the side look extremely bright.
Let's just look at the whole prospect from the Casillas angle. Fondly called 'Saint Iker' for his calm and collective ways, the two-time Euros and one-time World Cup winning Spanish captain will make it in between the sticks for any side on any given day hands down.
But with Real being a little edgy earlier on in the season and now finding their feet from the turn of the year, Jose Mourinho's side most importantly need consistency. And one gets the feeling that with the time out on the sidelines and the fact that Mourinho had dropped him not long back in favour of Antonio Adan, Casillas might take some time to get back to his best. So to salvage their season and continue with their recent uniform ways, Diego Lopez seems the best bet in goal.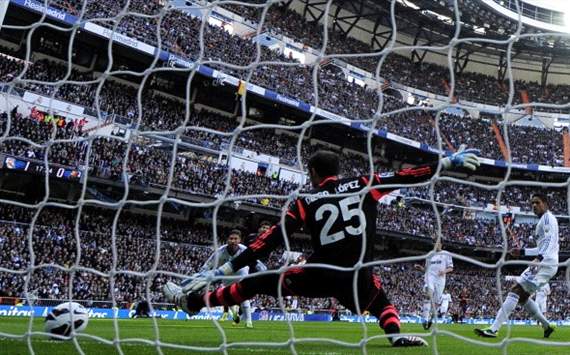 Consistent displays against Barcelona and Manchester United have made Lopez's second Madrid stint a fruitful one
Also a lay off for Lopez will definitely dampen his confidence levels. After putting in some really impressive showings, the 2006-07 La Liga winner with Madrid will be aspiring to reap the benefits of his good work with some game time assured to him.
Having formerly been on Real Madrid's payroll for seven years, Lopez knows the ways at the famous club he is playing at. Having come up from the Real Madrid B team, he went on to appear in some crucial league games towards the end of the 2006-07 season, lending a small helping hand in Real lifting the title. So such a pressure situation of defending such a historic club's goal is nothing new to this custodian.
Finally, given Casillas's stature and status at the club, it won't be a surprise if he is seen in goal in a few weeks time once he is fully fit. But don't be surprised if the unpredictable Jose Mourinho wishes to stay with the equally dependable Diego Lopez manning his so very precious goal week in, week out!
Don't forget to let us know in the comments section below or discuss on twitter @Harsh8Shah
How do you stay up with football when on the move? With http://m.goal.com –your best source for mobile coverage of the beautiful game.