Kishen Patel




Analysis

|

Europe




Follow on
Manchester United host Real Madrid at Old Trafford on Tuesday night in a season defining match for both teams. United have a realistic chance of going for the treble and Real are simply obsessed about their La Decima since Barcelona have run away with the league. In a match of tremendous importance, there is no room for errors, with one of them being as to how well either team can handle set-pieces.
In the first leg, Danny Welbeck got the better of Sergio Ramos to score a priceless away goal. Jose Mourinho would have been furious at this school boy error as Ramos, who is excellent in the air, even failed to challenge the United forward for the ball and could merely push instead. The Sevilla born Spanish national did accept his mistake and will no doubt be looking to make up for it in the second leg.
However, it is Madrid as a team that has been poor at defending set pieces. The Capital club have conceded an astonishing 14 goals from dead ball deliveries this season which constitutes a meaty 33% of the 43 goals they have let in so far this season. On the other hand, Manchester United have scored 21 goals from set pieces this season which forms up to 31% of the 68 goals they have managed to score. While in Real's case they have found the back of the net 14 times from set plays, 22% of the total 64 goals they have to their name this season. The round of 16 tie is going to be quite dependent on United's prowess from dead ball situations and Madrid's defense of the same.
DEAD BALL STATS OF BOTH TEAMS


REAL MADRID
GOALS SCORED FROM SET-PIECES

GOALS CONCEDED FROM SET-PIECES
14(22%)



14 (33%)
MANCHESTER UNITED
GOALS SCORED FROM SET-PIECES
21(31%)
While Real's main concern would be to not let a repeat of the first leg, an accomplished defender like Sergio Ramos has to be consistent and cannot afford to slip up on the biggest of occasions. Time and again this season we have seen Ramos being culpable for a goal conceded and the Andalusian has to arrest that habit of his. Just over the weekend, he let Messi slip away from him in the Clasico and the Argentine scored. However, Ramos did score the winning header but he has to thank the referee for not awarding a penalty to Barcelona after he had tripped Adriano in the box. It would have undone his hard work. Ramos' winning goal against Barca just highlights his ability to score from set pieces and just how much of a threat he and Real Madrid in general pose.
Ever since the emergence of the young Frenchman Raphael Varane, Real's early season misery from dead ball situations has been overcome and they must keep it that way. The former Lens defender has scored two wonderful headed goals against Barcelona over the two Copa legs and announced his arrival on the big stage in style. Mourinho often uses his entire team to defend corners wherein likes of Benzema and Ronaldo fall back to help. This has also become a platform for them to launch their 10 second counter attacks to catch the opponents out of position.
If Madrid are to win on Tuesday, they simply must be perfect in defending set pieces. The likes of Ramos, Pepe, Arbeloa and Varane are more than enough to negate the aerial threat of the Red Devils. Wherein Evans, Welbeck, Rooney, Van Persie, Vidic and even Patrice Evra have managed to score from dead ball situations and cannot be underestimated.
On the other hand, Manchester United were brilliant in the air against the Blancos in the first leg as they won 52% of the aerial duels. However, even if that remains the case, Real do have a chance to score from dead balls simply because of the quality they possess. With David De Gea looking shaky in collecting crosses, the Galacticos can easily sneak one past him if he makes an error in judgement. The 20 year old's physique has been questioned several times as he has failed to impose himself over others while coming out to collect or punch crosses. We have seen an improvement in De Gea's punching but whenever he's put under pressure he has struggled to catch balls. De Gea is fantastic with shot stopping and has made excellent reflex saves but he has to take command of his area with authority or the opponents would just toss him around. Diego Lopez has looked more of an assured presence in the box than Iker Casillas as Lopez stands at 6'4" and looks comfortable coming off his line to catch the ball.
The likes of Rafael and Evra are also not the best of defenders when it comes to defending crosses so the wide players have to make sure that players like Mesut Ozil and Angel Di Maria don't get chances to send in crosses with ease. Ronaldo's equalizer at the Bernabeu was a result of Di Maria getting time on the ball to whip in a perfect cross for the Portuguese star to out-jump Evra at the far post.
However, United's defensive woes aren't as bad as Real's and they have conceded only a handful of goals from set pieces but Ferguson's main concern would be to prevent Real from creating goal scoring opportunities. Moreover, they cannot concede a direct free-kick anywhere near the penalty box as you-know-who can score from 35 yards out too.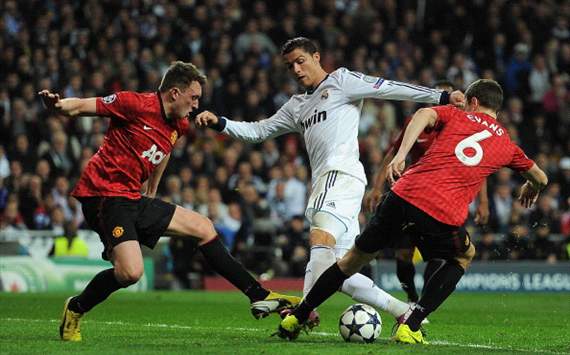 Phil Jones' absence would be a massive setback
Given that Phil Jones has been ruled out of the game, someone will have to mark Cristiano Ronaldo during set pieces as Ferdinand or Evans look the likeliest to be "burdened" with that responsibility. Moreover, Jones' absence through injury would only weaken United's defense as possible replacement Tom Cleverley is a more attack minded midfielder and isn't as adept at aerial duels as Jones is.
The former Blackburn defender was fantastic at the Bernabeu as he won a lot of aerial balls in the centre of the field. What Ferguson would like to have is a defensive midfielder who'd simply focus on cutting out Real's counter attacking threat and one who would shadow Ronaldo like Phil Jones did at the Bernabeu. No doubt this would be yet another crucial factor in deciding the fate of the tie.
The essence of European football will be at its peak on Tuesday night as Sir Alex would welcome Jose Mourinho to Old Trafford. These teams have produced some of the most entertaining matches in the history of the Champions League and it will be a classic, as Ryan Giggs promised. However, there is going to be only one winner and that will be the team which "rises" to the occasion.
Will set-pieces decide the game on Tuesday? Leave your comments below or discuss with the writer on Twitter @kishenpatel10.
How do you stay up with football when on the move? With http://m.goal.com –your best source for mobile coverage of the beautiful game.