Aditya Bajaj

Comment

l Premier League

Follow on
It was the 3rd of March last year, when Chelsea travelled to the Hawthorns tied with Arsenal on fourth place desperately looking for a win following a string of poor results and facing a possible premature exit from the Champions league. West Bromwich Albion came out winners with a solitary goal, and Roman Abramovich did what he does best.
He fired his young manager Andre Villas-Boas.
365 days have passed since that acrimonious sack, and exactly a year later on Sunday, AVB (or so he is called fondly) leapfrogged his former team to lead his Tottenham side to third place in the Premier League having beaten their closest rivals Arsenal to sit comfortably in the Champions league zone with a seven point cushion.
However, at White Hart Lane the Portuguese and his team will be celebrating for different reasons altogether.
If for Tottenham and their fans it's an ever satisfying victory in the North London derby, for Andre Villas Boas it probably means more than that.
For the 35-year old, life has come a full circle and in some fashion!
Yes, Chelsea won the Champions League after his departure last season and as much as it finally satisfied the fans and their impatient owner, what that victory also did was conceal the fact that in AVB they perhaps lost a potential long term solution to their ever-growing crisis.
It's obviously very easy to contemplate in hindsight about the state of things, now that we know how both parties have fared since then, but Di Matteo never really improved on the league form. In fact under him Chelsea faltered further in the league table than they did with his predecessor and even though it's commendable how he won Chelsea their Champions league title, it was just a matter of getting through six games as an interim boss with no pressure of getting sacked like others before him.
Whatever the result at the end of the season, the Italian had nothing to lose because he was just as interim as Rafa Benitez is now and would have happily gone back to assisting the next permanent manager in the hot seat the following summer. But in came the real job of managing the side throughout the whole season, and we all know what happened.
That's the way it has always been at Chelsea – short term goals have never allowed the club to truly find their place amongst the most consistent sides of the past decade.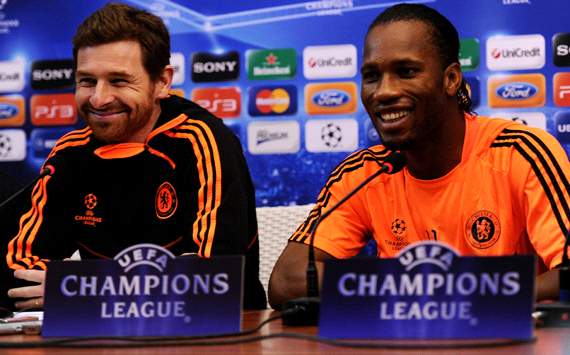 AVB and Didier Drogba | His immaturity at handling the veterans sealed his fate at Chelsea
When Villas Boas had arrived from Porto at the beginning of last season, there were comparisons with a certain Jose Mourinho, and rightly so. Just like his former mentor, he was a man with a plan to build a side that would go on to win over the next few years and not just immediately. A lot of work had to be done and for that he had to get rid of the old guard to turn a page at the club, but how one wishes he had done it differently.
It was naïve the way he had handled the media all throughout his tenure at Stamford Bridge and though his intentions were for the good of the club's future, the way he handled veterans like Frank Lampard, Michael Essien, Ashley Cole and Didier Drogba probably reflected at his immaturity and inexperience at dealing with stars at a big club.
If only things were handled better, maybe Chelsea wouldn't have won the Champions league but most certainly they would have been at a much better position than they are at present and who knows might have been one of the favourites for the title this year.
Frank Lampard's future is uncertain, Michael Essien is a part time player at Real Madrid, Didier Drogba plies his trade at the Turkish league after a brief romance with the Chinese Super League and Chelsea are in deeper crisis than they were last year, but AVB has learned from his mistakes and moved on and along with his new team has clearly emerged out as the winner.
He has matured, learned from his mistakes at Chelsea, has the full support of his team and the management and is loved by the fans all along and is certainly enjoying every bit of his great work at White Hart Lane, but across the city without doubt there are people who have probably started to wonder if at all this young manager should have been given more time just for the sake of the club's future.
The fact is that with a shoe-string budget as compared to his former side, Tottenham are moving forward and it wouldn't be too vague of the fans to even dream of a second place finish with Manchester City within touching distance.
It's funny how on one hand a club is cribbing about the 'interim one' week after week while up north in the same city another one has found its very own 'special one'.
Don't forget to let us know in the comments section below or discuss on twitter@adityabajaj
How do you stay up with football when on the move? With http://m.goal.com –your best source for mobile coverage of the beautiful game.