Mazy runs. Leading lightning fast counter attacks. Arrowing in inch-perfect crosses. Trailblazing display of speed. Raving cross-field passes. Beating up to four players in one go. World-class finishes from the acutest of angles. Does any of this ring a bell? Not many names in English football are awarded such exemplary adjectives apart from Tottenham Hotspur's Gareth Bale and Arsenal's Theo Walcott. The White Hart Lane turf on Sunday awaits these two quality players to strut their stuff in the North London derby between Tottenham and Arsenal. And if recent performances are anything to go by, the weights might just tip in the Welshman's favour.
Before rushing into the future, let's just take a long, hard look into these talismanic players' past, which has now propelled them to such a stature such that their team's fortunes very much hinge on their showing on the football pitch. The two share some really intriguing commonalities which makes a comparison between the two prior to Sunday's match an even more interesting affair.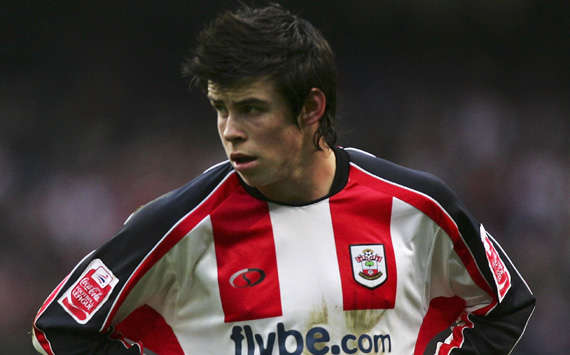 Gareth Bale: Southampton (April 2006 – May 2007); Tottenham Hotspur (May 2007 – present)
Gareth Frank Bale began his professional career at Southampton, playing at left-back. Yes, you read it right. Seeing the 23-year old perform at such unbelievable goal-scoring heights in the past season or two has faded the memory of him actually playing in a defensive wing position not long back. Revered as a free-kick specialist from that time itself, Bale earned a stellar reputation for striking a dead ball as well as a terrific sprinter during his time at St. Mary's, scoring 5 goals in 45 appearances, four of which were from free-kicks.
Bale also has the laurel of being the second youngest player ever to play for Southampton after none other than Theo Walcott (who is 132 days younger) at 16 years and 275 days in April of 2006 in a 2-0 win against Millwall.
Talk of Bale's agility, acceleration and general game-play which was said to be excellent reached the ears of clubs in the English top-flight. The Cardiff-raised lad looked up to Ryan Giggs in his formative years and there were rumours that he would go on to join the latter at Manchester United. But Sir Alex Ferguson was snubbed to the younger Welshman's signature by Daniel Levy's Tottenham Hotspur.
Southampton's struggling finances led to Bale's departure to White Hart Lane for a fee in the range of 10 million pounds. And now with over five seasons elapsed since Bale's switch, Spurs must be thanking their lucky stars while for Sir Alex it will always be a case of what might have been.
Not many people would remember that Bale was often spoken of in the same breath as David Beckham during his time at Southampton. The kind of positive acclaim that he gained out of such a comparison led to his much-hyped move to Tottenham. Bale made a brilliant start, scoring three goals in four starts for the Spurs. But midway through his first season for the club, he endured ligament damage to his right ankle, ruling him out for the rest of the season.
| | |
| --- | --- |
| Apps | 33 |
| Goals | 18 |
| Assists | 14 |
| Goal/Assist ratio | 0.94 |
The Beckham furore died down due to Bale's absence and the following season i.e. the 2008-09 turned out to be a forgettable one for the Welshman, with either injury hampering his playing time or an in-form left-back Benoit Assou-Ekotto beating him to the position.
The 2009-10 campaign started off with Bale trying to get a worrying statistic off his back. Credit to his bad luck, Bale had played 24 Premier League games for Spurs without being on the winning side. At long last, his first involvement in a victory for his side came against Burnley in late September of 2009 when he came on as a substitute.
The turning point in Bale's season came when Assou-Ekotto was sidelined due to injury and the then manager Harry Redknapp gave the former a prolonged run in the side. Bale repaid the gesture by putting in some quality performances. The icing on the cake for a challenging season came when Bale was named the Player of the Month for April along with a new four-year contract after helping the side to the Champions League qualifying phase for the next season.
The next two seasons saw Bale's transformation into an attacking player complete. He went on to score 4 goals in 11 games for the Spurs in the Champions League before they were knocked out by Real Madrid in the quarter-finals. The highlight of Bale's season was definitely the hat-trick he scored against Inter Milan at the San Siro, his first, in a 4-3 group phase defeat.
Bale scored 11 goals in 42 appearances that season and extended his stay at the club till 2015. Bale also won the PFA Player of the Year award that year.
2011-12 was a season likewise for the player, when he scored 12 goals in as many appearances. He would now stay at White Hart Lane till 2016.
At the start of the current season, Bale changed his squad number from 3 to 11, taking his game to yet another level. He has surpassed his previous personal records by scoring 19 goals in 31 appearances already, staking his claim as the team's talisman. Recent goal-scoring masterclasses have led to Bale being linked with top European clubs for a summer transfer. Comparisons to Cristiano Ronaldo have been plenty following Bale single-handedly winning games this season either from free-kicks or from absolute beauties from outrageously far out positions.
Bale has scored eight goals in his last six games and is the biggest threat that Arsenal face on Sunday. Arsene Wenger has made a statement that his side is not afraid of the Welshman's influence on the game, but from what has been seen this season, no one will be able to stand in Bale's way if he makes up his mind. Gareth Bale may well go on to decide Sunday's high-quality encounter with the kind of form he is in coupled with some renewed derby inspiration.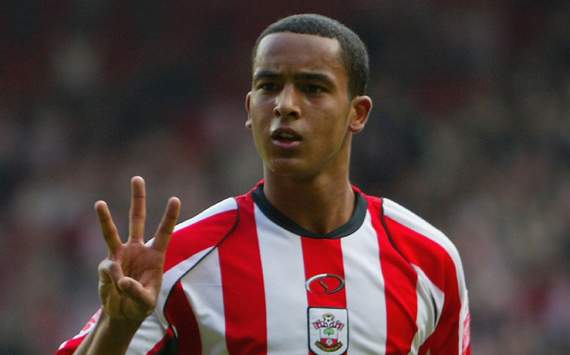 Theo Walcott: Southampton (August 2005 – January 2006); Arsenal (January 2006 – present)
One-and-a-half years is the difference between Theo James Walcott's and Gareth Bale's arrival in North London. After a stand-out youth career and a terrific half-season senior team term, Walcott was snapped up by Arsene Wenger who was and is known for his love for young footballers.
During his time at St. Mary's, Walcott became the youngest ever player to don the Southampton jersey at 16 years and 143 days when he came on in a 0-0 draw against Wolves. He scored 5 goals in 23 appearances in his short senior team stint for the Saints before being lured to the Emirates.
Bought for an amount close to 10 million pounds (note the similarities to Bale), Walcott made his Premier League debut in the 2006-07 season against Aston Villa and set up a goal for Gilberto Silva. His Champions League debut came against Dinamo Zagreb in the qualifying stage, making him the youngest Arsenal player to appear in a European competition, a record now held by Jack Wilshere.
Walcott's first goal though came against Chelsea in the league cup final, which the Blues went on to win 2-1. A persistent shoulder injury limited Walcott's performances in his first full season for Arsenal.
The following season proved to be relatively fruitful for the Compton born lad as he scored seven goals in all competitions. He will always be remembered for the mazy, pacey run he made at Anfield in the Champions League quarter-final second leg; beating the whole Liverpool back four before teeing up Emmanuel Adebayor for an easy finish. Later that season Wenger went on to state that Walcott will transform from boy to man, and will soon be a monster.
The 2008-09 season helped him stake his claim as a first team regular for the club, scoring goals at crucial times in the process. Wearing the No. 14 jersey donned previously by the legendary Thierry Henry, Walcott rose to the occasion and delivered for his club when they wanted the most.
| | |
| --- | --- |
| Apps | 32 |
| Goals | 19 |
| Assists | 9 |
| Goal/Assist ratio | 0.88 |
The next season was one marred by injuries for the Englishman, with only 15 starts to his name all season. But the season after was a particularly successful one, with Walcott notching up a career high of 13 goals in all competitions. This after a twisted leg had left him out of the League Cup final and the Champions League knockout phase.
In 2011-12 season, Walcott was given the accolade of 'the best winger in the PL' by Arsene Wenger as he went on to score 11 goals in 46 appearances and also had 10 assists to his credit.
That brings us to the current season, which has seen Walcott hog most of the headlines when it comes to Arsenal Football Club. Following a long period of speculation regarding his future in the first half of the season, Walcott signed a new three-year contract extension with Arsenal. The whole episode of Walcott's rumoured exit took centre-stage after the 23-year old made it clear to Wenger as well as the whole world of his desire to play in a central role up-front.
And what followed after was a period of Walcott goal-scoring frenzy. He scored in four successive games and in the process staked his claim as a center forward.
But in recent weeks, following Arsenal's lackluster showing and now a possible ouster from all major competitions, the onus is on Walcott to raise Arsenal's game and provide that extra zest against Tottenham on Sunday. A win against their local rivals will raise the mood of all Arsenal stakeholders and might prove to be the turning point in Arsenal's season, with a bid for 4th place testing rocky waters. If Arsenal does manage to get a good result against Spurs, be sure to find Walcott in the 'centre' of it all!
For all its worth, Sunday's showdown might just come down to how both these former Southampton players perform. Like all previous North London derbies, this one too promises to be an enticing fixture. If current form were anything to go by, Arsenal might just find themselves in a position which only Walcott can 'Bale' them out of!
Don't forget to let us know your views in the comments section or discuss with the writer on twitter @Harsh8Shah
How do you stay up with football when on the move? With http://m.goal.com –your best source for mobile coverage of the beautiful game.