Why Arsene Wenger is to blame for the Gunners' continuing inability to keep the back door shutWith the humiliating 3-1 home defeat to Bayern Munich in the Champions League still fresh in everyone's mind, Arsene Wenger's Arsenal side will take to the field this weekend in a crunch North London derby against Tottenham Hotspur at White Lane, seeking to continue their pursuit of qualification for the biggest competition in European club football.
Going into the weekend, the Gunners sit in 5th spot on 47 points, two points behind 4th placed Chelsea and four points behind their bitter cross-town rivals Spurs, with eleven games left to play. Wenger may justifiably claim that third spot is still up for grabs, but it is equally true that on current form his side look the least likely to get it. With a ruthless and clinical Bayern having all but condemned the Gunners to an 8th successive season without silverware, a top four finish remains the only way for them to salvage what has been a torturous season. As such, the Frenchman will know that defeat on Sunday is not an option.
Leading up to the big game the one thing that's on everyone's mind is whether the Gunners can produce an efficient defensive display against one of the most incisive attacking units in the country, spearheaded by the irresistible Gareth Bale. Unfortunately, Arsenal's defensive statistics over the last few seasons are hardly likely to inspire even a semblance of confidence going into a clash of this magnitude.
| | | | |
| --- | --- | --- | --- |
| Season | Goals For | Goals Against | Clean Sheets |
| 2007-08 | 74 | 31 | 15 |
| 2008-09 | 68 | 37 | 16 |
| 2009-10 | 83 | 41 | 14 |
| 2010-11 | 72 | 43 | 13 |
| 2011-12 | 74 | 49 | 13 |
Arsenal's defensive record over the last 5 seasons (Premier League)


STAT: Arsenal's clean sheet record is the worst among the top four teams for the respective seasons, for four out of the last five years
As the statistics clearly illustrate, the Gunners' defensive woes have been worsening over the years, while finding the back of the net has hardly been a problem. With the continuing departure of creative stars like Samir Nasri, Cesc Fabregas and the potent goal threat of Robin Van Persie, it must be said the North London outfit no longer possess that additional threat in front of goal to cover for their persistent defensive frailties. It is perhaps no surprise than, that it is in this troublesome campaign that those weaknesses have been laid bare to their fullest extent.
| | | | |
| --- | --- | --- | --- |
| Season | Goals For | Goals Against | Clean Sheets |
| 2012-13 | 52 | 30 | 9 |
Arsenal's statistics for the Premier League season 2012-13
Wenger's most successful years in the Arsenal hotseat, in the first half of his reign were always built on a solid spine featuring the likes of Tony Adams, Steve Bould, Ashley Cole, Kolo Toure and Sol Campbell amongst others. This is a key ingredient of any squad that delivers sustained success. A factor that the experienced Frenchman surprisingly seems to have missed since embarking on this ambitious rebuilt of the squad that coincided with the move to Emirates Stadium.
The Gunners' defence has undergone significant restructuring over the past few seasons. There has been a complete overhaul of personnel with right-back Bacary Sagna being the only notable constant. Yet, the continuous arrival of new faces in an attempt to reinforce the rearguard seems to have had little or no impact. Indeed, the same deficiencies and individual mistakes that became a hallmark of the Arsenal defending a few years ago are present and visible to this day. This reality calls for a closer examination of some of Wenger's dealings in the transfer market over the past few seasons.
Emmanuel Eboue

While Sagna has been a source of stability in this position for some time, his performances this campaign, have come in for criticism from all quarters. Additionally, the Gunners have struggled for cover on this side of the field. Emmanuel Eboue joined in 2005 for just under £2 million as a versatile player capable of playing in the position. However, he never really looked convincing either as a full-back or even in a more advanced position on the right hand side.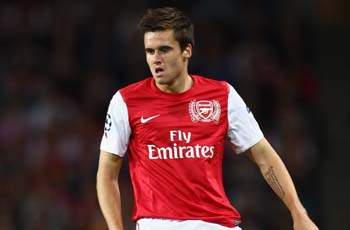 Jenkinson is one for the future not the present
Carl Jenkinson

Wenger seems to have stumbled on a player of genuine potential and evident talent in the Englishman. However, the youngster is far from being the finished article and with Arsenal's continuing trophy drought, there is a case for saying that he should have gone for a more established name with proven quality, albeit that would have been slightly more expensive.
Andre Santos

Frenchman Gael Clichy was widely regarded as one of the best left-backs in the Premier League and he offered the Gunners consistency and solidity in the position for a long time. Indeed, he was the last of the players at Emirates Stadium to experience silverware of any sort. But he exited in the exodus of star names that hit the North Londoners two years ago.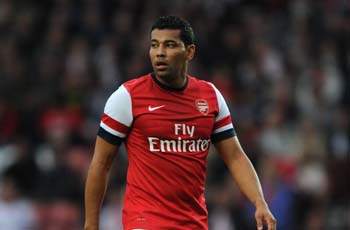 Santos proved a liability in defense
With Kieran Gibbs now promoted to first choice, Santos who arrived in a rare spending spree that followed the late departures before the start of the 2011-12 campaign, was meant to provide cover. However, as the season progressed, the Brazilian who moved from Fenerbahce in the Turkish Super League for around £5 million, looked increasingly out of his depth to the extent that he became a liability. His eventual departure in the recently concluded January window proved that the step up to the Premier League was a bridge too far for him.
Nacho Monreal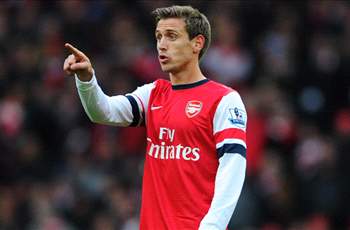 Monreal was the only January signing
The 27-year old was brought in with a clear indication of providing more depth to the left-back role with Andre Santos moving away on loan and Kieran Gibbs out injured. The Spaniard gave a good account of himself in the three games he has played for the Gunners so far and will only get better with time. But with Monreal having appeared for Malaga in the Champions League earlier, he was not eligible to play for Wenger's team where they could have used a player of his quality against Bayern Munich who repeatedly targetted the left-side of defence which was guarded by makeshift left back Thomas Vermaelen.
Thomas Vermaelen

The Belgian defender who arrived from Dutch outfit Ajax for just over £10 million in the summer of 2009, is probably the only no-nonsense, proper stopper in the current Arsenal side. However, after three consistent seasons, the pressure of the captain's armband looks to be getting to him, as in this most testing of campaigns his performances have nose-dived. This is surprising, as Vermaelen has previously captained Ajax, so the dip in his performances this season could also be down to a lack of security, as he may be feeling the absence of a reliable partner.

Laurent Koscielny

The following season Frenchman Koscielny joined from FC Lorient in Ligue 1 for a reported sum of around £9 million. After a string of impressive performances he found himself in the French national setup. However, he has been unable to sustain a consistent level of performance and has blown hot and cold in his two seasons with the Gunners, experiencing both solid and erratic patches.

It is worth noting that the 27-year old had spent just one season in the French top division before making the move to the British capital. By the time the defender joined the Gunners, they were already desperate to end a long trophy drought, which does raise the question whether he indeed possessed the pedigree for Wenger to have brought in at that stage?

Per Mertesacker

In signing the German international Wenger would not have been blamed for thinking he had found an experienced and reliable player at the back. Unfortunately, the lanky defender has failed to raise his game and crucially has been unable to bring to bear his vast experience of being a seasoned campaigner for both club and country.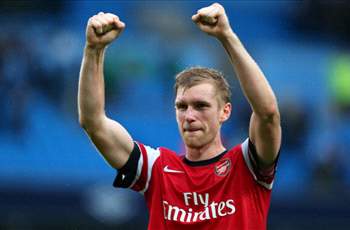 Mertesacker does not fit at Arsenal

Mertesacker has most things going for him as a defender including a strong physique and aerial ability, but he lacks the quintessential necessity of any Arsenal defender, at least in Wenger's set up that is pace. Moreover, his lack of positional sense and tendency to go missing in the big games has proved a major cause of worry. To the extent it seems, Wenger has still not decided what his first choice pairing at centre-back is.

Add to these the rather curious signings of Mikael Silvestre, Sol Campbell (second spell) and Sebastian Squillaci that also came in recent times and you have a recipe for calamity. The common string between all three players was that they were long past their sell-buy date when signed and were a clear sign of desperation from the Gunners boss.
Alex Song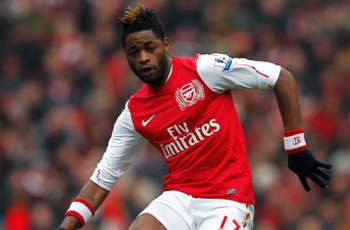 Failure to replace Song is criminal
Alex Song was a key pillar of strength in the holding role in midfield. The Cameroonian was the key security screen his centre-backs are desperately missing. Wenger has tried quite a few stop gap arrangements in utilising Abou Diaby, Mikel Arteta and Aaron Ramsey in that position, but his failure to effectively replace Song can only be termed as 'professional suicide.'
This has been a real problem area for the Gunners ever since the departure of stalwarts like David Seaman and Jens Lehmann. Manuel Almunia was between the sticks for a long time and whilst he was half decent he was never a world-beater or a player that could make the cut for a team genuinely intending to battle for trophies. To this effect, it could be argued a couple of his howlers in big games over the last few seasons, cost Wenger's men a genuine shot at silverware.

The current top two of Wojciech Szczesny and Vito Mannone are good shot-stoppers but have major deficiencies in other basic areas such as being able command the box on set pieces and advancing off the line to collect crosses.
The Italian has not filled on-lookers with confidence in any of the limited opportunities he has had so far. Unsurprisingly perhaps, although Wenger continues to retain him in his plans, he has failed to inspire the confidence of the manager to pick him unless necessitated.
STAT: Mannone has chalked up just 23 first team appearances since joining the Gunners in 2006.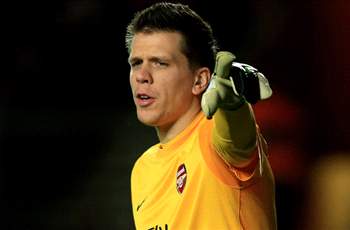 Szczesny is not ready to be No. 1
Szczesny on the other hand has definite talent that needs to be harnessed and developed. However, he is severely under-cooked to be considered a first-team regular at this stage and is desperately missing the guidance and influence of a mentor. This is a gaping hole that Wenger has failed to plug for a long time now, much to his own downfall.
So has Wenger lost his magic touch in the markets? The point certainly merits scrutiny. To date Arsenal's record signing is last summer purchase of former Malaga midfielder Santi Cazorla for around £16 million. This pales in comparison to the corresponding figures for the two Manchester clubs and London rivals Chelsea.

It is a well known fact that Wenger still calls the shots in most matters at Emirates Stadium. It is also no secret that the Frenchman has been a big advocate for 'managing the club within its means' and has always been on the lookout for value for money deals. He has always chosen to restrict his summer purchases to 2-3 players with the spending splurge of August 2011 forced out of necessity rather than will. However, some of his buys over the last few seasons leave him open to the justified criticism that he has overpaid for average players whilst seeing quality signings of the likes of Shinji Kagawa and Hugo Lloris pass him by at similar or slightly higher prices.

One of Arsenal's biggest problems has been that their spending pattern and wage structure are still stuck in the football economy of ten years ago. To that extent, it can be argued that Wenger and Arsenal have failed to make the necessary allowance for changing times. For the fact remains that the prices and wages the Gunners are now willing to offer would have fetched them top quality players a decade ago, but in these times will only bring average to good players but no established stars. Whilst it could also be pointed out, he has persisted with unproductive signings for far too long.
The lack of defensive understanding and the ability to defend as a unit is a key problem for the Gunners, who almost seem clueless and panic-stricken when they are faced with a quick counter-attack or when the ball is played into the box. This is a clear sign of a lack of leadership and a certain calmness which is key to an organised defensive effort.

The sight of an Arsenal player man-marking a key opposition threat out of the game has become one for sore eyes. Moreover, Wenger's insistence on zonal marking during set-pieces is another self-inflicted wound. The system has hardly worked wonders for any side but is a particular misfit for this Arsenal team.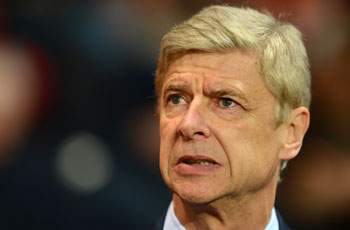 Wenger must make exceptions to his thumb rule of prudent spending
Wenger's principles and methods have won him many friends and much respect but in the same manner he has paid a heavy and very painful price for sticking by them. While his efforts to run the club in a sustained manner are admirable he must realize that his primary responsibility remains to deliver success to the football club, measured only in silverware.

As such, the Frenchman must bend his principles to accommodate a few proven stars around whom he can build a successful squad capable of challenging for trophies.
With a reported £70-80 million war-chest in the summer it a clear and simple case of back to basics for the Emirates chief and he must utilize the funds to recruit two top quality centre-halves and a man with proven experience between the sticks.

Wenger may currently enjoy the unequivocal support of the Gunners' board but with some of his staunchest loyalists now turning against him, with supporters' patience running out and with his contract set to expire next summer, it may prove difficult for the long-serving Frenchman to justify an extension to his flagging Arsenal reign.