Brendon Netto




Comment

|

England




Follow on
This weekend Tottenham play host to Arsenal in one of the most eagerly anticipated north London derby in recent times. Spurs are 3rd in the Premier League, 4 points ahead of the Gunners in 5th and there have been some suggestions, most recetly from Gareth Bale, that Tottenham are a better side than their famed neighbours at the moment. We look at how both sides have faired in their respective departments across the pitch this season.
Tottenham:

Jermaine Defoe has had a pretty good season for Tottenham, certainly miles better than his last where he had to play second fiddle to Emmanuel Adebayor. Ironically, it's the towering Togo international who has somehow stooped to live in the slight shadow of the diminutive Englishman this time around. Unfortunately, Defoe's latest injury has kept him out of the side and exposed the team's lack of depth in that department, just as Adebayor's national team commitments did in January.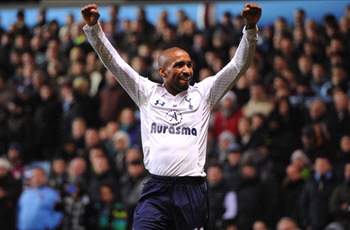 Spurs have been linked with Brazilian striker Leandrao Damiao in the summer and winter transfer windows and perhaps they could have done with his services. Defoe has been back to his prolific self during this campaign but the fact remains that he is not the ideal candidate to lead the line on his own due to his small stature. His movement and finishing has been exemplary but he has struggled to hold up the ball and bring others into play at times.
Adebayor has completely gone missing this season. Funnily enough, he has always been thought of as the kind of player who plays at his best when a contract is on the line but then retreats back into his comfort zone when his future is secure. It may only be coincidence that his form has dropped so drastically from last season now that he has signed for Spurs on a permanent basis but there will be a few suggesting otherwise. The bottom line is, they need another striker capable of playing as a target man.
Arsenal:

Every time the subject of Arsenal's strike-force is brought up, so is Robin van Persie's departure. The Dutchman left a massive void in attack when he signed for Manchester United and Arsenal have only partially filled it so far. Arsene Wenger must be credited for distributing the goal scoring responsibilities among his attacking players rather than burdening one individual with the task of picking up the mantle but only replacing the number of goals doesn't necessarily replace the impact of them.
Olivier Giroud and Lukas Podolski were the two strikers brought in over the summer and both have performed resonably well despite the latter featuring on the left wing for the most part. The two strikers, along with midfield contributors in the form of Santi Cazorla and Theo Walcott, have shared the goal-scoring responsibility. In fact, Arsenal's tally is actually marginally better than that of last season's at this stage.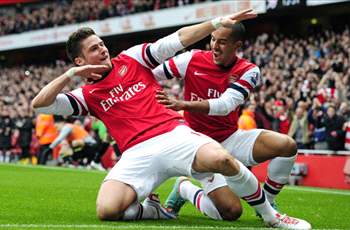 In Giroud, Arsenal have a promising lone striker but he still needs to adapt to their style of play. He is a real threat in the air and they have tried to utilize that by sending more crosses in than they normally do. However, his finishing hasn't been the best and he can go missing when starved of the right kind of service. Walcott has been used up front on occasion but while his pace can penetrate teams who play a high-line, he struggles when he has his back to goal.
His finishing has certainly improved but he is unable to hold up the ball and bring others into play which is a big part of being the lone striker in such a system. Even with the goals they've scored this season the Gunners lack that top-class striker who can score crucial goals in big games. In that respect, they do miss a talisman up front like Van Persie.
Tottenham
Arsenal
Name
Games
Goals
Assists
Goal Ratio
Name
Games
Goals
Assists
Goal Ratio
Defoe
32
14
5
0.44
Giroud
38
14
10
0.37
Adebayor
22
3
0
0.14
Podolski*
33
13
11
0.39
Note: Only includes players who made 20 appearances or more so far this season.
* - Podolski played nearly all of his games as a left winger.
Conclusion:
Both sides look equally short of firepower up front. They are each lacking that one quality striker who could make a big difference although the available strikers have done reasonably well thus far.
DRAW
Tottenham:

With the departures of Luka Modric and Rafael van der Vaart over the summer, a lot of their creavity in midfield was extracted. The arrivals of Gylfi Sigurdsson and Clint Dempsey haven't really helped in that regard with the two playing more like second-strikers feeding off the front man than attacking midfielders looking to orchestrate attacks in the final third. Moussa Dembele is also more of a driving force from central midfield rather than a Modric-like distributor.
As a result, Tottenham have become a lot more direct with their play this season. There passing isn't as intricate or inventive as last season although the January signing of Lewis Holtby has injected a bit more creativity into the side. Nevertheless, they predominantly rely on their wide players to get past players and make things happen. Fortunately, not only do they have the efficient Aaron Lennon on one flank but they also have the simply phenomenal Gareth Bale on the other.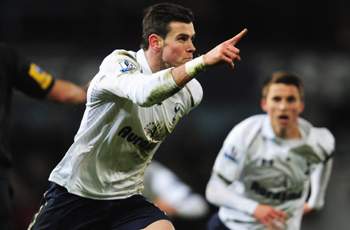 The Welshman has been in scintillating form this season scoring 19 goals so far, a respectable tally for a striker at this stage let alone a winger. Tottenham's top scorer brings the 'X' factor to the side and is always capable of producing something special. More importantly, he's developed a knack for scoring crucial goals and is one of the main reasons why Spurs are up to third in the table at the moment. In Bale, Tottenham have one of the best attacking players in the Premier League and Europe as well.
Arsenal:

The Gunners have no shortage of creativity in midfield when the likes of Santi Cazorla, Jack Wilshere and Mikel Arteta are on the pitch. However, their attacking play does seem to struggle when Cazorla is unable to get time and space on the ball. Arteta is a good distributor but he's had to play in more of a holding role this season which in turn has held him back from being a greater influence with his passing.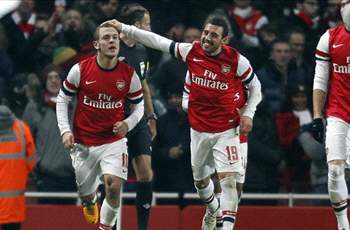 Wilshere has been like a real diamond in the rough for Arsenal this season. His technical ability supercedes that of most midfielders in Europe and his desire and level of commitment is unparalleled. He is the one player who really drives the team forward and is a leader on the pitch despite his age. Walcott has had his best season so far. He is the top scorer at the club with 18 goals although it must be remembered that he made 9 appearances as a striker.
Injuries to Abou Diaby have hindered Arsenal. Arsene Wenger refrained from buying a defensive midfielder over the summer because of the presence of Diaby but has been let down by the midfielder's persisting injury issues. The side need a strong holding midfielder and that should be top priority come the summer.
Tottenham
Arsenal
Name
Games
Goals
Assists
Goal/Assist Ratio
Name
Games
Goals
Assists
Goal/Assist Ratio
Lennon
36
3
8
0.31
Cazorla
37
11
8
0.51
Sigurdsson
34
3
4
0.21
Ramsey
35
1
2
0.08
Dempsey
33
8
6
0.42
Walcott*
33
18
13
0.94
Bale
32
19
9
0.88
Arteta
31
4
5
0.29
Dembele
30
2
3
0.17
Wilshere
25
2
7
0.36
Sandro
27
1
3
0.15
Ox-Chamberlain
24
2
3
0.21
-
-
-
-
-
Coquelin
21
0
1
0.04
-
-
-
-
-
Gervinho
20
5
2
0.35
Note: Only includes players who made 20 appearances or more so far this season.
* - Walcott made 9 appearances as a center forward.
Conclusion:
Arsenal are perhaps superior in the creative department from central midfield but Tottenham slightly edge things on the flanks thanks to that man Bale. Spurs have in Sandro and Scott Parker what Arsenal lack which is a defensive midfielder but the Gunners have the creativity in central midfield that Tottenham crave. A close contest again but Arsenal are arguably marginally better equipped in midfield.
ADVANTAGE - ARSENAL
Tottenham:

Tottenham have the worst defense among the top five teams in the Premier League at present. However, injuries have played a large part in that. Younes Kaboul and Benoit Assou-Ekotto have been long-term absentees this season while William Gallas and Michael Dawson have been in and out of the side. Jan Vertonghen has had a terriffic debut season so far and his versatility has enabled him to slot in at left back as well.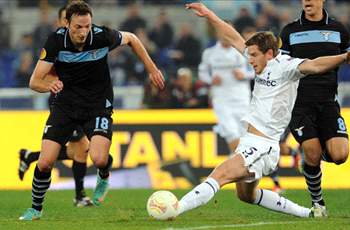 Last seasons PFA Young Player of the Year, Kyle Walker hasn't replicated his form from the last term but he remains a real attacking threat when he pushes forward from his right-back position. Steven Caulker enjoyed a successfull loan spell at Swansea City last season and has continued his progress back at White Hart Lane this time around while looking like a very promising center-back in the process.
Arsenal:

Arsenal haven't been much better than their north London counterparts defensively having conceded only two goals less in the league. They started off well and assistant manager Steve Bould was deemed the mastermind behind their new found defensive nous but it all went pear-shaped fairly quickly.
Per Mertesacker may be a force in the air and does read the game well but his lack of pace is always going to be a problem in the Premier League. Thomas Vermaelen is fantastic with his last-ditch tackles and blocks while his threat from set-pieces and ability to bring the ball out of defense on the counter-attack is remarkable. However, despite his obvious commitment to the team, he has shown a few weaknesses this season. He has switched off at times and doesn't always read the danger.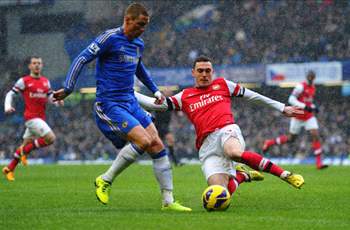 Kieran Gibbs has been in good form and even though his latest injury is a set-back for the team, he's been adequately replaced by Nacho Monreal in the January window. Bacary Sagna has been quite poor since his return from injury while Laurent Koscielny, despite all his good attributes, can be a liability at the back.
Tottenham
Arsenal
Name
Games
Goals
Assists
Clean Sheets
Name
Games
Goals
Assists
Clean Sheets
Walker
37
0
4
10
Mertesacker
33
1
0
11
Vertonghen
34
3
1
12
Vermaelen
33
1
0
8
Caulker
24
2
2
7
Gibbs
25
1
5
7
Dawson
21
2
1
6
Koscielny
23
2
0
5
Gallas
20
1
0
5
Sagna
22
0
0
6
Note: Only includes players who made 20 appearances or more so far this season.
Conclusion:
Both sides have struggled defensively and their individuals have been poor. Tottenham's back-line have been ravaged by injuries but even at full-strength, they've looked vulnerable. Arsenal's defense have been all over the place after a deceptively good start.
DRAW
Tottenham: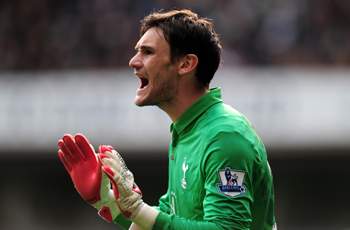 This position is well covered for Tottenham. They have two top-class keepers in the experienced Brad Friedel and France captain Hugo Lloris. The Frenchman has had to earn his place as Tottenham's first choice custodian and is doing a good job so far. If he does lose form or suffers an injury, Andre Villas-Boas will be pleased to have the reliable Friedel step in.
Arsenal: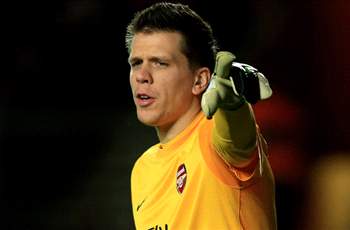 The goalkeeping position has been an area in which Wenger has struggled over the years. David Seaman was by far his best number 1 while Jens Lehmann did a good job as well. However, they have struggled to find a suitable replacement for the German and at the moment, Wojciech Szczesny doesn't look like one. The youngster can pull off some great saves but he does make some very rash decisions which are usually punished since he is the last line of defense. He's shown that he perhaps doesn't have the safest hands either.
Tottenham
Arsenal
Name
Games
Goals Conceded
Clean Sheets
Name
Games
Goals Conceded
Clean Sheets
Lloris
23
21
9
Szczesny
26
31
8
Friedel
15
21
1
Mannone
13
16
3
Note: Only includes players who made 20 appearances or more so far this season.
Conclusion:
This is the one area in which Tottenham comprehensively beat Arsenal. Wenger's troops edged things in midfield but Lloris and Friedel are miles ahead of Szczesny and Mannone, there's no question about that.
ADVANTAGE - TOTTENHAM
The better team will probably only be decided at the end of the season but the derby should give us a good indication of what each side is made up of. They are pretty evenly matched at the moment but this is a great chance for Tottenham to finish above their local rivals. However, it was around this time last season when Spurs capitulated and Arsenal drove forward so stay tuned, there may be quite a few twists and turns to come.
Who do you think is the better team? Leave your comments below or discuss with the writer on Twitter @BrendonNetto.
How do you stay up with football when on the move? With http://m.goal.com –your best source for mobile coverage of the beautiful game.