Helping football earn its excellent reputation as a sport all over the world is its uncanny ability of springing surprises and unpredictable turn of events ever so often. One such occurrence was last season when Manchester City overcame their fiercest competitors Manchester United by overturning an 8-point deficit and clinched the coveted Premier League crown on goal difference in the 95th minute of the final match of the campaign against Queens Park Rangers.
Such was the breathtaking nature of last season's finish, that a lot was expected of the champions to play in the same vein this season and push for consecutive titles. But the wily and seasoned Manchester United manager Sir Alex Ferguson, in his 27th season in-charge of the Red Devils had other ideas.
Surely losing out on goal difference last season would have been hard to digest. But what would have really frustrated the 71-year old Scot would have been the nature in which his side threw away the good position they found themselves in. United were subjected to a string of bad results right at the far end which gave City all the motivation to catch up.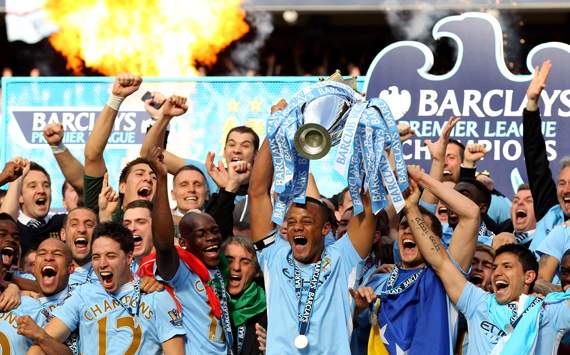 Last season City took their chances and won the title in literally the last minute
And catch up they did. City won all of their last 5 games in comparison to United's two wins, one draw and two defeats before the final match of the season, leaving both sides on 86 points each come the finale showdown, with either hoping for the other to draw or lose. United won their tie against Sunderland 1-0 and were about to begin celebrations when news came through from the Etihad that Sergio Aguero had scored a last gasp 95th minute goal to hand City the title on goal difference and break United hearts!
Today we stand at similar crossroads with both teams having played 26 games and the one from Old Trafford boasting a 12 point lead over the Citizens, also a striker strong in the form of Robin Van Persie, who has carried on his free-scoring form from last season with 23 goals in all competitions in this one. Frankly, the Premier League is Manchester United's to lose. Still, City needs to be in a good position so that they can strike when their foes falter.
HOPING FOR THE TOP
Manchester City's tricky ties


Feb 24




Chelsea (H)

Mar 16



Everton (A)

Mar 30




Newcastle (H)




Apr 8




Manchester United (A)

Apr 21

Tottenham (A)

May 4




Swansea (A)



And one statistic from last season that definitely plays into City's hands in this one: They overturned an 8-point deficit with just six games to go till the end.
In this campaign, United hold a 12-point lead with as many games to go, with a tie against City on April 8 occupying prime importance among them. The blue half of Manchester can take a lot of heart from this fact and pray their side hold their end of the bargain by getting the three points on all occasions.
But again with a dozen games to go, United definitely occupy the driver's seat, with the number 2 placed team doing horribly in recent weeks. One would definitely bet against the ruthless Sir Alex Ferguson's side to throw away such a massive lead with the kind of form they are in, but with the Premier League being as competitive as it is and the fact that even the best of teams sometimes choke at crucial moments, it would be too early to write City off.
Misfiring Chelsea though could help in the writing-off process of Manchester City. The London club visit the Etihad this Sunday, knowing a win would cement their Champions League credentials for next season by beating their rivals and help secure second place in the league, as well as do a favour to United in the title race.
If City lose or draw, they might as well kiss the Premier League trophy good-bye, as they have a set of really tricky fixtures coming up. If they win though, it might just keep the pressure on United and serve as an irritation at the back of Sir Alex's head with the relatively tougher fixtures his team has to feature in during the remainder of the season.
All this is extremely nerve-wracking and edge-of-the seat nail-biting stuff in theory, but practically speaking Van Persie & Co won't have even half of it. United's quartet of forwards headed by the Dutchman need to take one game at a time, treat every game as a final and see out the season in style, learning from their debacles at this stage last season. Though United along with City have lost only 3 games all season, the pincher is that the latter has drawn 8 matches in comparison to the former's 2. That owing to the fact that United have won 9 games from losing positions this season in the league.
SEEING IT THROUGH
Man Utd's tough fixtures


Apr 8




Manchester City (H)

Apr 14



Stoke City (A)


Apr 28




Arsenal (A)

May 4




Chelsea (H)

May12

Swansea (H)

May19




West Brom (A)



But as we know from numerous occasions in the past, it just takes one goal or one win or one mistake to change the fortunes of a club's challenge for top honours, serve as a turning point. City need to desperately hang on to that hope starting from Sunday as they take on Rafa Benitez's shaky Chelsea.
In the reverse fixture earlier in the season at Stamford Bridge, the game ended 0-0. It was also Rafa Benitez's first game in the dugout at Chelsea. At the start he did shore up the Blues' defense, but at this stage of the season his side needs to improve in all the areas of the pitch.
Keeping only City and the fight at the top in perspective, if they are to fare like how they did against Southampton last time out (losing 3-1), City will definitely lose further ground in the title race and may witness a loss of another type – their manager Roberto Mancini, if not now, then at the end of the season.
The ex-Inter Milan manager has never given the impression of being in control at the club and has not produced the desired results during his tenure, except the Premier League title, FA Cup win and the Coomunity Shield.
City also must take a leaf out of Real Madrid's La Liga season book. The Los Blancos lie 16 points off leaders Barcelona and 4 points behind 2nd placed city-rivals Atletico Madrid. The Whites' season has been similar to that of City's with defensive frailty the major reason why even they have been unable to defend their title from last season.
And now with a contingent of City stars comprising of the likes of James Milner and Yaya Toure voicing their confidence over a renewed charge for the top prize in England following the 4-0 trouncing of Leeds United in the FA Cup, another resounding victory against the Blues is of paramount importance. It shouldn't end up to be yet another case of 'all words and no play' from Mancini's men, beware.
One feels change is inevitable and imminent at the Etihad. What remains to be seen is whether the change is positive or negative for the Sheikh's men. Will the pricey lineup that the Eastlands side boast of fire right till the end or perish meekly like they have been showing signs of lately.
Will Roberto Mancini resurrect his career or surrender to the thought of moving on. Football, just as in life, is full of possibilities and the Premier League title race is a breeding ground for such unheard of and unexpected possibilities. From what has been seen this season, history in all its likeliness is not going to repeat itself, but then one must not speak too soon.
DO YOU think City have any chance of catching up with United and repeating last season's climax or will United cruise to a 20th league title? Do LET US KNOW by leaving a comment...

How do you stay up with football when on the move? With http://m.goal.com –your best source for mobile coverage of the beautiful game.