It has been almost 16 years since that memorable day in Munich when Karl-Heinz Riedle scored a brace to give Borussia Dortmund their first ever Champions League win. The North-West German club defeated a highly fancied Juventus side by 3-1 to bring home Europe's most coveted prize. Fast forward to today and Dortmund are on course to repeating that feat.
With two away goals scored against Shakhtar Donetsk and with a passionate home crowd roaring them on at the Signal Iduna Park, Dortmund are the favourites to progress to the next round. But are they genuine contenders for the Champions League especially when the likes of Barcelona, Manchester United, Real Madrid, Bayern Munich and Juventus are on the prowl?
Manchester United manager Sir Alex Ferguson certainly gave his vote for Jurgen Klopp's young side to win Europe's top club competition.
"The dark horse is definitely Dortmund. I don't think they are paying too much attention to the league. Their concentration is on the European Cup and their European form has been very good" - Sir Alex
Sir Alex has definitely hit the nail on the head when he points out Dortmund's Bundesliga form over that of Europe. 15 points behind league leaders Bayern Munich, who they will also be facing in the German Cup, Dortmund have focussed all their efforts towards conquering Europe.
Seeing that Ferguson, who has been in the managerial scenario for more than three decades which has seen him build championship winning teams repeatedly, his observation on Dortmund can be justified by his own experience with Manchester United.
With a squad that had many a star name but did not perform to its potential, Sir Alex brought in talents from the club's youth academy that would go on to shape the way United function over the years. Television pundit Alan Hansen famously quipped on United that they 'would never win anything with kids.' The very same 'kids' brought the famous treble to Old Trafford in the 1998-99 season. Dortmund's situation is not very different from that of United.
With the German club bordering on bankruptcy and losing their formerly named Westfalenstadion in the early part of the new century, Dortmund were in dire straits. Their poor activity in the transfer market, coupled with debt and a Chelsea-esque managerial policy, the Germans were a wreck.
It was only after Jurgen Klopp took over that the club began focussing more on youth development and implementing a possession-based approach into the team in addition to regaining their iconic home ground. The results were almost instantaneous as the unfancied team from the North-West pulled off a surprise league title in the 2010-11 season. This would mean that the fans in the famous Sudtribune inside the renamed Signal Iduna Park would cheer during Champions League matches from the following season.
| | | | | | | |
| --- | --- | --- | --- | --- | --- | --- |
| Competition | Played | Won | Lost | Draw | Scored | Conceded |
| Bundesliga | 34 | 25 | 3 | 6 | 80 | 25 |
| Champions League | 6 | 1 | 4 | 1 | 6 | 12 |
Dortmund's season stats in the 2011-12 season
| | | | | | | |
| --- | --- | --- | --- | --- | --- | --- |
| Competition | Played | Won | Lost | Draw | Scored | Conceded |
| Bundesliga | 22 | 12 | 4 | 6 | 50 | 26 |
| Champions League | 7 | 4 | 0 | 3 | 13 | 7 |
Dortmund's season stats in the 2012-13 season so far
Though having a young and talented squad at his disposal, Jurgen Klopp, like many of his players, was a novice to the competition. Their tendency to play attacking football guaranteed success in the domestic league but they were ruthlessly exposed in Europe, which prompted questions as to whether this team was fit to compete against clubs in the continent.
The rock-bottom finish in the group stages during the 2011-12 season allowed Klopp to identify his side's weaknesses and work on them. During that season, as they were dumped out of Europe, Klopp focussed his efforts solely on defending the league title which they had earned with such style. The venture paid off as the Borussians were crowned league champions yet again.
However during the 2012-13 season, Dortmund have been a completely different side to the one that looked like a fish out of water in the previous season. Drawn in an extremely competitive group having the league champions of Spain, England and Netherlands, it was too close to call as to who would go through from the aptly named 'Group of Death'.
Klopp's men made just the solitary signing in the summer transfer window bringing back their prodigy Marco Reus and letting go of Shinji Kagawa and Lucas Barrios. Their league campaign did not resemble their campaign the previous year as Dortmund began focussing on Europe. With Bayern Munich running away with the title, it was only logical that Klopp would set his sights on his Europe conquest.
This saw them remaining unbeaten in a very tough group which included wins over Manchester City and Real Madrid at home. In the away games, the Germans ensured that the home side would have to earn their points by pushing them all the way.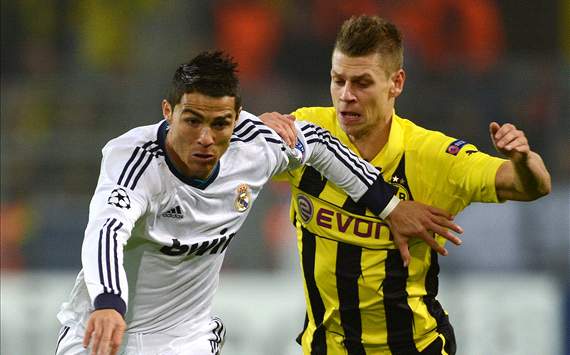 Dortmund went toe-to-toe with Europe's elite this year
With Klopp not having the biggest squads at his disposal unlike other European teams, it became hard for him to rotate his squad for games in the Bundesliga and German Cup. This saw them losing ground in the league and allowing Bayer Leverkusen to move into second place.
The emergence of arguably one of Germany's and Europe's hottest talents in Marco Reus and Mario Gotze has been the key to Klopp's team this season. The duo have resembled the telepathic understanding that Barcelona's Xavi and Andres Iniesta possess in bagfuls. Reus has continued from where he left off at Borussia Monchengladbach by scoring 3 goals in 7 appearances in the Champions League.
Reus and Gotze along with Mats Hummels, Marcel Schmelzer, Ilkay Gundogan, and Kevin Grosskreutz have all been capped at national level, with some of them being involved in the 2012 European Championships. This has brought some much needed experience to these young players who will now be able to handle the pressure associated with the Champions League much better.
After earning an impressive draw against Shakhtar Donetsk in the knockout stages of the Champions League, the Germans are clear favourites to go through to the quarterfinals. This young side can only go from strength to strength as they attempt to bring back the glory days to the club.
With all the focus on Europe's powerhouses like Juventus, Bayern Munich, Barcelona, Real Madrid and Manchester United, the Germans can quietly go about their job and can spring a surprise to Europe's elite. Nobody expected AC Milan to pull off an unlikely victory over Barcelona. It only proves that you just cannot write off any team in the Champions League.
If all goes well for Jurgen Klopp and his young team in the competition, it will only make the world sit up and take notice of this outrageously talented side.
How do you stay up with football when on the move? With http://m.goal.com –your best source for mobile coverage of the beautiful game.