Brendon Netto




Comment

|

Europe




Follow on
Bayern Munich outclassed Arsenal in the first leg of their Champions League Round of 16 fixture at the Emirates Stadium. The Germans ran out 3-1 winners on the night even though they didn't exactly deliver a vintage performance. The visitors gave their London counterparts a lesson in class and efficiency but Arsene Wenger would also do well to learn from his mistake of playing Theo Walcott as the lone striker in a game of such magnitude.
The debate over whether or not Walcott should play as a center forward has rambled on for the past couple of months now. Initially, the prospect of the England international leading the line was emphatically dismissed by most but then his hat-trick against Reading in the FA Cup and simultaneous contract negotiations, at least afforded him the chance to prove himself in a central position.
He then scored against Reading again in the league playing as a striker before bagging a hat-trick against Newcastle United. Those performances against weaker opposition only served to complicate the situation because they were awfully misleading. Arsenal battered those sides who didn't put up much of a fight either and Walcott did well to use his pace and take full advantage of some lacklustre defending.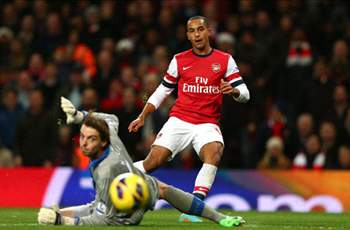 His hat-trick vs Newcastle was misleading
It's no surprise then that Walcott wasn't allowed to run riot against a much sterner Southampton defense during his next outing. The pacey 23-year old flourishes when he has space to run into but he can be painfully ineffective when facing the better sides in games where you need to be intelligent enough to lose your marker or drop into pockets of space. The 2-0 defeat at home to Manchester City was evidence of that as he barely got involved in the game although it was always going to be a difficult task given that his side were reduced to ten men early on in proceedings.
Against Bayern, Walcott was involved just once in the first half when Arsenal had started brightly despite conceding in the 7th minute and he had an opportunity to go past Philippe Lahm. He chose instead to run across the line rather than face the German skipper head-on and the chance fizzled out. Other than that piece of action, he was largely anonymous in the opening period.
He wasn't afforded any space after the restart either and his first real contribution came when he switched to the right flank in favour of substitute Olivier Giroud operating down the middle. Almost immediately, he whipped in a dangerous cross which the Frenchman struck cleanly but unfortunately, straight at Manuel Neuer.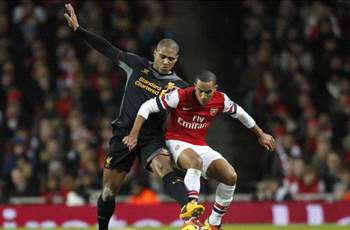 He is better used against full-backs
Before the game, many believed Walcott's head-to-head encounter with the visiting left-back, David Alaba would be one of the key battles on the field and an avenue from which Arsenal could attempt to breach Bayern's sturdy defense. Wenger's selection however denied audiences the opportunity to watch that particular plot unfold.
Alaba is strong defensively and not easy to beat but the fact is that he's a marauding full-back and will always leave space in behind him from time to time. In a one-on-one situation, you'd expect the Bayern left-back to have enough about him to deal with Walcott. However, if the Englishman timed his runs well, he would have been able to get behind the full-back especially on the counter-attack when Alaba would most likely be caught further up the pitch.
Once he's in behind the Austrian and able to stretch his legs, the chances of Alaba catching up to him would be pretty slim. Therein laid Arsenal's main threat which was unfortunately negated by employing Walcott in a central role where he was boxed-in, surrounded by the center backs and the two holding midfielders, thereby cutting off his supply as well.
When played down the right wing, Walcott has put in some good performances, scoring against the likes of Chelsea, Tottenham and Liverpool. He could have been an effective outlet for Arsenal against their Bundesliga counterparts. He may enjoy the occasional flurry of goals as a center forward against weaker opposition but will always struggle against the better defenders.
He struggled against Bayern's defense
When played upfront, he doesn't have the ability to conjure up opportunities by himself and needs to be brought into the game with good through-balls or sloppy defending. He's a bit of a luxury center forward who makes hay while the sun shines but goes missing under rather more overcast conditions, in a matter of speaking.
What's becoming increasingly clear is that Walcott's attributes are tailor-made for a role on the flanks and the sooner Wenger and the player himself comes to terms with that, the sooner he can focus on enhancing his ability in that role and benefitting the team. Even with the second leg left to play, the tie is pretty much a foregone conclusion. But if Arsenal are to at least save face and give Bayern a decent game, Walcott should be unleashed down that right hand side.
Do you think Walcott is cut out to be a striker? Leave your comments below or discuss with the writer on Twitter @BrendonNetto.
How do you stay up with football when on the move? With http://m.goal.com –your best source for mobile coverage of the beautiful game.