EDITORIAL
By Kaustav Bera
"In order to share one's true brilliance one initially has to risk looking like a fool: genius is like a wheel that spins so fast, it at first glance appears to be sitting still."
Amazingly apt words, when it comes to describing football, especially the game's most flamboyant practitioners who eke out a living through trickery and show boating, more than being consistent. While these 'consistently inconsistent' performers may delight you with their sheer genius, more often not, you are left bitterly frustrated with 'What could have happened' or 'What might have happened' had the player in question, shown some consideration to football being a team sport.
Nani has all the skills in his repertoire to be a truly world class player. What he lacks is temperament. It is unavoidable to keep the name of fellow Portuguese superstar, Cristiano Ronaldo's name from popping up in any discussions of the Manchester United player. While the former United player has attained super stardom and was United's numero uno at the age of 24, driving his team to Champions League glory and in the process becoming a global phenomenon, Nani however is still quite some way to reach his full potential, and already 26, it seems he has missed 'that' bus by quite a distance too.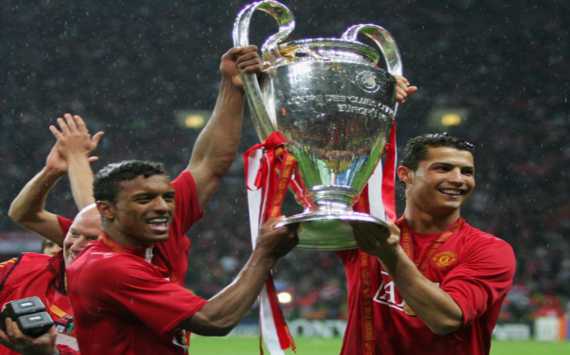 Nani has failed to effectively plug the gaping hole led by Cristiano Ronaldo's departure
During the duo's time at the English giants, Nani was always under the shadow of Ronaldo and it was widely expected that after the latter's departure, he was ready to take on the mantle of being United's game changer. But that was a daunting task and whether it was the burden of expectations or immaturity, a clutch of indifferent performances also invited the ire of Sir Alex Ferguson as he did not justify his oodles of talent. When it comes to stats though, Nani's third full season with United brought 9 assists in the league and 7 goals in all competitions, a great return and which was close to Ronaldo's third season which had 7 assists in the league and 12 goals in all competitions.
The difference was that, while Ronaldo went only upwards from there, Nani's career graph reached a relative stasis especially plagued by injuries. Last season he started gleefully as he topped the assists chart in the Premier League with apparent ease and was also scoring goals for fun, which clearly showed that at his best, he is unplayable no matter how good a full-back he is up against. While the run was prematurely ended by Laurent Koscielny's tackle, a late return into the season saw Nani cut a forlorn figure with United chasing the title, never being able to recover his form.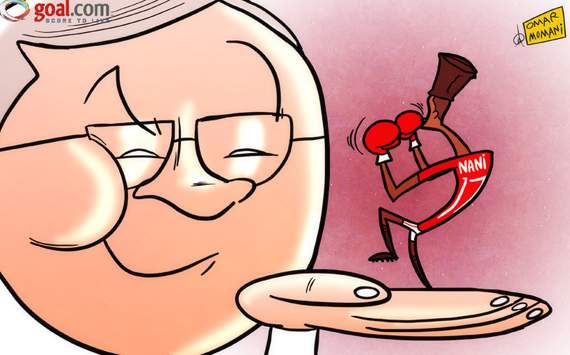 Being at loggerheads with the boss did not help Nani's cause
While football watchers are often left frustrated by the winger's antics where he would rather go for a speculative effort when it would be much more effective at trying to pass to a team-mate who had taken up a good goalscoring position, and also his apparent show boating without any end product, it is this arrogance on the pitch that has drawn him many an admirer. Technically, in spite of Manchester United's plethora of wingers in the form of Ashley Young, Antonio Valencia and Shinji Kagawa, Nani is miles ahead in terms of raw technique no matter when it comes to shooting or crossing the ball into the box.
What also infuriates the manager and fans alike, is the somewhat brazen attitude of the player. When things don't seem to click for him, he tends to give the ball away in dangerous situations and refusing to find a team-mate even though it would have been child's play for him to do so. Despite the above mentioned tendency, on his day he has the capability to deliver the right ball without even having to look up to check where his team-mate is positioned.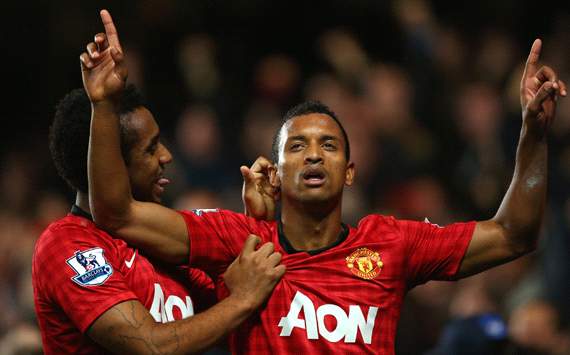 At his breathtaking best, Nani is unstoppable, no matter what the defense
Part of the gamble in playing Nani also involves his ineffectiveness in tracking back to help out his defense unlike Wayne Rooney or Antonio Valencia.
Nani

Top of the Match

Replaced the injured Jones shortly before half time and took no time in making his presence felt. Hit the post with a rasping volley before testing Federici from distance. Deserved his goal and topped off a dominant performance to set up Chicharito's headed goal.
If you noticed carefully in the game against Reading in the FA Cup, not only was Nani the standout player after his entry providing a goal and an assist, he was also trying to go back and put some tackles in outside his penalty box. A normally unimaginable sight, but this is what confidence and a right mindset gives you!
Keeping United's needs in mind, Nani is still by far the best crosser in the team, especially with the abhorrent form of United's wingers, with Antonio Valencia going through probably his worst patch, not being able to beat the first man on most occasions while Ashley Young, though more handy too is plagued by continuous injury problems and certainly lacks Nani's dynamism. In Shinji Kagawa Ferguson does have a versatile player who can also play on the wing, but he is nowhere near possessing Nani's flair. While Danny Welbeck and Wayne Rooney might be deployed on the wings as well, none of them are true wingers, and with United's forte being wing play it is essential that Sir Alex Ferguson decides to stick on with Nani, who inspite of all his faults and inconsistencies is still United's best bet when something needs to happen and the opposition's resilience needs to be broken, as he so aptly proved on Monday.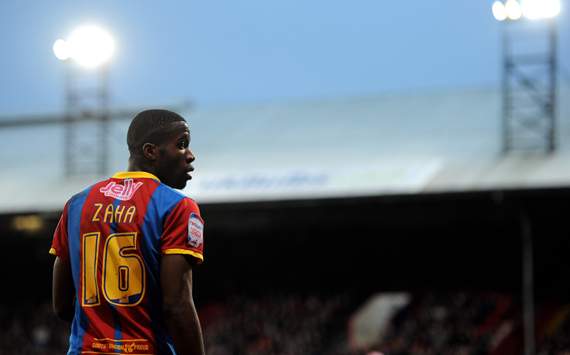 Will Zaha's imminent arrival spur Nani's performance?
While the winter deal struck up with youngster Wilfried Zaha, who has sparkled in the Championship with Crystal Palace, it might seem Nani's days are numbered. This was also in line with the increasing rumours that Ferguson might just use him as a makeshift in deals to strengthen other parts of his team. However just like Alexander Buttner's arrival did wonders to Patrice Evra's performance, Sir Alex secretly hopes that it may similarly spur on the former Sporting Lisbon player who was destined for great things.
"For the rest of history, for most of us, our bright promise will always fall short of being actualised. Most of us stand poised at the edge of brilliance, haunted by the knowledge of our proximity, yet still demonstrably on the wrong side of the line, We are like an exquisite high-speed aircraft which for lack of a tiny part is left stranded beside the runway, rendered slower than a tractor or a bicycle."

When it comes to the Portuguese Prodigy, nothing could be truer as he nowhere lacks the skill or talent to easily have his name echoed in the pantheons of brilliance, but it is also up to him to ensure that this potential is harvested and that he does not end up on the wrong side of the line...
DO YOU think Nani has a place in the United side? Or should Sir Alex Ferguson get rid of him in the Summer Transfer Window? Let US Know by leaving a comment...
Follow Kaustav Bera on

How do you stay up to date with football when on the move? With http://m.goal.com – your best source for mobile coverage of the beautiful game.