COMMENT
By Jonathan Birchall
On the perpetual motion machine that is
Sir Alex Ferguson
's
Manchester United
, there is always unfinished business to be found. From taking the title back to Old Trafford from the Etihad to making up for two decades of largely unfulfilled potential in Europe, the most successful manager in the history of British football, greedy as ever, is still found demanding more.
With their lead at the top of the Premier League nearing unassailable and a priceless Champions League away goal secured at the Bernabeu, United host Reading on Monday with the FA Cup again playing third fiddle to modern football's two most sought-after, and most lucrative, holy grails.
But there has been a clamour from the Scot and his squad regarding their desire for the trophy which was to be Ferguson's maiden piece of silverware at United back in 1990. After all, this could be the first generation of players at the club not to win the FA Cup in nearly 40 years.
Not since a 19-year-old Cristiano Ronaldo dominated the 2004 cup final against Millwall, having faced a season of scrutiny over his gold-booted stepovers and alleged style over substance, have United won the trophy that has always been cherished with a familiar warmth at Old Trafford.
UNITED'S NEAR MISSES SINCE 2004

2005: ARSENAL 0-0 MAN UNITED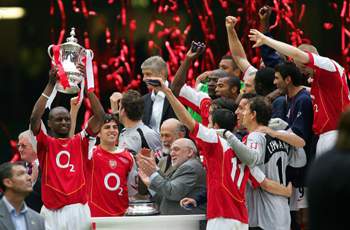 The holders dominated Arsene Wenger's side at the Millennium Stadium with both Wayne Rooney and Ruud van Nistelrooy hitting the woodwork but were forced to settle for penalties, in which Paul Scholes missed to set up a Gunners victory.
2007: CHELSEA 1-0 MAN UNITED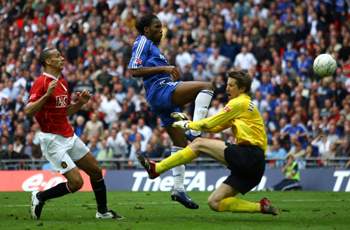 The first FA Cup final at the new Wembley Stadium was a drab affair, with Didier Drogba bagging a 116th-minute winner to secure Jose Mourinho's first and only victory in the competition
2009: MAN UNITED 0-0 EVERTON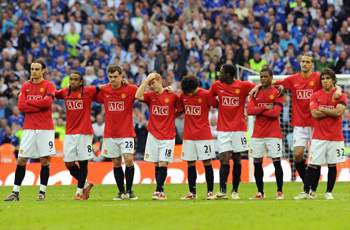 Sir Alex Ferguson's side suffered penalty heartbreak for the second time in four years, with Dimitar Berbatov and Rio Ferdinand missing from the spot to see David Moyes' men through to the final, where they eventually lost to Chelsea.
2011: MAN CITY 1-0 MAN UNITED
Dimitar Berbatov was made to regret his missed chance in the first half of this tense semi-final by the superb Yaya Toure as Roberto Mancini went on to secure silverware in his first full season with Manchester City.
Not recently, however. The current gap between FA Cup wins for the club is the biggest since the 1963 final against Leicester City, when a coin was tossed to decide which team would wear white for the benefit of those watching on black and white televisions and 1977, a cup final win still cherished in Manchester for stopping Liverpool becoming the first team to win the treble of domestic title, FA Cup and European Cup. It would take another 22 years for a team to do that.
The match-winner at Wembley in 1977, Jimmy Greenhoff, so cherished the win that had come seven years after Matt Busby's retirement and three following an unthinkable relegation for the club that he refused to follow the example of many others and sell his medal when coming into financial difficulties two decades later, choosing instead to work in a warehouse and hold on to the only relic of the day that remained, with his shirt having been stolen from the dressing room.
"An FA Cup fifth round tie against Reading in the Seventies would have been a highlight of the season, even if Reading were then in the lower leagues, because of the magic of the FA Cup," says Greenhoff.
"The first FA Cup final I remember was the Matthews Final of 1953. We watched it on our first black and white television and it cemented my love affair with the competition. We were one of the first in our street in Barnsley to have a TV, even though we still had an outside loo.
"Thanks in part to that memory, I grew up dreaming of winning the FA Cup and achieved it, though as I got older I appreciated it was more important to win the league.
"But if Liverpool had won that day, United's own Treble of the league, FA Cup and European Cup would not have been unique. So I think Beckham, Keane and Giggs have a lot to thank us for."
That win more than any other, from a squad still stumbling in a worryingly prophetic post-Matt Busby haze, came to define United of the time; an endearing mix of exciting if not quite ruthless youngsters and in Tommy Docherty, who was sacked only two months later for an extramarital affair with club physiotherapist Laurie Brown, a manager who kept the club in the headlines, for better or worse.
United would then wait six years for their cup romance to be rekindled, as Bob Paisley's Liverpool continued to dominate 33 miles down the East Lancs Road winning four titles and three European Cups before Ron Atkinson, fully aware of the Stretford End's demand for the footballing high life, delivered two FA Cup wins, beating Brighton and Everton at Wembley in 1983 and 1985 respectively.
Thereafter, United pursued the trophy relentlessly under Ferguson, winning it four times in the 1990s before abandoning their defence of the trophy in 2000 in order to travel to Brazil in what would prove a calamitous World Club Championship for the Treble winners.
The current barren spell therefore remains as an unusual, and no doubt irksome blemish on an otherwise exceptional record for the modern day United. Since the 2004 victory, the league leaders have won the title four times, the League Cup three and the 2007-08 Champions League. After courting the cup with an almost clingy persistence with squads far weaker than today's for years, Old Trafford is nearing a decade without its familiar old friend taking up space in an otherwise well-stocked trophy cabinet.
Of the current squad, only Ryan Giggs, Paul Scholes, Darren Fletcher and Robin van Persie (with Arsenal) possess winner's medals, with Rio Ferdinand having missed out on the 2004 final due to suspension. To the rest of the squad, the magic of an FA Cup win is an unknown quantity.
That success has remained a constant under Ferguson suggests that the cup has simply suffered for a change in priorities at Old Trafford. As United have grown, the country's oldest competition has, at times, threatened to be waylaid; an unfashionable, sepia-tinged sideshow to the Premier League and Champions League behemoths.
In some respects it is true, and will again be proven as much by the inevitably under full strength starting XI that will face Reading at Old Trafford. Ultimately, the club earned in the region of €27 million in prize money alone for losing the Champions League final to Barcelona in 2011. Winning the FA Cup this term will see the winners only pocket approximately €3.9m.
But a glance at the winners engraved on the trophy since the Premier League's 1992-93 inception would suggest that the dampened allure of the cup has been somewhat overplayed. Only twice in two decades have teams outside of the 'Big Six' gone on to win it, in the form of Everton and Portsmouth.
There have also been near misses for Ferguson, with a penalty shoot-out against Arsenal in 2005 and extra-time Didier Drogba goal two years later both stopping United securing their 12th win in the competition. The semi-final defeat to Manchester City in 2011 is still seen by many on both sides of the city as the final crucial hurdle passed by Mancini's squad to set up the ground-shaking, game-changing title win last May.
Chris Smalling, Wayne Rooney and Ferdinand have each spoken out over their need to rectify the jug-eared shaped hole on their respective CVs, while Ferguson has made clear to the squad that ending the drought is a must. Disposing of Brian McDermott's men on Monday is just the start.
"In many people's eyes, 'It's Reading, yeah, we've just been to Madrid, it was a great night and Monday will take care of itself'," said Sir Alex on Friday. "Monday can't take care of itself. We have to take care of it."
Follow Jonathan Birchall on