DEBATE
Real Madrid
take on
Manchester United
in the Champions League tonight and all eyes will be on
Cristiano Ronaldo
. The Portuguese superstar was vital to United during his time at Old Trafford and has become equally, if not even more important to Los Blancos. Today we debate the notion that Madrid are too reliant on their premier goal-scorer with two
Goal.com
experts going up against each other.
Kaustav Bera
will argue that Madrid most certainly are overdependent on Ronaldo while
Brendon Netto
attempts to contest that statement.
Real Madrid are overdependent on Ronaldo

Opening Arguments

AGAINST

Brendon Netto:
No, there's a lot more to Real Madrid than just Cristiano Ronaldo. He is their talisman and main threat no doubt but if not for him, I believe they would find another way. The rest of the side are absolute quality as well and in all fairness, he owes a lot of his success to his teammates. People used to say that United were a one-man team when Ronaldo was there but once he left, they found a way to remain successfull and that's what happens with the best sides, they adapt and they find another way if one avenue is blocked off. I don't believe Ronaldo is the be-all and end-all of a club as massive and illustrious as Madrid.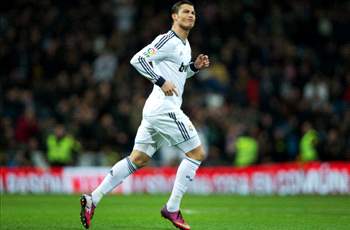 FOR
Kaustav Bera:
Well, obviously duh! Real Madrid are of course overdependent on Cristiano Ronaldo. Thats as obvious a fact as the earth is round I guess. Just look at his goal and assists tally....and the fact that when Ronaldo is stopped (which does not happen much) Madrid are without answers. Both Gonzalo Higuain and Karim Benzema are in single digits when goals come while Ronaldo, in spite of being a winger has 24..
Brendon Netto:
That's a fair point, statistically speaking one shudders to think what would happen to Madrid's goal tally if Ronaldo's contribution was extracted from the side but then again, what would happen if you remove Xabi Alonso from their midfield? Their build-up play and distribution would suffer tremendously. He's the one who usually plays that long-diagonal to Ronaldo or those balls over the top of the defense. In that regard, he's just as important and the team lose direction when he is rested. Mesut Ozil also plays a critcal role in the final third of the pitch. I realize that Higuain and Benzema aren't in great form but if Ronaldo was omitted on a consisten basis, they would then HAVE to chip in. At the moment they know that Ronaldo is the main goal threat and so the ball is naturally played into him more often. Robin Van Persie was immense for Arsenal last season but the statsitics show that they have scored just as much this season without him. They found another way.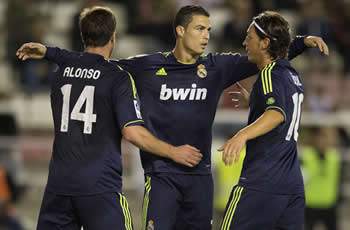 Kaustav Bera:
Fair enough. The third ball or the second last ball may be played by the likes of Xabi Alonso or Luka Modric for that matter and they are certainly responsible for Madrid's goals. And of course Ronaldo gets most of the passes since he is the most potent of Madrid's attacking force. However take Ronaldo out of the equation and do you think the likes of Angel Di Maria, Higuain or Benzema could finish those chances off? I don't think so.
Brendon Netto:
What people don't always realize is that players like Ronaldo and Lionel Messi, even though they're phenomenal and grab all the headlines, they feed off a lot of support and hard work from their teammates. The left-back and central midfielder have to work extra hard for Ronaldo in defense so he can position himself for the counter. Alonso and Ozil have to make sure Ronaldo gets the service he needs. Similarily, Messi owes a lot to the likes of Xavi and Iniesta. That's not to say that it is only because of their teams that they are doing well, because there's no hiding from the fact that they are special players capable of that bit of magic, but it is a two-way street. Ronaldo's job is to produce something special and to score goals, his teammates' jobs are to ensure that he has all the tools to do so and none of the defensive responsibities to distract him. It works both ways.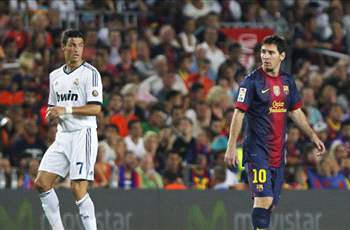 Kaustav Bera:
Yes I definitely agree with you Brendon, that football as a whole is a team game but while great football teams are remembered, great players are given much more prominence. Pele did have equally brilliant players playing alongside him which took Brazil to the top of the world. Consider this season for instance. Cristiano Ronaldo has been in immense form, arguably even better than last season as he has had to single handedly take his team forward. Even then the team as a whole has underperformed. So if the other players had chipped in, then Madrid would not be 'over-dependent' on the Portugese phenomenon, but as things stand I guess they are!
What is your opinion on this topic? Leave your comments below or discuss with our experts @hopelessk and @BrendonNetto on Twitter.

How do you stay up with football when on the move? With http://m.goal.com –your best source for mobile coverage of the beautiful game.