Brendon Netto




Comment

|

Europe




Follow on
Ever since Manchester United drew Real Madrid for the Round of 16 in the Champions League, amidst all the excitement over Cristiano Ronaldo facing his former club, the one thing that has probably been playing on the minds of most United fans is how their team will cope with their former talisman. However, Sir Alex Ferguson may have fabricated a ploy to contain the very player he nurtured to greatness and Phil Jones could be central to his strategy.
When Jones first arrived at Old Trafford, there was plenty of hype that followed him there. He was highly-rated and even touted to be a future United and England captain but injuries have hampered his progress and he is still struggling to make it as a regular. Nevertheless, he is a player who shows glimpses of his massive potential when fit and the United boss clearly rates him highly having stated that he's better than John Terry was at his age which is no small compliment.
A couple of times already this year, the England international has been utilized for a specific purpose. Most recently, he was entrusted with the responsibility of shackling the physical and imposing Marouane Fellaini during United's 2-0 home win against Everton that sent them 12 points clear at the top of the table.
The versatile youngster was deployed on a man-marking mission where he basically shadowed the big Belgian for the most part so much so that, the only time Fellaini was afforded a moment of respite was when he dropped back into his own half to collect the ball. Jones showed that he has the discipline and commitment to take on a tedious job of that nature.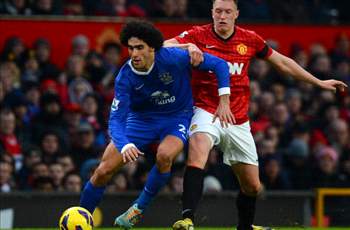 Jones kept Fellaini quiet
However, with regard to containing Ronaldo, man-marking him simply isn't an option. The Portuguese skipper is a lot more mobile and does not operate within the positional parameters of most wingers. Instead, he is afforded more of a free role wherein he has the license to roam across the front line by either switching flanks or playing down the middle occasionally. Gary Neville recently likened Ronaldo to a 'bully', meaning it as a compliment owing to the way he has a go at every defender in the back-line until he finds the weakest link.
His positioning does resemble that of Tottenham's Gareth Bale who was kept reasonably quiet when United played them at White Hart Lane last month where Jones was instructed to keep an eye on the Welshman. This wasn't exactly a man-marking role as Jones didn't track Bale all over the pitch but he did shuttle out to the right to double-team against him along with Rafael da Silva when defending. Bale possesses a phenomenal burst of pace, not too dissimilar to Ronaldo's, but he was never afforded a one-on-one situation against Rafael thanks to Jones' diligent performance.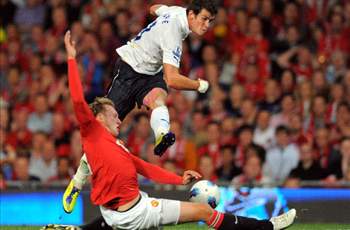 He was effective against Bale
Bale rarely switched to the right flank but fortunately for United, he didn't have much success there either although he was able to get a couple of shots away. Despite the comparisons made between the Spurs winger and Ronaldo, most recently by the likes of Andre Villas-Boas and Alan Pardew, the Madrid starlet has much more in his locker than his Welsh counterpart and will be significantly harder to stop.
If Ronaldo switches over to the right flank and has a go at Patrice Evra, there's no telling what kind of damage he may be able to do. Jones didn't follow Bale when he switched flanks but Sir Alex will have to decide whether he should do so against Ronaldo. The Madrid number 7 scored a screamer against Sevilla over the weekend when he drifted out to the right and cut inside to let fly with his equally lethal left-foot. Evra has a tough time when being forced on his wrong side and if he doesn't get some cover, that particular battle could be the undoing for United.
It is quite rare for Sir Alex to set his team up according to the opposition but perhaps he's realized that certain fixtures demand it. They didn't exactly have a containment plan in place the last couple of times they faced Barcelona and were ripped apart on both occasions and in the finals no less. It wouldn't come as much of surprise if the Scot chose to adopt a more pragmatic approach on Wednesday night and Jones is the kind of player who would be required for such an operation.
Furthermore, there is one particular game that Ferguson may use as the basis for keeping tabs on Ronaldo. When United lost 3-0 at the San Siro in the Champions League semi-final second leg back in 2007 after the winning the first leg 3-2, Ronaldo was quite efficiently pinned down by the Italians. Gennaro Gattuso played a key role in that game as he afforded the then United prodigy little time on the ball and flew in with crunching challenges at every opportunity. Massimo Oddo was the right-back that night and he worked hard along with Gattuso to keep (or even kick) Ronaldo out of the game.
Shackling Cristiano Ronaldo

(AC Milan 3-0 Manchester United, Champions League semi-finals 2nd leg 2007)
It went down as one of the most disappointing performances from United's young starlet while Kaka who was in his prime at the time, enjoyed the freedom and space to make even Nemanja Vidic, who had just recovered in time for the game, look ordinary as he ran at the United defense time and again to do the damage. Gattuso and Oddo kept Ronaldo boxed in but his frustration eventually got the better of him and he completely lost focus.
What the United boss can derive from that fixture is that Ronaldo is and always has been the kind of player who can lose his cool and subsequently his game when frustrated for long periods. Alternatively, if given the freedom, Ronaldo could do as much, if not more damage than Kaka did in 2007. Of course, Ronaldo has since improved and is more accustomed to dealing with that kind of strategy now but that doesn't mean it won't work if executed well.
For Sir Alex, it goes against every fibre of his being to use such a containment strategy as he usually prefers his team to play their own game but it is a reality he seems to be coming to terms with now as evident in United's recent encounters against Everton and Tottenham. For Jones, it's a chance to justify the hype and price-tag he came with. He did well against the likes of Fellaini and Bale but shackling Ronaldo really would be a massive achievement for him individually. The United boss would do well to use him to ensure that Ronaldo's impact on the game is kept at a minimum.
Do you think Jones will play a vital role against Real Madrid? Leave your comments below or discuss with the writer on Twitter @BrendonNetto.
How do you stay up with football when on the move? With http://m.goal.com –your best source for mobile coverage of the beautiful game.