Arsenal play Bayern Munich in the Round of 16 of this season's Champions League on 20th February. The German table toppers are in ruthless form this season, maintaining a 12-point lead over second placed Borussia Dortmund in the German Bundesliga. Having scored 51 goals in the league and 15 goals in the group stage of the European competition this campaign, the Bavarians were the last team the London club would have opted to face, going by the latter's hapless defensive showings in recent times.
And prior to that big fixture, they face a tricky trip to Sunderland after which they welcome Blackburn Rovers in the FA Cup fifth round.
Arsenal started out as one of the best teams in the land when it came to protecting their goal. They kept three clean sheets in their first 3 outings, one of them being a brilliant 2-0 win over Liverpool at Anfield. But ever so slowly, cracks started to show, and though they have been scoring at will, their defense came under question on many instances.
The cracks took the form of a huge hole in the wall when they played erroneously at the back against League Two opposition Bradford City in the Capital One Cup, crashing out 3-2 on penalties following a 1-1 score-line after 120 minutes of play during which Bradford were the more dominant side.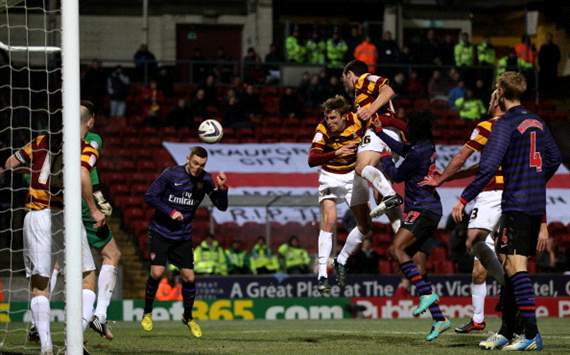 Defeat against Bradford was a real lowpoint
And the miserable bit is that the back four on that day at Valley Parade was the same which started against Liverpool last weekend – Per Mertesacker and Thomas Vermaelen at the heart, Bacary Sagna and Kieran Gibbs manning the flanks. And not to mention Jack Wilshere and Santi Cazorla positioned in midfield. Absolutely unforgivable to go out against such an opposition with those names on the team-sheet, any critic would say.
During the first half of Arsenal's clash with Liverpool on the 30th of last month, the commentator on seeing the lack of command and authority showcased by the home side's backline along with their uncharacteristic errors, was quick to point out to the possibility of a rout at the hands of Bayern if such a run continued.
Vermaelen & Co were absolutely pathetic for the first 60-to-65 minutes of the game, giving the ball away in dangerous positions in their own half. If the Anfield side would have capitalized on those chances, they would have surely run away with the game. Both of Liverpool's goals ended up in the back of the net following Arsenal's incompetence at the back.
The first goal came after a Bacary Sagna slip, an embarrassing Thomas Vermaelan miss of the ball while attempting to clear and a cool finish by Luis Suarez which deflected off a diving Mertesacker, wrong footing the keeper. The second Liverpool goal was even better, keeping with the sarcasm directed to Arsenal's defensive display. Jordan Henderson, the most advanced Liverpool player then some 35 yards from goal, just danced past Mertesacker and out-muscled Andre Santos and Aaron Ramsey before getting a lucky ricochet off the keeper leading to a tap into an empty net.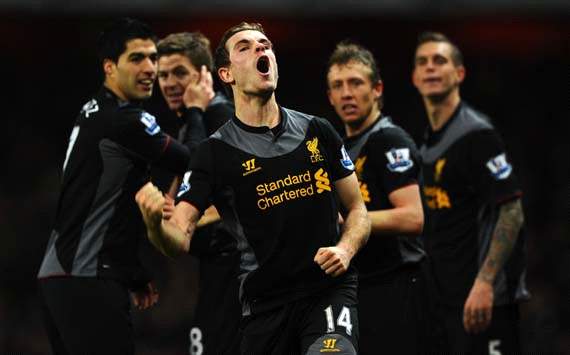 Henderson & Co picked on Arsenal's defensive frailties
at Emirates
A team of Bayern Munich's standard will punish such lack in concentration much more severely. Arsene Wenger has brought some respite to the fans by signing left-back Nacho Monreal from Malaga, but it will take time for the Spaniard to settle down at the club. If they don't mend their ways at the back, then the likes of Arjen Robben and Franck Ribery will literally eat them alive on the flanks before flashing in pinpoint crosses for lethal finishers like Mario Mandzukic, Mario Gomez and Thomas Muller.
At this point it is necessary to take note of a statistic about the Gunners. When it comes to the maximum number of goals scored by the home side and the visiting side on a particular ground, Emirates Stadium takes the top billing in the Premier League. Bayern Munich would be taking a lot of heart out of that particular predicament of their Champions League opponents. The Gunners' zonal marking could come under question if they employ it, as against a team like Bayern, man-marking would be more advisable.
A leaky yet rampant-in-front-of-goal Arsenal and a ruthless yet efficient Bayern - A guaranteed feisty affair with goals definitely not at a premium.
But hey, football is a game of probabilities and possibilities galore. Arsenal must not think that the battle is lost before it is even fought. They can draw tons of inspiration from Real Madrid's defensive showing against Barcelona in the Copa Del Ray the other night. Who would have thought a second-string back-line comprising of Raphael Varane, Ricardo Carvalho and Michael Essien would so courageously keep out the wrath of a star-studded Messi-led Catalan attack? But they did and they came out on top with the help of some gritty hard work and a lot of luck.
Arsenal need to be resilient against the team from Munich and their attitude in the clash needs to be top notch. Only then can they come out on top in the Champions League and also secure a top-four finish in the Premier League.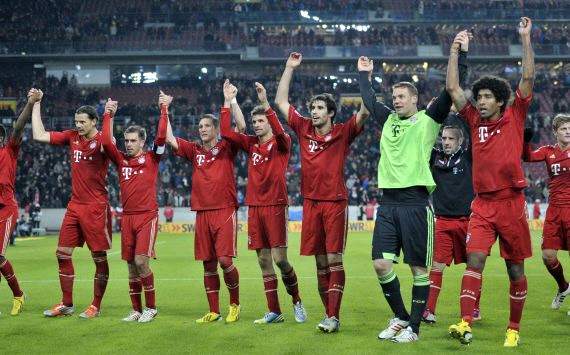 Beating Bayern will be a giant killing of sorts
There has always been talk about Liverpool as a team undergoing transition, but no one realizes that Arsenal too have been a work in a progress with their signings this season. Last season Van Persie just like he is doing in this one at Manchester United, was masking the Gunners' defensive frailties with his goals. The defense needs to be sorted by the players by bringing some hard-tackling into their play.
The Gunners are presently only a shadow of the side they once were, having a reputation of killing oppositions with their excellent one-touch passing. Lately they seem to be relying a lot on pieces of individual brilliance from the likes of Theo Walcott and Jack Wilshere in creating and scoring goals, this coming after going down to a goal or two (sometimes even four like against Reading in the Capital One Cup!). When the passing has actually been effective, the defending has given way, leading to an inconsistent run of performances from the Emirates side.
The experienced Arsene Wenger has a main triumvirate of centre-halves to choose from. Both Laurent Koscielny and Vermaelen hold an agile edge over Mertesacker. You wouldn't put your money on the big German to make a mazy run through the packed Bayern midfield and take a shot or turn provider for Walcott or Giroud. So Wenger's choice may, just may be Vermaelen and Koscielny together. Or he may just spring a surprise and play Vermaelen on the left with the other two in the centre, owing to Nacho Monreal being cup-tied.
Either ways Vermaelen has been flimsy this season, with his lackluster display against Liverpool not being the only time he has done that. Against Manchester United too, his clearance was feeble to say the least and ended up being a lay-up to Robin Van Persie to score from and oblige.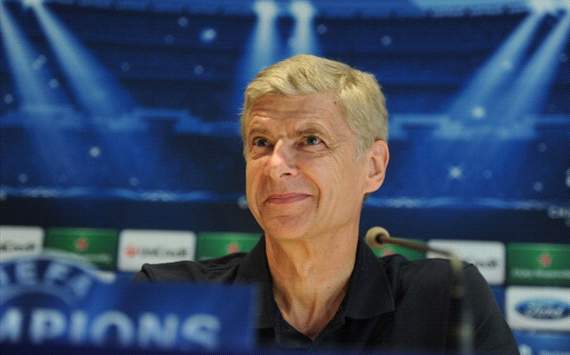 Wenger needs to chalk out a strategy to progress in the Champions League
As for Per Mertesacker, it is becoming extremely easy for strikers to turn around him and beat him. Andre Santos will definitely not make the starting lineup. The Brazilian has on more than one occasion failed to impress this season, with the likes of Stewart Downing and Antonio Valencia literally leaving him for dead. The 29-year old consistently over-commits on his tackle and ends up being humiliated. He doesn't offer too much going upfront either. At times he looks like he's there just to make up the numbers.
A clean sheet against Stoke would have come as welcome news to the Emirates faithful, but it won't be that easy to weather the Bavarian storm on the 20th of February as things stand. But like mentioned before, anything can happen when the two sides lock horns.
So with defending slowly but surely proving to be a dying art, this trailblazer of a fixture could either be a one-sided affair or an out-and-out head spinning thriller. It could either sky-rocket Arsenal's stop-start season or resort them to licking their own wounds.
How do you stay up with football when on the move? With http://m.goal.com –your best source for mobile coverage of the beautiful game.