Akarsh Sharma

Tactics

|

Premier League

Follow on
From David Ginola to Laurent Robert to Yohan Cabaye, the Geordies have been blessed with French heroes for nearly two decades. And now, Newcastle's new French recruits – driven by the daunting figure of 23-year-old Moussa Sissoko – have provided fresh impetus to the club's faltering season.
"He announced his presence in the game, not just with his technical quality but his power and that's something which has sadly been missing from the team," said Newcastle manager Alan Pardew after watching Sissoko score twice and impose himself on the opposition in a manner that the rest of his midfielders have failed to do this season.
Saturday's defeat was a case of déjà vu for Rafael Benitez. Not only because his team once again failed to hold onto a lead – like they failed to do against Southampton and Reading – but also because the events turned out to be startlingly similar to their Mohamed Diame-led demolition at Upton Park in early December. The protagonists were similar on both occasions – powerful, agile attacking midfielders who were playing in highly advanced positions in teams that were very direct in their approach.
Chelsea's interim manager has been moaning at the lack of depth in his squad and in the absence of Eden Hazard (suspended) and Victor Moses (international duty), his claims may well be justified. Two full-backs – Ryan Bertrand and Ashley Cole – continued to occupy Chelsea's left flank, while Oscar started on the right.
John Terry was one of a couple of changes from the mid-week draw at the Madejski; he replaced Cesar Azpilicueta in defence which meant Branislav Ivanovic shifted to right-back. The other change was the selection of former Newcastle striker Demba Ba up front.
Newcastle, on the other hand, were unchanged from their crucial win at Villa Park where glimpses of the exciting new talents had already been seen.

The pattern of play was similar to that of a proverbial 'game of two halves' but for Chelsea's defensive errors that allowed Newcastle to take full three points. On either side of the interval, one side was doing all the attacking and the other was playing on the counter.
The Magpies dominated the first half by targeting the opposition's weakness on the flanks. While Chelsea's left was too defensive and thus invited right-back Mathieu Debuchy and right winger Jonas Gutierrez in advanced positions, the Blues' right flank had Oscar – a player whose defensive side of the game leaves a lot to be desired.
By playing through advanced full-backs, Newcastle pushed Chelsea deep into their defensive half and then pressed relatively high up the pitch to stop the away side from playing out from the back.

The home side had attempted 35 long balls in the first half, not by force but as a tactic. Majority of these were diagonals directed towards the wide players; primarily the right-sided ones as majority of Newcastle's attacks came down the right hand side although all the decisive ones were down the left.

Debuchy and Gutierrez put in a combined 11 crosses into the box in the first half. In contrast, left-back Davide Santon provided only one cross in the first half, which led to the opening goal. That goal itself was typical of the way Newcastle played – Cabaye fizzed a ball out to Santon on the left, who in turn crossed for Gutierrez to head in.
In the absence of Hazard and Moses, playmaker Juan Mata had added responsibility of creating chances for Chelsea. But the Spaniard was well tracked by defensive midfielder James Perch in the first half, which forced Mata wider and deeper than usual to find space.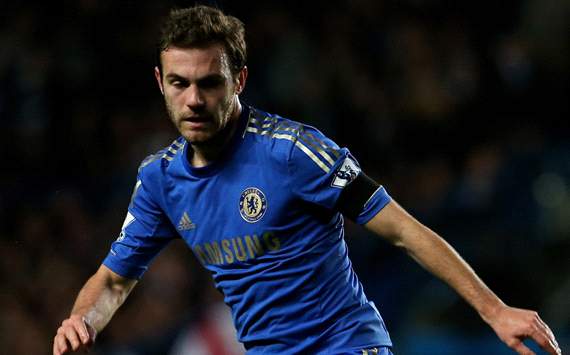 Juan Mata was the pick of Chelsea's players
On another day, this wouldn't have been a problem for Chelsea. A 3-versus-3 battle in midfield is something the trio of Mata, Ramires and Frank Lampard can cope with. But Sissoko's physical presence – and Papiss Cisse dropping deep – was keeping both Ramires and Lampard occupied and etched deep into their defensive half. In fact, Sissoko's average position was higher than Cisse.
This led to two important developments. First, Cabaye had no pressure on the ball and controlled the game until half-time and second, Mata was afforded little support from his own midfield in addition to an opposition player giving him plenty of close, personal attention. In fact, the first time in the match that Mata was afforded time on the ball and had forward runners was mid-way through the first half and he nearly created a goal from it. Lampard, on this occasion, uncharacteristically blazed his shot over the bar.
Although Newcastle had dominated the first half, they had only just edged the possession stats. But they had restricted Chelsea to passing in non-threatening areas and forced them into quicker transitions from back to front than they would ideally like. One such transition, though, nearly led to Ba exposing the home side's high defensive line but the striker couldn't convert the opportunity and headed narrowly wide.
The solution to rectifying this problem of ineffective possession was to show more positive intent and to release more numbers forward. And Rafael Benitez did just that.
Chelsea's second half burst was quite sensational. Oscar and Mata's movement put Newcastle off their game, Ramires and Lampard made forward bursts at will, Bertrand played more like a left winger than a left back, Chelsea harried the home side into mistakes and the away side subsequently defended much higher up the pitch. It was a complete contrast to the first half.
Benitez, at the expense of his obsession with maintaining shape, gave freedom to both Oscar and Mata to roam around the pitch in cohesion. And the duo chose to follow each other in pairs, maintaining short and quick passes while outnumbering and distorting Newcastle's defensive shape.
Oscar and Mata switched positions but the fluid nature of their movement meant they drifted all over the place. Both popped up on the left flank to create space for Lampard to fire in an equalizer. Both exchanged quick passes in the centre to fashion another chance for Lampard who headed straight into the hands of Tim Krul. And Mata's brilliant curler itself came from him drifting in from the right sided position he had taken up early in the second half.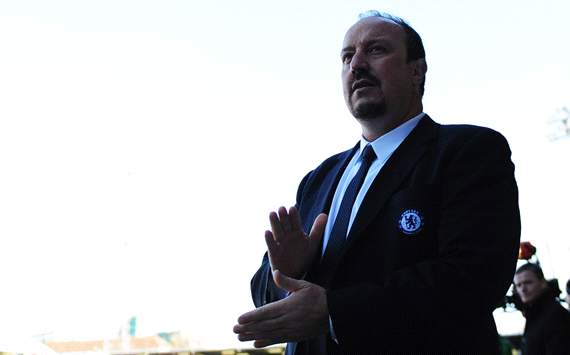 Interim manager Rafael Benitez must find the right balance
For a quarter of the match from the beginning of the second half, St. James' Park faithful were witnessing two world-class players interacting on the pitch like only world-class players can. They had seen it all before as well. This was quite similar to the overloading of one flank by Samir Nasri and David Silva that had ripped Newcastle apart earlier in the season.
With Chelsea in the ascendancy and Newcastle's performance dips in second halves of matches, there seemed to be little hope for a comeback. Benitez, at Chelsea, has failed to find the right balance in closing out matches. Which one is the best approach – to sit back in hope of not conceding or to score more and put the game to bed? Mourinho was popular for the first approach which Benitez has failed at.
This time around, he continued with an attacking approach to put the game beyond Newcastle's reach only for Terry's mistimed challenge to expose the defence in a 3-versus-2 counter attack. Sissoko subsequently finished off a Gouffran-led attack to level the score; something which had both tactical and psychological consequences.
A previously demotivated Newcastle had once again seized the initiative. This meant they kept the ball longer, drove forward and forced Chelsea back into a more rigid formation that once again had Oscar on the right and Mata in the centre. Subsequently, Oscar got sucked into the centre in chasing the ball and failed to track Santon before the Newcastle left-back set up Sissoko's winner.
Defensive naivety was the order of the day for Chelsea and not surprisingly, they looked a different team when they went all out in attack. Benitez must find the right balance soon as the chasing pack breathes down Chelsea's neck.


Don't forget to let us know your views in the comments section or discuss with the writer on twitter @Akarsh_Official
How do you stay up with football when on the move? With http://m.goal.com –your best source for mobile coverage of the beautiful game.