With the transfer window less than 24 hours away from its scheduled close, frantic activity involving the movement of players from one club to another will very much dominate the world of football. Big money deals may see stars swap loyalties and allegiance when the world of the "Beautiful Game" welcomes the month of February. A certain Manchester City FC find themselves perched right in the eye of a transfer storm with Mario Balotelli making his return to Italy with a somewhat struggling AC Milan.
The striker's controversy-filled sojourn with the blue half of Manchester ended with a deal finally going through to the Rossoneri. The loss of an already under-performing Balotelli, the threat of a last minute Edin Dzeko exit and a misfiring forward line in general leads us to accept the fact that Manchester City well and truly need a striker, and that too of supreme stature before the window shuts.
One doesn't need to look far in the past to notice City's shortcomings in the final third. Their trip to lowly QPR turned out to be an entertaining goalless stalemate, but a stalemate nonetheless. Barring Sergio 'Kun' Aguero, no City forward has been able to fully fulfill his potential under Roberto Mancini, one may say. Carlos Tevez's career has long been marred with the whole episode that followed after he refused to come on against Bayern Munich from the bench. Dzeko has adorned the crown of 'Super Sub' from once being one of the most lethal of finishers with Wolfsburg. John Guidetti is at best only a long term prospect. As for Balotelli, we all know how that one went.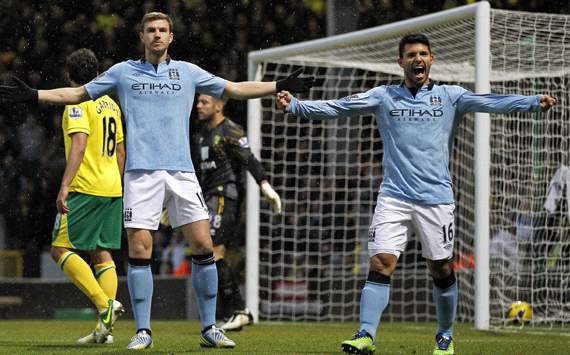 The City attack line needs more firepower
Where must Mancini go to resolve his striker issues? From which master tactician's book must the under pressure Italian take a leaf out of to manage big-money and high profile stars? How much ever this may despise the Italian manager, the name that emerges right from the top of the head is that of Sir Alex Ferguson's. The Scot has not once, but twice managed attack lines that boast of superstars of their generation. The first quartet combined Ole Gunnar Solskjaer, Andy Cole, Teddy Sheringham and Dwight Yorke and the latest one boasts of Robin Van Persie, Wayne Rooney, Danny Welbeck and Javier Hernandez.
Managing four quality forwards is no mean task, but the experienced 71-year old has done it with some panache this season. His overall command and authority over proceedings is something Mancini needs to take note of, while assuring he chalks out sound strategies which make use of his forwards' potential to the fullest. Manchester City's results and their comparative lack of goals this season indicates the failure on Mancini's part of not having rotated and used his forward line well.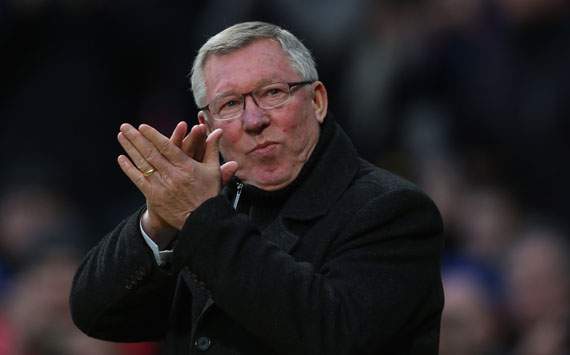 Sir Alex deserves more than a round of applause for his striker management skills
They were never a close knit group, one would imagine. Most recent confirmation of this came when Mancini was involved in quite a bit of shirt pulling in training with Balotelli. But let us not jump the gun and pour all the blame on Mancini's shoulder. City, for most part of their history following the multi-billion dollar acquisition have always found controversy lurking round the corner. And since 2010, most of the negative branding at the club has been subject to the actions and attitude of one Mario Balotelli.
Though City scraped through last season to win a memorable Premier League crown, it came on the back of a major controversy involving Tevez and consistent bad-boy displays from Balotelli. His title-winning assist and a few outstanding displays aside, the 22-year old never really made an impact at the club. Having sold him to AC Milan, Mancini must be thinking in his heart that at last he has gotten rid of a long-standing headache, though he emotionally referred to him as 'like one of my children'. Amusing, to say the least.
So now with Balotelli gone and his camaraderie at the club very much in the past, the whole focus of attention shifts to City's shortages upfront. Their display against QPR underlines that fact that despite starting with Aguero, Tevez, Silva, Milner and Nasri, they weren't able to score against the league's last placed side.
DID YOU KNOW?
The club's strikers accounted for only 4 goals in the whole of January 2013
Manchester City have scored only 45 goals this season in the Premier Leage compared to the 61 goals they had notched up at the same stage last season.
2011/12 Striker Stats - Aguero 30; Dzeko 14, Balotelli 13, Tevez 5

2012/13 Striker Stats so far - Aguero 8, Dzeko 10, Balotelli 3, Tevez 7
Balotelli has been sold to AC Milan and Dzeko exit rumours to Dortmund are rife
The biggest driving force to make an addition to their frontline for City is that they are trailing Manchester United by 7 points. Teams like QPR are able to stifle the current title-holders, and other teams will take notice of that and follow suit. They need a striker to mix things up and lead City's charge in fighting to keep the Premier League champions crown.
They need that fresh addition to the squad to pep up things and provide that extra bit of zest and passion in the game. The kind of passion that helps grind out results like champions always do. Also, many of their draws this season have not been losses due to the magnificent displays of goalkeeper Joe Hart. The England No. 1 has been in top form this term, leading the charge for City when it comes to giving everything and being passionate.
Another horrible feeling City fans may be experiencing at this time will be the prospect of losing Dzeko late on, just before the close of the transfer window. As it happens on many occasions, teams lose players in the last minute and don't have enough time left to bring in replacements on board. The void left by Balotelli needs to be filled soon, before Dzeko too is lost. Borussia Dortmund do seem interested in the Bosnian international.
Last season's talisman Sergio Aguero too has not been at his best during this campaign. A striker acquisition is more than justified at this stage as Aguero is prone to injury and Tevez too does not play in an out and out forward role. If City were to lose either of them to injury, then the worries will mount at the Etihad.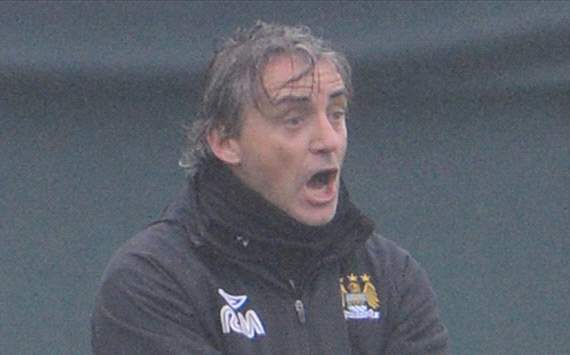 A hassled Mancini needs to act fast
Very plainly, Manchester City have scored lesser goals when compared to the same stage in the last season. Though Balotelli was not in form this season, he did score crucial goals in the last. And now with that option lost and City generally also not doing that great, the onus is on Roberto Mancini to restore the boards' and the fans' faith in him and the club alike with a high quality buy. Mancini needs to inculcate and affect some discipline at the club. And what better way to bring about change than the signing of a new player just before the window shuts. It gives a boost to the players and fans alike and at the same time pushes the competitors to the new striker to perform and train better, lest lose out to the new arrival in the starting lineup.
How do you stay up to date with football when on the move? With

http://m.goal.com

– your best source for mobile coverage of the beautiful game.