Liverpool have evolved under Rodgers this season and have started to resemble the Arsenal of old while the Gunners losing sight of their attractive football of late.
Brendon Netto

Comment | England

Follow on
Arsenal used to have a unique style of play that centered around their dominance of the ball and their quick passing that could leave even the best sides reeling on their day. They haven't been the same Arsenal of late and although they have managed to bag five goals each against Reading and West Ham United while putting away a whopping seven against Newcastle United over the last month and a half, their defeats to Manchester City, Chelsea and Swansea City tell a different story.
The North Londoners haven't had the same devastating movement in recent times that made them so hard to defend against. Their reliance on Santi Cazorla is evident and every time the Spaniard has been stifled, the rest of the team have struggled. They still maintain a respectable goal-scoring record this season but despite that they are remain only 6th in the league because their goals have come in patches.
While The Gunners are a side toiling to get back into the top four, their opponents tonight are a mere 3 points behind them in 7th place. Liverpool have shed the stagnant systems deployed under Roy Hodgson and then Kenny Dalglish and have instead embraced Brendan Rodgers' possession-based philosophy that was so successful at Swansea last season.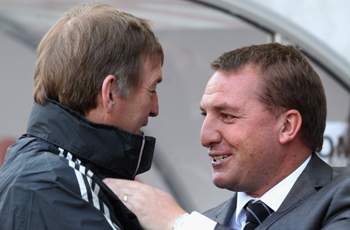 Rodgers has revolutionized Liverpool's style
Naturally the transition hasn't been a walk in the park and the process is still ongoing but the progress they've shown on the pitch is undeniable and largely the reason why the Anfield faithful haven't turned on their new manager. Ideally, they would still like to see their side firmly in the running for a Champions League place but the improvement in their style of play bodes well for the future and has justified their position of being within range of the top four as an acceptable one for now.
The fluidity with which they play now sees Luis Suarez pop up virtually anywhere he pleases, making it impossible to pick him up. One of the wide players tuck in when the Uruguayan drops deep or drifts wide while together, the front three often swap positions.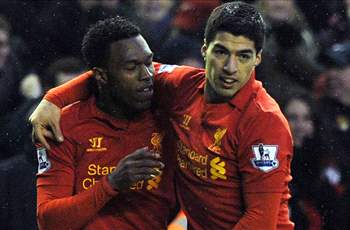 The duo link-up well
When Steven Gerrard and Jordan Henderson or Jonjo Shelvey are played in the middle of the park, they always have a runner from midfield willing to attack crosses. Their full-backs are quick to get forward, they play out from the back and string passes together in midfield. However, with these traits that have so benefited Arsenal in the past, Liverpool have also adopted some of them that appear cursed.
The Merseyside outfit has started to play some attractive football without always finding an end product, a feature of their game that Arsenal used to be criticized for regularly. Their defending hasn't been catastrophic but they have let in silly goals that could have been avoided.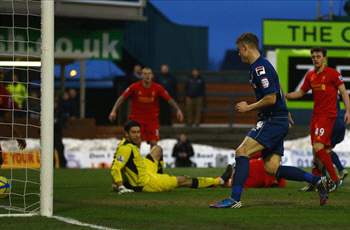 They concede needlessly
When it came to the physical side of the game, Arsenal's young guns were often bullied out of the game and Liverpool have faced a similar fate at times when Joe Allen in particular has occupied central midfield. The game against Aston Villa at Anfield was a prime example of how Allen just wasn't strong enough and his tracking back was poor as well, leaving the team's core noticeably soft when Lucas Leiva isn't around to break down attacks.
That game also demonstrated how they can be vulnerable to a quick break if they attempt to play the ball out from defense. The goals came from the visitors pressing up the pitch and picking Liverpool's pocket before going on to score, just one of the drawbacks to this passing-game that Arsenal so adequately exhibited in the past.
In front of goal, Liverpool have been wasteful despite Suarez's prolific form. The striker has scored well this season but he's missed a good number of chances as well which is in his nature. He's not the most clinical striker but he's been made to step up to the plate out of necessity.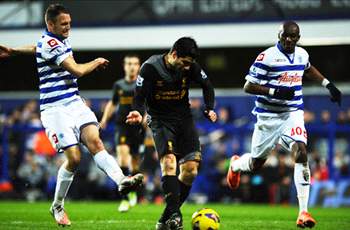 Prolific but not always clinical
New recruit, Daniel Sturridge made a great start to his career at the club by scoring in each of his first three appearances and his movement and style of play does suit Liverpool and his mobility enables him to link-up well with Suarez but he has a reputation for being wasteful and selfish as well.
As far as their ball retention goes, Liverpool have enhanced that aspect of their game significantly compared to recent years. From the four games they played this month against Sunderland, Manchester United, Norwich City and Oldham Athletic they have averaged 62.5% of possession despite losing two of those games. Meanwhile, Arsenal's games against Southampton, Manchester City, Chelsea, West Ham United and Brighton and Hove have yielded an average of just 53.8% possession.
When you look at the attacking set-up of the two teams at present, Liverpool's front three are a lot more fluid than Arsenal's. Theo Walcott and Lukas Podolski are predominantly a right and a left footed player respectively which encourages them to go down the outside while Rodgers' has been more inclined to playing inverted wingers.
Olivier Giroud has started to come into form of late and his role as the spearhead in attack means that the wide players do get to the by-line and deliver crosses in more regularly than what would have been associated with Arsenal in the past. The Frenchman operates exclusively in the central attacking area, he doesn't drift wide and doesn't drop deep which has restricted the side's flexibility to a certain extent.
Liverpool's attack of Sturridge, Suarez and Sterling constantly interchange positions and the two wide men rarely hug the touchline. In Arsenal's FA Cup encounter against Brighton and Hove, they attempted 32 crosses in total and ran out 3-2 winners while Liverpool attempted only 20 in their encounter with Oldham Athletic despite having to chase the game throughout the 90 minutes and resorting to punting the ball into the box in the dying minutes.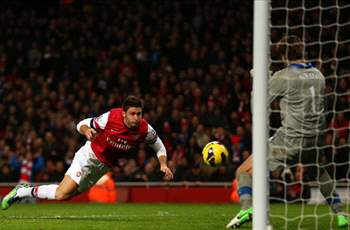 Giroud's aerial threat has altered Arsenal's approach
The Reds seem to have a new found appreciation for youth. Sterling has been a regular this season while Martin Kelly was preferred over Jose Enrique as a full-back earlier in the season until the youngster was injured. Jonjo Shelvey and Suso have also been afforded plenty of opportunities ahead of the likes of the recently departed Joe Cole and a marginally improved Stewart Downing.
Even their signings indicate a preference for young blood. Summer recruits Oussama Assaidi and Fabio Borini were 24 and 21 years old respectively while Sturridge is still only 23. The expected arrival of Inter Milan's Phillipe Coutinho before the end of this transfer window would see the 20 year old Brazilian further reduce the average age of the squad.
Meanwhile, Arsenal's recent signings have been uncharacteristically out of the age bracket they normally adhere to. Per Mertesacker (28), Andre Santos (29) and Mikel Arteta (30) joined the club last summer. This season, they have introduced Giroud (26), Podolski (27) and Cazorla (28), all players over the age of 25.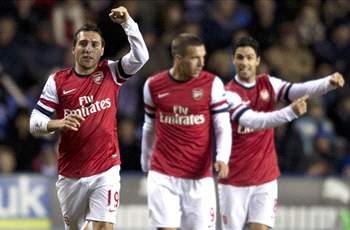 Arsenal have turned to experience
Walcott (23) has been preferred over Alex Oxlade-Chamberlain (19) this season while the opposite was true last time around and the faltering Bacary Sagna (29) has resumed at right-back since returning from injury while the impressive Carl Jenkinson (20) has had to make way.
Yes, Arsenal still score goals but the bulk of them have come against sides who were already beaten and it's plain to see that the breath-taking one-touch passing that endeared them to football fans around the globe simply does not exist at the moment. Instead, people are starting to sit up and take notice of a relatively young Liverpool side who can play some very attractive football when they are on song.
Are Liverpool starting to resemble Arsenal? Leave your comments below or discuss with the writer on Twitter @BrendonNetto.
How do you stay up with football when on the move? With http://m.goal.com –your best source for mobile coverage of the beautiful game.