When
Arsenal
take on
Liverpool
in the
Premier League
coming Wednesday, the critics will particularly be keen to evaluate the performances of two English wide-men turned centre-forwards. Yes, we are talking about Arsenal's Theo Walcott and Liverpool's new recruit Daniel Sturridge.
To start with, these two attackers have three things in common - They both are of 23 years of age, are English, and have been all over the news in their quest for playing through the centre. Their current predicament speaks volumes about this obsession that they have had for quite long. While Walcott is finally getting chances to play as a striker in recent games, Sturridge is proving his mettle as a target man at Liverpool after unsatisfactory spells at Manchester City and Chelsea.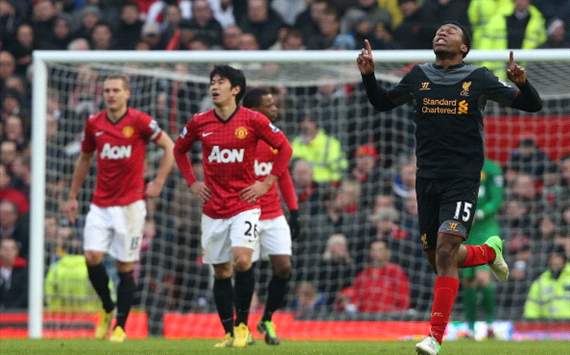 Sturridge has made a goalscoring start at Liverpool
The early careers of both these players panned out a lot in contrast to where they are at the moment. Considered respectively as the crown jewels at Southampton and the Manchester City Academy, Walcott and Sturridge had lost their ways in the recent past.
Also, after their moves to Arsenal and Chelsea, two among the biggest clubs in the country, they didn't bed into the team too well and got played often out of their positions. Expectations too might have gotten the better of them, for only lately have both these players started coming back into their own.
The coveted center-forward role

It is pretty fascinating to see how their spells with the clubs they have played for has changed the way they are perceived as players. Though they have very much made it clear as to what their preferences of play are (central), one still can't shake off the image of Walcott bombing down the flanks and Sturridge at the same time being deployed as the support striker making mazy runs and showcasing some fancy trickery.
These two, especially Sturridge can be identified for his versatility upfront, and for not containing himself to a central role. It is that very weapon that is taken away from the armoury of the likes of Sturridge and Walcott when they take up central positions.
Let's take one of Walcott's lethal qualities for instance – his pace. If he takes up his position upfront as a central striker, yes he holds the advantage when it comes to beating the offside trap, but he easily stands a chance of being stifled by oppositions and crowded out.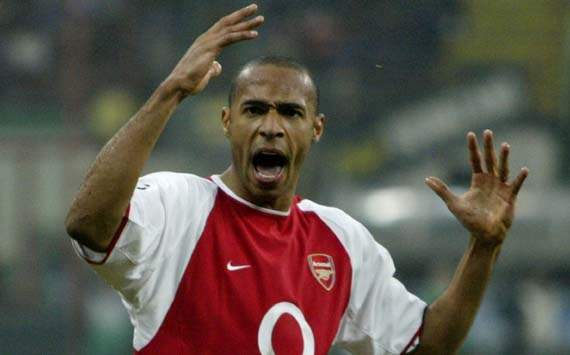 Henry serves as an inspiration to both players
Daniel Sturridge can tell him a thing or two about being in such a situation after he was victim to similar treatment at the hands of Oldham in the FA Cup. He was not handed any space at all in the middle of the park. That is where pace on the flanks would have come handy. It came in the form of Stewart Downing later on, but it was too little too late by then.
So Walcott stands as that option, that outlet Arsenal can look to when the going gets tough in the midfield. If he plays central, that opportunity goes out of the window instantly.
But these two playing down the middle does have its positives for their respective teams. For one, it facilitates greater presence and involvement in the game for both players. And it gives the likes of Luis Suarez and Steven Gerrard of Liverpool and Santi Cazorla and Lukas Podolski of Arsenal respectively to play off the shoulders of both these players, adding that little bit of edge and unpredictability to their teams' general style of play. Both players have made their desire pretty evident, with Sturridge stating Thierry Henry's model of playing out wide for Monaco and Juventus and then being the outstanding center forward he was for Arsenal. Brendan Rodgers too has deployed him in a similar role so as to free up Luis Suarez.
The Walcott Contract Saga
Before signing the new contract, Walcott had made it very clear that the terms of his stay at Arsenal would most certainly hinge on the position he was to assume post that on the pitch.
Walcott replied to Wenger's hard resistence by coming off the bench and clocking inspirational performances like in the away match against West Ham and at other times turning the game on its head against Reading in the Capital One Cup, where he notched 3 goals and as many assists. Yet another sensational hat-trick against Newcastle United in the 7-3 romp went a long way in helping his cause. His position came more in the spotlight rather than his rumoured exit.
While Sturridge's whole 'proposed central player' episode took a more tactical turn with Liverpool, Walcott's saga regarding the same with Arsenal went to another level altogether. His displeasure about the wide position being afforded to him was directly hindering his contract negotiations, so as to say. It threatened to shake Arsenal's bigger picture as well.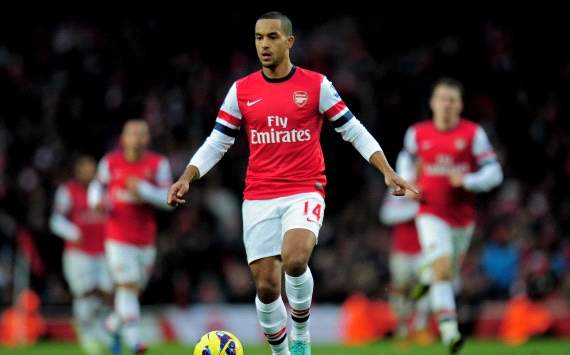 Walcott needs to lead from the front

With high profile players such as Cesc Fabregas, Samir Nasri, Robin Van Persie and Alex Song leaving in the recent past for greener pastures, Walcott too was almost tempted into doing the same in this transfer window. But his goals came at the right time and re-asserted his importance to Arsenal's cause not just for this season, but also for many more seasons to come.
Wenger somewhere had to give in to Walcott's demands of being given a central role so as to safeguard Arsenal's future. Walcott along with other youngsters like Jack Wilshere, Kieran Gibbs and Alex Oxlade-Chamberlain needs to serve as a guiding light for the Gunners to thrive under Wenger. All of them have fresh contracts to their names now.
The result has been there for everyone to see. The lifelong Liverpool fan has scored in all the 3 games Arsenal have played in after he put pen to paper on the contract that gives him
£100,000 a week.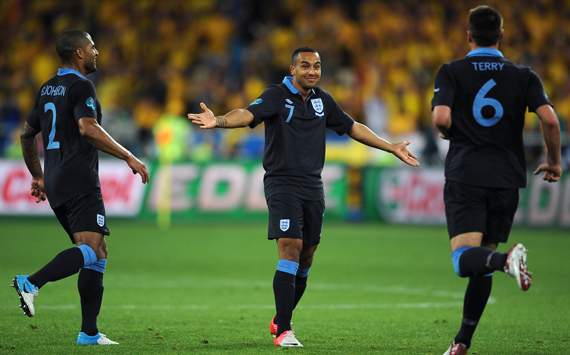 Walcott & Sturridge are vital to the English cause too


It is to be seen whether Wenger's vision of Walcott coming full circle and taking up Thierry Henry's mantle at the club comes true or not in the next 3 years that the Southampton Academy product has pledged to the Gunners. This, as the manager has always likened him to the great French Arsenal legend.

Walcott's pacey and penetrative style of play will definitely continue to rattle defenses in the Premier League, resuming hopefully for Arsenal fans' sake against Liverpool on Wednesday.



Who suits the central role better?

Drawing a comparison among the two young Englishman at our disposal here, though Walcott may be considered a wee bit more clinical than Sturridge, the latter seems more suited to the central role. If put in the English manager's boots and asked to choose either of the two to take up a central role, one feels Sturridge would make the cut.
During his short time at Liverpool and also his stint at Chelsea, Sturridge has on more than one occasion showcased his poacher's instinct, scoring goals very much of that manner. Take a look at all his 3 goals for Liverpool for instance, two of those against Manchester United and Norwich.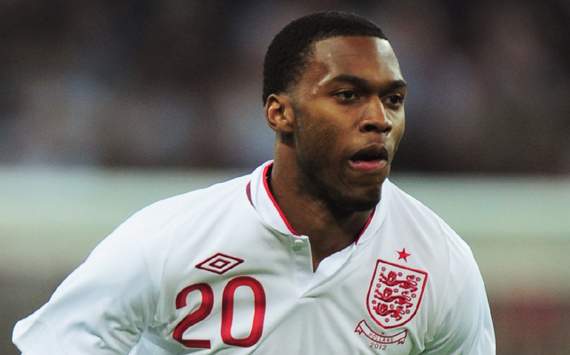 Sturridge possesses the poacher's instinct
And to provide such balls to poach upon, who better than a certain someone named Theo Walcott. At the England level at least, these two could strike up a good balance if given a chance and used in a manner which channelizes their strengths. The potential is there in ample. Sturridge too can provide that injection of pace when required.
With versatility and creativity very much dominating both these 23-year old players' forte in recent times, it remains to be seen how they battle it out on the Emirates Stadium turf come Wednesday night. Which of these two will prove to be instrumental in crafting a famous win for their respective sides with the help of their newfound motivation and vigour? For now all we can do is merely wait and watch!
How do you stay up with football when on the move? With http://m.goal.com –your best source for mobile coverage of the beautiful game.