Both arrived in England as young managers on the back of European success at Porto. Both took up daunting, albeit different, challenges at the time - namely the Stamford Bridge hot seat - replete with the same goals, same objectives and the same risks that came with it. In hindsight, both had worked out plans and strategies meticulously in their heads. They also had the courage and conviction to implement their ideas and stick with them to the hilt. But that is where the similarities between
Andre Villas-Boas
and
Jose Mourinho
end.
While Villas-Boas looked to revamp the mentality and playing style of the players he had inherited, Jose Mourinho, seven years previously, had decided on several new (and mostly Portuguese) additions to the core of his squad well in advance. Simply put, there were shades of idealism on one hand and ruthless pragmatism on the other.
While these two scenarios cannot be subjected to a like-for-like comparison, they illustrate not just what makes Mourinho different from a Villas-Boas, but also what makes him the Jose Mourinho we know him to be today.
The self-proclaimed "Special One" has achieved success in such vast swathes that a look at the record books is more than enough to place him in the pantheon of greats. Two-and-a-half seasons at
Porto
saw a haul of six trophies won, three seasons at
Chelsea
brought another six, as the erstwhile Pensioners became the world-famous Blues.
Inter Milan
won five major tournaments in two seasons under his stewardship, and bagged the Treble, a feat Mourinho had previously achieved with Porto in 2002-03.
Real Madrid
have won both the league and the domestic cup since Mourinho took charge.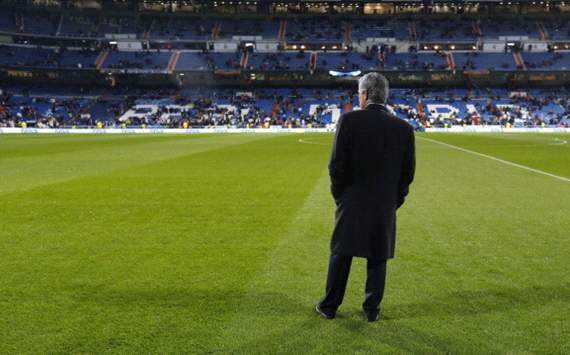 'Veni Vidi Vici'
(I came, I saw, I conquered)

Between 23 February 2002 and 2 April 2011, Mou went 150 home league matches unbeaten: 38 (W36–D2) with Porto, 60 (W46–D14) with Chelsea, 38 (W29–D9) with Internazionale and 14 (W14–D0) with Real Madrid. The run was finally broken by Sporting de Gijón which proved to be the anti-climax as they were going to face Barcelona next.
Statistics seldom lie, they often merely deceive. In Jose Mourinho's case, though, the quality of his achievements ranks as high and sits as pretty as the quantity. Consider, for instance, the fact that he led Porto (a club much vaunted for their exploits within Portugal, but not as much on the elite European front) to a Champions League title, beating the likes of
Olympique Lyonnais
,
Deportivo la Coruna
and
Manchester United
along the way. Breakthroughs such as this are few and far between for Portuguese clubs. In addition, a 3-0 thrashing of a Monaco team containing the likes of
Fernando Morientes
,
Ludovic Giuly
,
Emmanuel Adebayor
and Patrice Evra in the final, spoke volumes of the team's caliber.
In England, Mourinho got the better of
Arsene Wenger's
famous 'Invincibles', and a traditionally dominant Manchester United, not only to win the league twice, but also record the highest points total ever accrued in the Premier League era (95) along the way.
For Inter Milan, he secured the first ever Treble in their history. European success had not befallen the Nerazzurri since Helenio Herrera and the halcyon days of Catenaccio in 1970's. He was faced with the challenge of overcoming title holders
Barcelona
in the semi-finals beating them 3-2 (on aggregate) having lost by a goal at Nou Camp which Mourinho described as the most beautiful defeat in his life.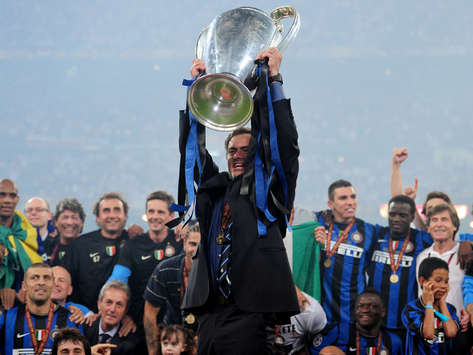 His second treble

In terms of competition though, arguably none of his previous conquests matched the intensity and invincibility of
Pep Guardiola's
Barcelona. Proclaimed by many as the best club team ever assembled, here was a side that passed the ball, closed down opponents and mesmerized audiences like no other. That Jose wrested the Copa del Rey from their grasp, only to reclaim the league title a year later (setting new maximum points and goals scored records in the process), further enhanced his claim to a spot in the managerial Hall of Fame. Real Madrid's prospects for La Decima have never looked better.
The popular notion of Jose Mourinho being a 'shrewd tactician' is a bit misleading. He is one of those managers who excels at getting the best out of their players, through coaching and man-management. He is more of a technician than a tactician, the difference being that he maximizes the chances of good results on the field through methods he trusts, rather than inventing new tactics, positions or formations based on his team. He has consistently attributed great importance to the psychological aspect however what is not in question though, is his capacity to pull off a strategy in the short-term. He has worked wonders by getting great energy levels, synthesis and cohesion from his players.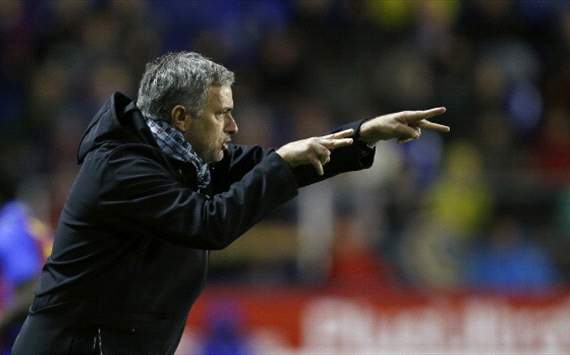 European Alexander plotting his next move

Like every famous and successful achiever, Jose Mourinho has his detractors. Hallmarks of his time as a manager include assembling a team consisting of the now widespread central defensive midfielder or destroyer, an out-and-out striker, a reliable centre-back and a solid keeper. Pragmatism and efficiency form the undertones of every single bit of praise that he receives. While by no means averse to smooth, flowing football, or goal-scoring, Mourinho's no-risk approach to matches has begun, in the eyes of critics, to take the thrill out of the competitive spectator sport and decorate it with reinforcements of the 'results are everything' argument.
Another criticism of Mourinho has been the fact that money has played a huge part in nearly all of his success. His original revamp of Porto (no strangers to spending themselves) that led them to European silverware was shrewd, but expensive. Roman Abramovich's project had (and still has) the underlying theme of fiscal domination to it, and there is a case for those who suggest that the Portuguese contingent that Mourinho added to Chelsea, along with players like
Michael Essien
and
Didier Drogba
, could not have been signed by other equivalent teams in the same short time span. He often leaves after achieving short-term gains, to the detriment of the teams' long-term well-being.
Despite the criticism, what still stands is the fact that Jose Mourinho is a fantastic manager of resources, and is consistently producing the highest possible standards of output (trophies) in the upper echelons of a vast, competitive industry that thrives on success and looks down very severely on failure. Strength of character, determination, impeccable acumen and an unbelievable ability to instill belief and discipline among his charges, and sheer theatrical entertainment to boot; this is a man who will go down in history for his trebles and leave cult followings wherever he may roam. And he's still not finished…
Even on his special day, just like Alexander the Great, you know that the Special One is plotting special plans, scheming special schemes and sowing the seeds to aggrandize his reign over Europe.
Follow Dhvanil Gagvani on

How do you stay up to date with football when on the move? With http://m.goal.com – your best source for mobile coverage of the beautiful game.