Brendon Netto




Comment

|

England




Follow on
It's been six months since Robin Van Persie left Arsenal for Manchester United but rather than nursing the wound, the London club's failure to find an adequate replacement has instead left it to fester. The Dutchman recently claimed that he made the right decision to join the Red half of Manchester and perhaps the most sickening thing about his statement, as far as Arsenal fans are concerned, is that he's probably right.
To his credit, Van Persie was as respectful as he could be towards his former employers when framing his answers but one can still read between the lines and deduce the difference he's experienced between them and his current club.
He has spoken of United's 'winning mentality' earlier on in the season and even mentioned that he feels like he's 'surrounded by champions' but that's what you'd expect any of their new recruits to take note of. The real eye-opening aspect of his most recent statement is his admiration of players like Paul Scholes and Ryan Giggs and the fact that he likens them to Thierry Henry and Dennis Bergkamp during his early years at Arsenal.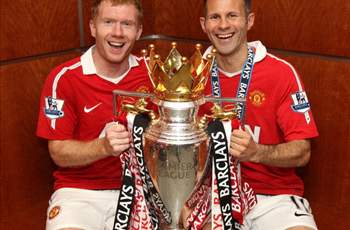 Veterans still at it
He spoke of being able to learn something from so many players at Carrington. He paid tribute to Michael Carrick's composure in midfield and Patrice Evra's drive and confidence. However, he sighted the skills of Scholes and Giggs in training as things that he was really excited to see again. Things he hadn't seen since he trained with the geniuses of Bergkamp and Henry.
The Arsenal supporters will probably never forgive their former captain for joining United's ranks but they'd be lying if they said they didn't know what he's talking about. The likes of Henry and Bergkamp set Highbury alight in their hay-day and the Arsenal fans have been starved of such brilliance ever since. Cesc Fabregas began to thrill but his heart was always set on a return to Barcelona. Then Van Persie revived his career and gave Arsenal renewed hope, only to crush it with a move to their rivals.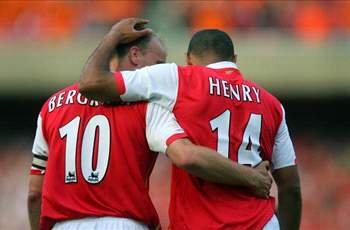 Arsenal missed their figure-heads
Touted as 'The Next Dennis Bergkamp', the former Inter Milan star was viewed as the ideal mentor to a then 20 year old Van Persie. However, the talented protégé had only two seasons under his mentor before Bergkamp decided to hang up his boots in 2006. He still had Henry to turn to as he was ultimately a striker but the Frenchman left for greener pastures in the following year when he joined Barcelona.
Van Persie had signed for a team of Champions in 2004 but by the time 2007 arrived, the likes of Ashley Cole, Sol Campbell, Patrick Vieira, Fredrik Ljunberg, Robert Pires, Bergkamp and Henry were all gone. In three years, Arsenal turned from being a team of accomplished men to one of talented young boys. Another year later and even Jens Lehmann and Gilberto Silva decided to move on. That period of three or four years was supposed to be one of transition for Arsenal but it turned out to be a gradual exodus of their most established players.
Looking back at their 8-year trophy drought, one could identify that as the area in which the club lost the plot. You look over at Van Persie's current club and there is no doubting Sir Alex Ferguson's expertise in building and rebuilding title-winning squads over and over again during his 26 year tenure.
Gary Neville and Edwin van der Saar retired in 2011 but Giggs and Scholes were and still are around. Once they depart, Rio Ferdinand, Michael Carrick, Nemanja Vidic and Patrice Evra will step into that division of seniority. Once they have served their time, the next batch of Wayne Rooney, Darren Fletcher (if he is available), Ashley Young and Antonio Valencia will already be in place. It's a well-developed cycle and its effectiveness has already been proven.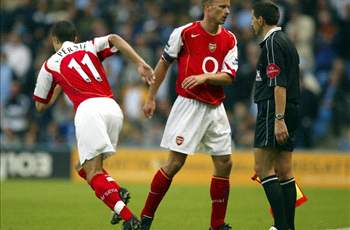 Van Persie's apprenticeship didn't last
There's such a wealth of not only experience but quality as well at United and Van Persie can't be blamed for taking note of it and reminiscing about his early years at Arsenal. The Gunners only have themselves to blame because they didn't replace their established players adequately. When they continued to lose experience, perhaps they should have recruited players who have been around the block and could teach the others a thing or two.
Van Persie says he's surrounded by champions and that's the feeling every new recruit experiences at United. Their winning mentality is infectious and it rubs off on the younger players and new arrivals. Arsenal don't have a winning mentality but they have an outstanding business module which has cost them dearly on the pitch.
Have Arsenal lacked that wealth of experience? Leave your comments below or discuss with the writer on Twitter @BrendonNetto.
How do you stay up with football when on the move? With http://m.goal.com –your best source for mobile coverage of the beautiful game.