Brendon Netto




Comment

|

England




Follow on
The enigma that is Mario Balotelli never ceases to entertain. He can amaze, amuse, offend and frustrate you all over the course of 90 minutes. Off the field he is a gold-mine for the tabloids and a perennial source of jokes. It seems as if there is never a dull moment where the eccentric Italian is concerned but looking back at his footballing contribution during his time at Manchester City, there's little to justify all the hype he generates.
It's become evident that Roberto Mancini has grown exasperated with the former Inter Milan striker and is looking to offload him during the current transfer window. The fact that a return to Italy is on the cards for the 22 year old is hardly surprising but City initially holding out for a fee of £31.1 million certainly is.
As revealed by Goal.com on Tuesday, AC Milan had proposed a deal worth £25 million, paid over six years for the striker's services. City paid around £18 million for the Italian International in the first place so Milan's offer would have seen them make a profit of about £7 million for a player who has never lived up to his billing and causes more problems than he's worth. If the defending Premier League champion's had a half-decent financial advisor, odds are that he would have told them to take the money and run!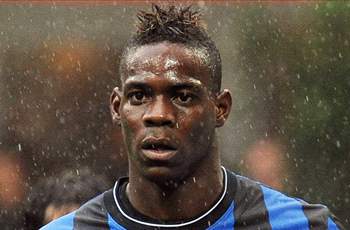 Balotelli was over-priced to begin with
However, the Milanese club didn't bite and in a desperate attempt, it appears that the English powerhouse has now agreed to lower their asking price to £20 million in order to facilitate the move.
Even the initial fee City paid for Balotelli could be considered a little steep especially when you put it into perspective. Zlatan Ibrahimovic, easily one of the best strikers in the world and someone who for all his boasting has a lot to show for it, moved from AC Milan to Paris Saint-Germain for £16 million in the summer. Yes, he's 31 years old but he's also that much more accomplished and has proved his worth already in the French capital.
Marco Reus, although more of a second striker, joined the ranks at Borussia Dortmund for £15 million last summer. Meanwhile, Bayern Munich recruited Mario Mandzukic for £11.5 million and if you go back to 2010, you'll find that Napoli paid £10.5 million to sign Edinson Cavani from Palermo. Not to mention the fact that Chelsea just signed the prolific Demba Ba for £7.5 million this month, a decision that's already reaping rewards although it was under special circumstances considering his astonishingly low release-clause.
| | | | | | |
| --- | --- | --- | --- | --- | --- |
| Player | Signing Club | Games | Goals | Goals/Game Ratio | Price |
| Mario Balotelli | Manchester City | 75 | 30 | 0.40 | £18 million |
| Zlatan Ibrahimovic | Paris Saint-Germain | 24 | 21 | 0.86 | £16 million |
| Marco Reus | Borussia Dortmund | 24 | 11 | 0.46 | £15 million |
| Mario Mandzukic | Bayern Munich | 22 | 13 | 0.59 | £11.5 million |
| Edinson Cavani | Napoli | 120 | 92 | 0.77 | £10.5 million |
Every one of the aforementioned players have been far more consistent with their performances than Balotelli and exponentially more effective without matching his initial fee, let alone the offer from Milan. The only aspect of the Italian's tenure at City that shows any consistency is his involvement in training ground bust ups. Milan may be desperate for fire-power but surely there are more efficient options than the City forward.
Balotelli's contribution has been scarce this season to say the least. He's made a total of 15 appearances and scored 3 goals, hardly befitting a striker who had a £31 million price tag attached to him just days earlier. He used to be the wild card that Mancini always had in reserve when he needed a spark to turn a game on its head but he's been largely ineffective even in that capacity this season.
Instead, Edin Dzeko has come up trumps for the Citizens nearly every time he's been summoned from the bench and so Balotelli's role as a substitute has also diminished. What City is now left with a petulant footballer with an appalling disciplinary record who rakes in £170,000 a week for being anonymous on the football pitch and infamous in the back pages.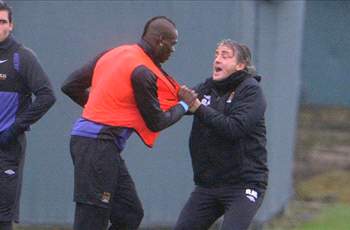 Constant training ground incidents
He doesn't offer much to what is otherwise a fantastic strike-force at City. Barring an injury to one of the other strikers, Balotelli has firmly established himself as Mancini's fourth choice in attack. His wages would free-up funds to bring in another quality player who could improve the starting eleven. Even if they decide against another recruit, cutting nearly three-quarters of a million from their monthly expenses would do their bid to comply with Financial Fair Play (FFP) regulations no harm.
He had a decent output last season but even that was tainted by the fact that he was suspended for a total of 11 fixtures owing to his ill-tempered nature. He put on a relatively good show at the 2012 European Championships as well but has gone missing since his return to domestic football.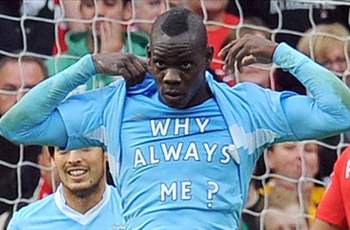 We honestly don't know, Mario
Balotelli has always been an intriguing personality but perhaps that's why people tend to hype-up his rare flashes of brilliance and overestimate his effectiveness as a player. It's like a magic trick, with some good lighting, plenty of props and a couple of attractive assistants, the magician can make a fairly simple act seem highly complex, leading the audience to fall victim to the extravagance of the process.
Similarly, Balotelli is a good player but he's not a great one as he simply gives the illusion of greatness. With his firecrackers, "Why always me?" t-shirts and frequent training ground incidents, he's been able to distract the vast majority of the footballing world from the fact that he's nowhere near as effective as his transfer fee and wages suggest. Simply put, he's just not worth the hassle.


Do you think Balotelli has proved his worth? Leave your comments below or discuss with the writer on Twitter @BrendonNetto.
How do you stay up with football when on the move? With http://m.goal.com –your best source for mobile coverage of the beautiful game.