Brendon Netto




Comment

|

England




Follow on
Arsene Wenger made a remarkable statement about Edinson Cavani last week that hinted towards a move for the Napoli striker and since then, every Arsenal supporter has had an opinion on it, some cynical, some suspicious and few optimistic. Given the club's track record in the transfer market, you can forgive the skepticism from their fans but maybe the idea of signing one of the foremost strikers in world football shouldn't be so wild.
Rumour has it that the London outfit is lining up a £30 million bid for the 25 year old and the critics have been quick to point out that he has a €60 million release clause written into his contract. Well, the fact is that release clauses are rarely met especially when they are this high. Hulk had a €100 million release clause at FC Porto but ended up leaving for €38 million.
Let's look at what this proposed move could potentially achieve. First and foremost, Arsenal would finally have a genuine finisher among their strike force. If their display in their FA Cup replay against Swansea City is anything to go by then they certainly have missed a striker like that.
While being excellent at leading the line on his own, he isn't a striker who relies solely on his aerial threat. He is quick but he has good technical ability as well and can link-up well with the players around him. Furthermore, the art of sniffing out a goal around the six-yard box is not lost on him.
Cavani's arrival also presents Arsenal with the possibility of having another potential talisman in the side. Robin Van Persie's contribution in that respect for the club last season has never been replaced. Santi Cazorla bore most of the responsibility early on this season and 21 year old Jack Wilshere has picked up the gauntlet of late but it hasn't been enough. Cavani could be that player to drag them over the finish line in certain games.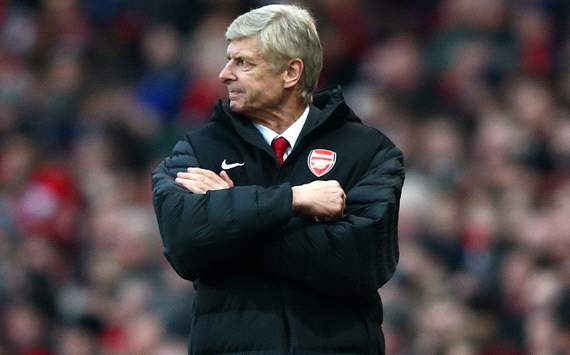 It is likely that Wenger will not splash the cash yet again
The Uruguayan has scored 25 goals in 23 appearances this season for Napoli and his goal-scoring prowess is just another aspect in which he could, perhaps not replace Van Persie, but certainly match up to him to an extent.
Signing the striker would go a long way to pacifying their fans and the media who have constantly criticized the club for not making any marquee signings.
But let's put this into perspective. Cavani isn't the main topic here, he merely stands for what Arsenal should be targeting in the transfer market and the very fact that Wenger even murmured his name in interest is a sign of progress.
Cavani is currently the top scorer in the Serie A with a side who are a mere 5 points behind the league leaders. Hence, there's little chance of him even wanting to leave at this time let alone the monetary implications the deal would come with.
However, Arsenal should be looking to persuade him, they should be looking to target players like him. Robert Lewandowski and David Villa - these are the kind of established strikers that shouldn't be considered beyond them.
While signing the Olivier Girouds of this world may yield decent results in the long-run, Arsenal need a lift now. They made a fair amount of profit over the years in the transfer market. They lost their best players, true but they were paid handsomely for them. The departures of Cesc Fabregas, Samir Nasri and Van Persie alone have made Arsenal around £80 million richer in the past couple of summers.
Perhaps it's time that Arsenal start being a little bold and throw their weight around in the market. If Llorente is likely to join Juventus on a free transfer at the end of the season, then be bold and hand in an official bid for £6 to £10 million. That doesn't mean that the Spaniard will automatically join their ranks but it does give them an opportunity to speak to the player and then it's up to Wenger to use his powers of persuasion like Sir Alex Ferguson has so craftily done over the years.
That's just an example of how Arsenal can make things happen and bring quality players in their squad. After their defeat to Chelsea over the weekend, they are now level on points with Liverpool. Granted, they do have a game in hand but this is no time to be scrapping away at the bottom of the barrel while their rivals scout the cream of the crop. This is no time to be sitting around and waiting for Financial Fair Play to kick in.
Their bid to secure that fourth Champions League spot is now under serious threat with just 15 games remaining. The board and Wenger reassured fans last month that there would be money to spend in January but they are yet make a signing with just nine days to go until the deadline. This is the time to strengthen the squad, the time to get out that cheque book and go for a top player with determination instead of sitting back with their hands folded saying that there are no 'special' players currently available. If they don't spend now, they may not qualify for Europe and the 'special' players won't be interested even if they are available.
Who should Arsenal sign? Leave your comments below or discuss with the writer on Twitter @BrendonNetto.
How do you stay up with football when on the move? With http://m.goal.com –your best source for mobile coverage of the beautiful game.