As a child,
Victor Valdes
hated the job of a goalkeeper. The Spaniard hated the fact that players used to celebrate a goal without the goalkeeper. Few would have guessed that the Spaniard would end up being one of the finest goalkeepers of his generation.
Victor Valdes started his romance with the Catalan giants back in 1992 when the goalkeeper was just 10 years old. Part of the famous La Masia youth set up, Valdes left the academy two months after joining it and instead moved to Tenerife. 3 years later he returned to Barcelona making progressed through the youth set up quickly. It was in 2002 that the Spaniard landed himself a regular spot in the Barcelona side. 11 years on, Valdes expressed his desire to leave the four-time European champions through his agent of who mentioned that
he will not be renewing his contract which extends till summer of 2014.
It was turning out to be a golden period of the La Liga leaders who find themselves in comfort zone in the league, their star player and four-time Ballon d'Or winner Lionel Messi signing a new contract and long term servants Xavi and Carles Puyol announcing they will end their careers at the club. Valdes however has chosen to take another path.
"For me, Valdes is the best in the world. When Barca need calm, he transmits that. He also has great capacity and handling."- José Luis Chilavert
The Spanish keeper has represented Barcelona 483 times in all competitions breaking Andoni Zubizaretta's record of most appearances by a goalkeeper in Barcelona's shirt. Valdes was part of the side that has won 5 La Liga titles and 3 Champions League titles and was an important figure in the club's treble winning season of 2008/09.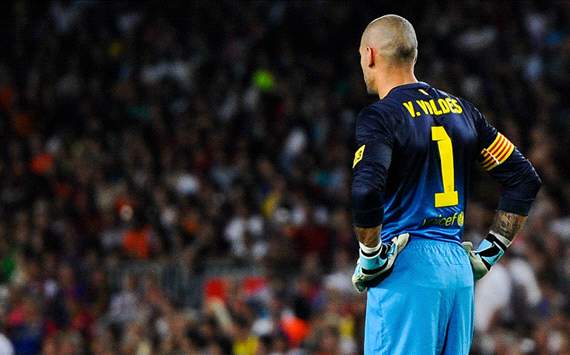 Longest serving goal keeper in Barcelona colours
At a time when Barcelona have been playing the best football in the world, Valdes has had a key role in safeguarding the citadel. But it has not been a perfect journey for Barcelona's #1 who has been a subject of criticism on numerous occasions.
Known for their quick passing, possession and movement a style popularly known as "tiki-taka" started by the legendary Johan Cruyff, Barcelona have dominated their oppositions no matter how good. Their ability to keep the ball for most part of 90 minutes leaves the opponents with very less chances to score. The opposition attacks mainly have to resort to counter attacks or hope for one-on-one chances as seen in the club's defeats to Chelsea and Celtic in the Champions League.
Over the last three seasons Barcelona have had at an average of 3 shots per game on their goal. A clear indication of how less Victor Valdes gets tested when playing, which has raised a number of questions on the goalkeeper's ability to perform outside the Catalan club.
There is no doubt that this Barcelona side is one of the teams that are close to perfection. Excellent when moving forward with a potent midfield, and a strong defence, it's been the goalkeeping area that has been the Blaugrana's supposed weak link. Valdes is one of the finest keepers in the world, but the Spaniard has been under a lot of scrutiny for his poor decision making and constant errors.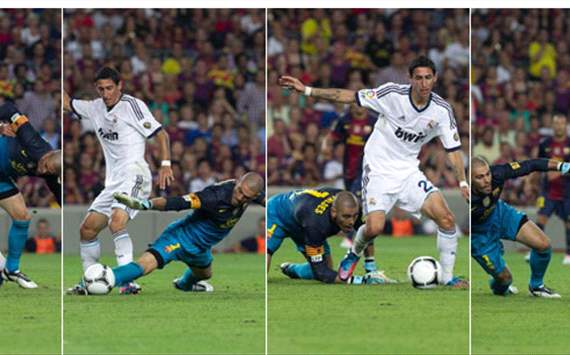 Valdes has been criticised a lot for his errors
Back in 2011 against Real Madrid, Valdes was criticised for his mistake in the El Clasico as he gifted the ball away to Angel Di Maria due to some sloppy clearance by himself. Di Maria was quick to capitalise on the error setting and went on to score.
Another case against the credibility of Valdes came in the 2006-07 season when Barcelona hosted Rafael Benitez's Liverpool. The Reds ran away with a vital 1-2 away win in which the Spanish goalkeeper was at fault during the first goal.
Maradona : Valdes is bad! But with all the players he has in front of him even he looks good."
Back in 2009, Barcelona were leading 2-0 against Atletico Madrid, but a beautiful strike by Diego Forlan sparked the revival for Atletico Madrid who went onto win 4-3. That Diego Forlan strike was from 30 yards out but what made it worse for Barcelona was the fact that their goalkeeper was caught napping out by the Uruguayan. Valdes has made numerous howlers because of which many have termed him as an average keeper hiding behind a perfect team.
| | | | | | | | | | | | |
| --- | --- | --- | --- | --- | --- | --- | --- | --- | --- | --- | --- |
| Year | Matches Played | Minutes Played | Goals Allowed | Goals Allowed Average | Penalty Allowed | Penalty kick faced | Penalty kick save % | Saves | Shots Faced | Shots on goal faced | Clean Sheets |
| 2009 | 38 | 3420 | 24 | 0.63 | 1 | 1 | 0 | 105 | 287 | 128 | 20 |
| 2010 | 32 | 2880 | 16 | 0.50 | 2 | 3 | 33.3 | 81 | 223 | 98 | 17 |
| 2011 | 35 | 3150 | 28 | 0.80 | 3 | 4 | 25 | 60 | 236 | 95 | 17 |
| 2012 | 19 | 1710 | 20 | 1.05 | 2 | 3 | 33.3 | 37 | 149 | 56 | 5 |
For all his mistakes, Valdes is still a very good goalkeeper who fits in perfectly in the Barcelona setup. The 21-time La Liga champions' style of passing football is a game probably all eleven on the field should have an idea about, which is one of the key reasons Valdes has been their Number 1.
This is a reason why critics have stated Valdes is rarely tested given that the rest of the Barcelona side dominate possession. The fact is that this style of play often makes it difficult for goalkeepers considering the fact that they have to stay alert for the entire game as Barca's game often leaves the keeper exposed in counter-attacks.
He has won the Zamora trophy 5 times in his Barcelona career and has been winning the trophy ever since Pep Guardiola took over at the club.
Though much has been made of how Valdes should not have announced his decision with 18 months still left in his contract with the Spanish media labelling the player "Ungrateful", but his decision has nothing to do with money or lack of opportunity. Valdes has been on top of his game ever since being the first choice for Barcelona, having 19 major titles and there is no doubt that in his final 18 months these stats are only bound to improve.
Follow

Shikharr Chandra on

How do you stay up with football when on the move? With http://m.goal.com –your best source for mobile coverage of the beautiful game.