The words 'controversy' and 'Suarez' have been going hand in hand ever since the Uruguayan began his professional career. It was not only when he joined Liverpool, that he was supposedly 'earmarked' for criticism from all quarters. In his time at Ajax, he bit an opponent's ear and not to forget him gloating about having used his hand to stop a goal bound winner to help his side go into the World Cup semi-finals.
Is he the only one who has committed a 'hand ball' or has 'dived'? Certainly not. Has he made it easy for his detractors? Yes.
Suarez's latest chapter in his rapidly increasing volume in the Art of Provocation
includes his own admission of how he has dived and how Manchester United are the media's sweethearts.
This was a straight slap in the face of his fellow Liverpool players, coaches and former players who had come out in open support of the mercurial forward, who they felt was unfairly targeted for something which is as common an occurence in football, as a foul. The likes of
Steven Gerrard
,
Robbie Fowler
,
Brendan Rodgers
and
former director of football at Liverpool, Damien Comolli
had come out in open rebuttal of the numerous media criticisms, the latest round of which was after Suarez had celebrated by kissing his hand, after 'unintentionally' using it to control the ball before slotting the it home,
to help his side progress in the FA Cup.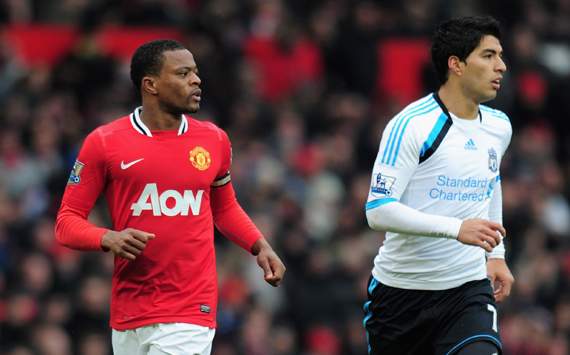 Suarez however maintained his innocence in the 'Evra incident'
The often unfair persecution of the talented South American, would have been the only plausible reason for his latest outburst, and after the 'media trial' of the 'Evra incident', his apparent hatred for Manchester United too is understandable, as he still maintains that he had not uttered anything abusive at all.
Liverpool too have done their part by sticking to the beleaguered player, as they have staunchly defended him all throughout, and have refused to enforce a ban on him.
While it is understandable where the comments came from, this impulsive outburst will only give credence to his critics, while undermining his brilliance on the field and also give ammunition to his detractors. The cascading effect will fall also on the pitch, where referees are likely to give decisions against him, as his own admission of guilt will always be at the back of their mind when taking any call, no matter how straight forward or innocuous it may be.
"The likes of Suarez have had a couple of good penalty appeals. He hasn't dived, they have been legitimate, and he's actually got booked"




- Brendan Rodgers

It also makes his supporters, the Liverpool faithful who have always maintained that Suarez is unfairly said to dive, even when there is evident contact and decisions hardly go in his favour, red in their face after their star man himself admitted to using unfair means. It is naivety born out of bubbling frustration as he sees players around him assuming unfair methods while it is only he who gets ticked off, even when he has been hacked down to the ground.
A part of the blame is of course his own, due to his volatile personality which do not conform to the so called standards of the 'English game' and how his incendiary comments are an easy bait for any journalist worth his salt.
It must also be said that Suarez's admission of guilt may not have been the best idea. Perhaps, it cleared his conscience to certain extent but it also attracted more light on the topic that was starting to fade in the media's memory. Moreover, it didn't do any favours for his team-mates and manager alike who defended him so profusely. In that respect, it was a little naive to bring it up again.
A brilliant and talismanic player for Liverpool, Luis Suarez should be advised to not pay heed to all the things said about him, and just go about doing what he does best, rescue his club from the jaws of defeat and at the same time maintain his poise and balance on the field, turning hapless defenders at will. If that is not done, it won't be long before English football loses one of the most exciting characters, since the times of Eric Cantona.
Follow Kaustav Bera on

How do you stay up to date with football when on the move? With http://m.goal.com – your best source for mobile coverage of the beautiful game.