The appointment of
Pep Guardiola
has elicited several positive responses, including one from
Bayern Munich
skipper
Phillip Lahm
. The German believes that Pep has been the best manager of the last four or five years. Fourteen trophies, along with his set of tactics that have revolutionized football, has set many a benchmark that other teams can only dream of emulating. Rarely has such a short tenure left such an indelible impression on the worldwide football audience.
What has made Guardiola stand out from other high profile managers is a strict adherence to his ideology. The popular notion about his
Barcelona
side is that it was heavily reliant on the products from the youth academy. While essentially true, the fact is that they did spend a large amount in bringing in players that fit into his style of play and not all this money was well spent.
A cursory glance at Barcelona's net expenditure figures during his reign (2008-12) suggests something slightly unanticipated. It turns out that the numbers for each season show a minimum of 11.5 million pounds deficit. In his first season in-charge (08-09), Guardiola spent £84.5 million while he recouped a shade under just £50 million. Aleksandr Hleb was one of the many additions he made to the squad for £15 million who, before his contract termination added a mere £2.5 million to Barcelona's coffers through loans. This was also the season in which Pep revamped most of Frank Rijkaard's squad by selling the likes of Deco, Ronaldinho and Gianluca Zambrotta.
The season after this was where he incurred a difference to the tune of £78 million which included expenditure up to an astonishing sum of £99.5 million. The 2009 summer was certainly his most adventurous as a manager in the window. The signing of Zlatan Ibrahimovic for whom he exchanged Samuel Eto'o in addition to paying Inter Milan £43.5 million raised many eyebrows. He eventually went on to offload Zlatan for a sum of £21.12 million to AC Milan in the summer before the 2011-12 season.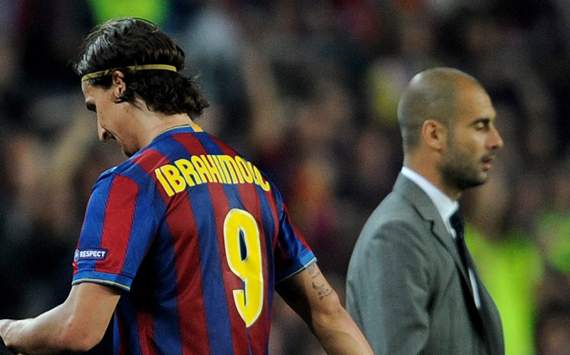 Zlatan: Worth the investment?
The second half of his tenure was markedly more frugal as he managed to restrict the transfer deficit to under £20 million in both seasons. However, this was not for want of spending, with £64 million and £53 million spent in these years.

While there have been successful big money moves to the Nou Camp, David Villa and Dani Alves being the most notable, he did not acquire similarly huge returns on the likes of Aleksandr Hleb (-£13.5 million), Martin Caceres (-£11 million), Dmytro Chygrynskiy (-£9 million) and the curious case of Zlatan Ibrahimovic (-£35.12 million).

This goes to show that Pep has no qualms over spending top dollar if he feels that a player adds sufficient value to his team. His next destination Bayern Munich, are a team that compete with Barcelona on the same footing when it comes to the transfer market. As another European powerhouse, they are not averse to breaking the bank for players in the elite bracket of world football.
Bayern Munich Transfer Balance Sheet

Season

Revenue (in mil. pounds)

Departures
Expenditure (in mil. pounds)

Arrivals

Total (in mil. pounds)


08/09

9.68
12
-
-
+9.68

09/10

20.20
12
65.74
13
-45.54

10/11

8.36
11
14.96
9
-6.6

11/12

4.40
5
38.80
8
-34.40
Source: transfermarkt.co.uk
What we know for sure is that it will be incredibly difficult for Pep to find players of the caliber of Xavi, Iniesta and Co. in Bayern's youth system in the same generation. Moreover, he will look to make his mark on the Bayern side probably with his brand of possession football and high pressing tactics. With Bayern's academy not being as reputed as La Masia, it will probably take a few signings to bridge the gap in quality required to play dedicated tactical football at such a high intensity.
While this current Bayern Munich squad is more than capable of winning trophies, it is highly likely that Pep will freshen things up with a couple of new faces. These are expected to be his marquee signings; announcing intent to the rest of the Bundesliga and Europe.
What works in Guardiola's favour is Bayern Munich is a highly stable, well-structured, prudently run footballing institution. They will not require any major overhaul and will guarantee him definite shots at silverware. However, he will not be able to escape comparisons with his tenure at Barcelona. Whether we see unprecedented success (read: fourteen trophies in four years) hinges on how well he does business i.e. the top-tier acquisitions, stars or potential star players he brings to the club.
Given his somewhat iffy record in this regard at the Nou Camp, he may find it hard to outdo his own achievements and prove his managerial acumen to any skeptics, especially those who compare him to his long-time nemesis, "The Special One".
Follow Dhvanil Gagvani on

How do you stay up to date with football when on the move? With http://m.goal.com – your best source for mobile coverage of the beautiful game.