Aditya Bajaj

Comment

l Bundesliga
Follow on
And the award for 'Winning over Pep Guardiola' goes to … Bayern Munich.
Beating competition from four other elites nominees in Chelsea, Manchester City, Manchester United and Milan, the Bundesliga side came out on top successfully seducing Pep into putting pen to paper a three year deal starting next season.
But now that the deal's been sealed, doesn't it somehow make all the sense in the world that the least overhyped team in the long saga won the race for the most wanted coach in football?
It does.
Starting with Manchester City, a player who wears history on his sleeve having laid down his heart for Barcelona during his prime as a player, would have never chosen the blue half of Manchester for the simple reason that it is a relatively new club in a game where other big teams have built a footballing culture over decades of success and not by unlimited stash of cash at their disposal so much so that players are bought and sold like toys in search of immediate success.
Champions of England they may be, but this is a man who has a thing for a strong youth system and players who put the club before themselves as evident during his immensely successful tenure at Camp Nou. Out went Ronaldinho and Deco in his first season, two of them best midfielders during that period in Europe, Samuel Eto'o in his second and Zlatan Ibrahimovic in his third thanks to the self centered personality of two of the best attackers the game has seen over the past decade.
As much as Ibrahimovic criticized his former manager and his players for being like 'little school boys and soldiers' following their master's advice without ever questioning him, it was this very culture that gave him a team that today is arguably the greatest in history.
With personalities like Mario Balotelli, Carlos Tevez and Samir Nasri at their disposal it was always going to be a long shot for City to land the Spaniard. Add to that the constant humiliation that Roberto Mancini goes through with regularity at the hands of his players and the press and the job in itself seems worth avoiding.
Besides, with a possible future at Manchester United which has been the least secretive of desires from both parties involved, crossing the great Manchester divide later in his career would have been a big stumbling block if at all he would have chosen the Etihad over Old Trafford.
Having taken a rare sabbatical from the game last summer, Pep comes across as a man who loves his peace of mind and prefers his personal space above everything and for that very reason Chelsea or should we say Roman Abramovich may have seemed very repulsive.
Guardiola's snubbing has given Allegri (L), Benitez (C) and Mancini (R) a huge lifeline
Like their rivals, Manchester City, hardly a team that promotes youth and banks upon the wealth and wishes of their Russian owner, Chelsea - though one of the most successful teams in England since his takeover – have seen a change at the managerial seat no less than eight times since 2003 with Rafael Benitez as their ninth manager in ten seasons and third in less than a year!
That they don't envisage a 'project' for long time success was pretty much stated when they fired current Tottenham manager Andre Villas-Boas a year ago, and Abramovich's ill temperament with his staff was in full display last November when fan favourite Roberto Di Matteo was given the bullet just five months after winning him that one trophy he had so badly wanted over the years.
Hardly an incentive to lure a coach, who throughout his time at Barcelona worked at peace with the management and barring the occasional flashpoints with Jose Mourinho, was an embodiment of poise and character working in his own space.
If anything, Abramovich has himself to blame for this snub and probably faces an even tougher prospect of choosing his coach should he decide to give the sack to interim boss Benitez who is hardly a fan favourite.
Left to choose between Munich, United and Milan probably was tougher than snubbing the other two as these are the clubs that Pep has openly admired in public for their status, stature and above all 'history'.
While he was touted as Sir Alex Ferguson's heir by the Scot himself, his admiration for the city of Milan and the San Siro and vice versa were hardly ever a secret.
Having spent a good three seasons in Italy with Roma and Brescia at the dusk of his career by admittance he fell in love with the country stating numerous number times his desire to return in the future. The fact that he dedicated his first Champions League as a coach with Barcelona to Paolo Maldini and Milan showed how much the club - that claims to have the trophy in its DNA – was admired by the Spaniard for their history and if at all he was to come back, it had to be the San Siro.
Silvio Berlusconi on numerous occasions in the past had stated his desire to land him next season but he was never shy in declaring at the same time that the chances were always dim. Undergoing a massive transition with a completely new team, it was probably out of self realization that the club had accepted defeat as their new policy of building a side based on youth is still at a development stage with the club not even assured of a place in Europe next season.
Having made no secret of their financial problems, Milan still have a long way to go before they start attracting big names in football and Guardiola is a prospect only for the future. Considering the state of things at the club at present, a deal never made sense, though it must be argued that the project at Milan would have been the most challenging for a man out to prove his mettle as a manager outside the comfort zone of having some of the best players in Europe.
But as far as United are concerned, the future of the very same person who Pep was supposed to succeed has certainly blocked any deal with the current Premier League leaders. Sir Alex's retirement is just around the corner, but will he retire after this season or in a couple of seasons, much depends on whether the Red Devils are able to bring the Champions League to Old Trafford which would certainly let the Scot retire with bravado.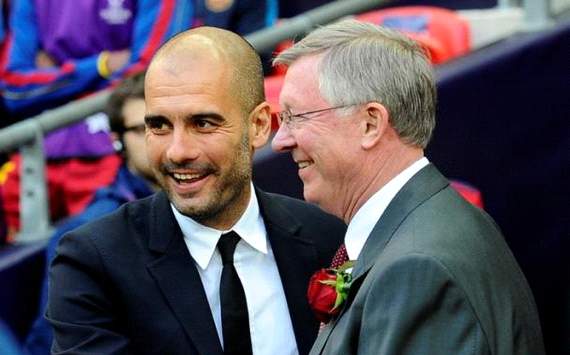 The uncertainty regarding Sir Alex Ferguson's future played a key role in Guardiola's decision
Now, given Guardiola's desire to return to coaching next season, it was imminent that a decision was to be made fast by both sides and with only six months to go before the new season, it was Pep and not Sir Alex who made up his mind regarding his future.
Choosing Bayern, not only did he break a zillion hearts but also shocked an equally large number of people as amidst all rumors, the one regarding the Bavarians was the least hyped in the media.
But one has to admit that considering all the aspects, it does make sense at the end of the day.
Bayern are one of the most recognized clubs in the world to start with, with a structure that is self sustaining to say the least. An amazing stadium with great supporters, they are a club filled with history and success, besides being one of the most respected sides in world football. The fact that they have a brilliant youth system and a squad mixed with the right blend of youth and experience is pretty much what Guardiola had during his time at Barcelona.
Apart from having an excellent crop of players, they have one of the most versatile squads in Europe with much required depth and financial resources to support anything and everything. In a nutshell, they are amongst the very few complete clubs in the continent probably second only to Barcelona today.
What's important to note here is that the Bundesliga is also a much relaxed league with only 34 games a season which lets the clubs enjoy a good one month of winter break unlike the other big leagues of Europe and certainly (alteast domestically) Guardiola will be away from unwanted pressure from the constant glare of the media which can sometime get daunting like it happens every week in Spain, England and Italy.
Also, the Germans were the only club with a definite vacancy in the summer with current coach Jupp Heynckes having decided to retire from the game - come the end of this season. Taking up a job at Chelsea, City or Milan would have meant usurping somebody else's throne at the top something that Guardiola has already stated in the past as 'being disrespectful', while Sir Alex himself wasn't sure about his future amidst all this.
But it will be a challenge nevertheless. The Bundesliga has been amongst the top three leagues in the past couple of years and with tremendous competition alongside clubs like Borussia Dortmund and Bayer Leverkusen, leading them would be no mean task given that he has just six months to prepare for everything from his German to how he will instill his tiki-taka philosophy with the squad which plays a formation similar to Real Madrid, or if at all he can be flexible enough to adjust accordingly.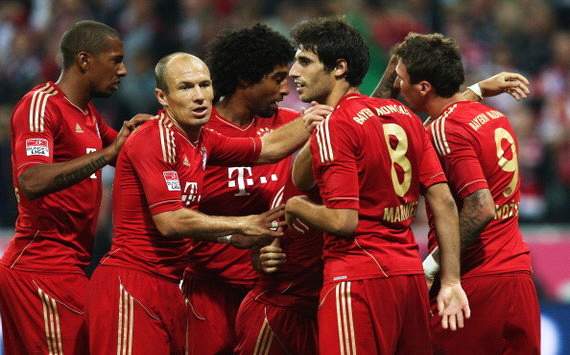 Bayern Munich | Winning the Champions League with the German team will be the ultimate test
The ultimate test will be winning the Champions League with the Bavarians who like the German national team have a knack of falling at the later stages of the tournament having failed to win it twice in three years despite reaching the finals twice during that period. This is where he will be judged against his predecessors where everyone from Louis Van Gaal to Jupp Heynckes have failed, though the latter can still achieve it this season.
Ever since he left Barcelona, the public consensus has been that he only won because he had at his disposal one of the most talented players on Earth. It will be interesting to see how he breaks that notion to prove his mettle as a coach without the likes of Xavi, Andres Iniesta and most importantly Lionel Messi who were so instrumental in his success.
Nevertheless, this deal signifies the economic strength and the growing popularity of both Bayern Munich and the Bundesliga who have performing brilliantly over the past few seasons.
After six months of speculation, the race finally ends at Munich.
As for the rest, he's still only 41 and will be available in three years time.
Don't forget to let us know in the comments section below or discuss on twitter@adityabajaj
How do you stay up with football when on the move? With http://m.goal.com –your best source for mobile coverage of the beautiful game.