As Sir Alex stated last week, bringing
Daniel Sturridge
to Anfield could be a serious gamble. Four clubs in as many years and the forward's vulnerability to injuries could be a huge cause for concern for the already anxious Anfield faithful. But Sturridge's first two performances have proven otherwise as an early goal against Mansfield in the FA Cup and a positive second half impact with a goal against Manchester United is definitely a great return from this January transfer. Working in tandem with
Luis Suarez
upfront, Sturridge provided plenty of positives to ponder upon.
Here is how Liverpool could very well benefit from the Sturridge-Suarez duo upfront...
Liverpool's over-reliance on Suarez has been too obvious this season. Yes he been getting the goals, but more often against the likes of Fulham, Sunderland and QPR! This trend will not go on forever, definitely not against the top teams of the land; as has been highlighted by the fact that Liverpool have not been able to beat a team from the top half all season. So Sturridge coming in and shouldering the responsibility with Suarez is a welcome change.

Immediately after Sturridge was signed, Brendan Rodgers hinted on the fact that the former would be deployed in a central role with Suarez playing behind him. Up until now Suarez has been unable to play in that role due to the paper thin nature of Liverpool's attack line. Now with Sturridge brought in and Fabio Borini coming back to full fitness, Suarez may be seen taking up that false 9 position few times this season.
Sturridge's addition also brings that little bit of unpredictability to Suarez's game as he now has the option of either starting behind Sturridge, or in a floating false 9 role, or even bang up front like he has done all season, but now with some able company in the form of Sturridge on the right or left.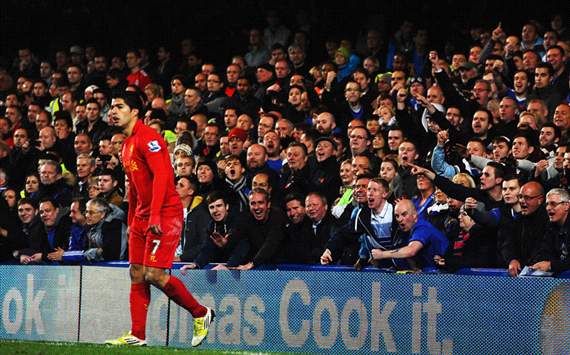 Luis Suarez: Liverpool's one man army this season
Even though the pairing is just a game old (against Mansfield, Suarez came on for Sturridge), their positive link-up play can be looked upon as a plus point as it came against a top side like Manchester United and that too at Old Trafford. The shift was there for everyone to see. As Sturridge came on, Liverpool were pretty much in the ascendancy for the remainder of the game following United's second goal.

Though United's defence has been in shambles all season, the fact that the pairing of Suarez-Sturridge caused quite a bit of havoc after a Liverpool no-show in the first half is commendable. In the coming games, Sturridge needs to take advantage of the extra attention given to Suarez and make the most of the subsequent freedom at his disposal.

Sturridge can be the sort of impact player Edin Dzeko has been for Manchester City. If Rodgers chooses to start with only Suarez upfront, rest assured the Uruguayan's industrious play will run most Premier League defences rugged, tiring them out in the process. That would be the point wherein Rodgers in the second half would have to introduce Sturridge and deploy the latter either in a 2-man attack upfront with Suarez or just a bit higher up the line like against United. He also provides Liverpool options in the air upfront, standing 188 cms tall. That kind of height is afforded only to Liverpool's centre backs these days!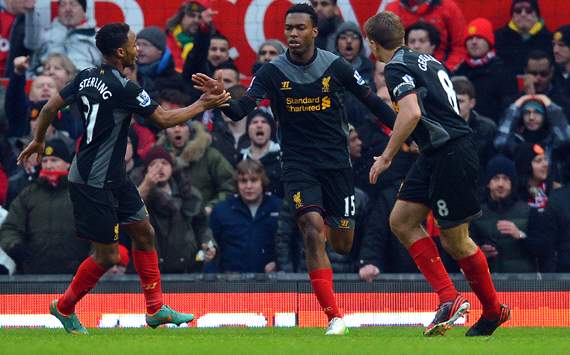 Sturridge showcases versitality, even coming off the bench
Sturridge more often than not finds the pockets of space behind defenders and can pull them along on his darting runs and create space for the likes of Steven Gerrard, Suarez and Stewart Downing to thrive upon. Last season when Liverpool beat Chelsea at Stamford Bridge by the scoreline of 2-1, Sturridge scored the solitary Chelsea goal. He scored that goal coming from behind the defender catching him unaware, totally off his guard. That is something Liverpool have been lacking.

And like he showed against United, he is alert to pounce on second balls and make chances and goals out of the same, another department Liverpool have been faltering in, with only Suarez showing up most of the time. On many occasions when you have the likes of Jose Enrique, Raheem Sterling and Downing bombing down the flanks, Suarez is the only Liverpool player in the box, the only target to be hit. With Sturridge's poacher instinct there will be more options to deliver to in the box, at the same time facilitate link up play between Suarez and Sturridge, both blessed with relatively nimble feet.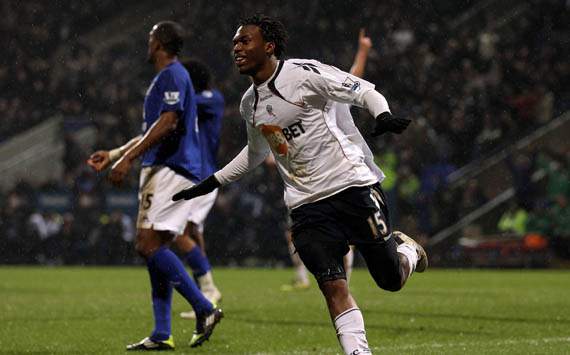 Sensational short loan spell at Bolton
Sturridge scored 8 goals in 12 appearances for Bolton on loan. It just shows that he needs regular game time to prove his mettle. That was a commodity that was afforded to him rarely at Chelsea. That along with his run of injuries was why he never became a Stamford Bridge hit. Sufficient time upfront with a player of Suarez's standard will do Sturridge's confidence a world of good and Liverpool will reap the ultimate dividends out of this.
In the past, the link-up play between Steven Gerrard and Fernando Torres was telepathic and in recent weeks there have been glimpses of a similar relationship between Gerrard and Suarez. Now with Sturridge coming in, it gives a little more license to roam or to command from in the centre for Gerrard, who by no means is getting younger these days. The Liverpool skipper is now 32 and he very rarely shows the clinical instinct from yesteryears. So with Sturridge being deployed on the right, left or upfront partnering Suarez, it gives Gerrard more options to service to.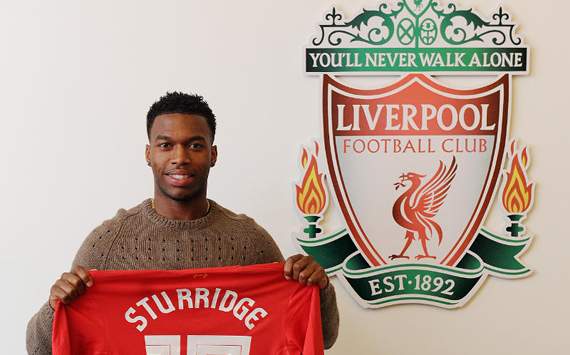 Is Dan the Man to partner Suarez?
All in all, the signing of Daniel Sturridge from Chelsea is a thoroughly tactical one from Brendan Rodgers. What remains to be seen is how the Northern Irishman makes use of the flexible Birmingham-born lad. The latter has to stay injury-free (which has been tough for the former Chelsea player) and see to it he works on brushing off the 'selfish' tag awarded to him in recent times (Yes, there were occasions in the game against United when Sturridge should've passed rather than shot from tight angles). With that sorted, Liverpool could see an upturn in form aided and abetted by this tricky 23-year old Englishman.
How do you stay up with football when on the move? With http://m.goal.com –your best source for mobile coverage of the beautiful game.