Samir Nasri, Kolo Toure, Emmanuel Adebayor and Gael Clichy have all moved away from Arsenal to Manchester City for a variety of reasons. The players have left Arsenal during a time the club needed stability as Arsene Wenger tried to build a new squad after the departure of the likes of Robert Pires, Thierry Henry and Dennis Bergkamp.
Much has been made of Arsenal turning into Manchester City's feeder club after many of the Gunners' players touted for greatness at the club ended up in the blue half of Manchester. City have not shied away from spending big to get hold of these players and although they have gone onto fulfil their desire of earning more money or winning silverware, these players have not lived upto the expectations their new fans hoped for.
Goal.com
analyses the situation of these four players ever since their move from London to Manchester.
| | |
| --- | --- |
| | Samir Nasri - From Arsenal's saviour to City's bench |
As Mikel Arteta hammered in a long ranger at the Emirates last season denting City's hopes of winning the Premier League title, somewhere on the bench Samir Nasri looked on as the fans mocked their ex-star. Although Nasri then went onto win the Premier League with City later that year and put one over his ex-club, the French star has struggled to cement a regular spot at the Etihad ever since his £24 million move in the 2011-12 season. Nasri has failed to put in performances on a regular display as the City faithful have started to question his purchase.
There was no shortage of suitors ever since the Frenchman expressed his desire to leave the Emirates with both the Manchester clubs were keen to sign him. Nasri spent four seasons at North London and it was during his final season that the midfielder started to show his real potential scoring 15 goals that season. Nasri was loved by the Arsenal supporters who once had his own song at the club and the fans cheered him on, but the midfielder moved on for new challenges.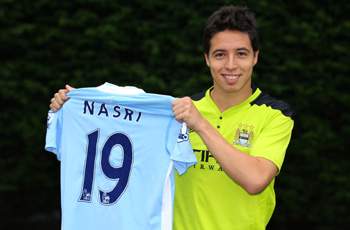 It has gone horribly wrong for Nasri
Once deemed as a player to take France forward after Zinedine Zidane's retirement, Nasri has now become a regular face on the bench at the Etihad, living under the shadows of Spain's David Silva. Nasri's signing has been questioned by experts more recently after the Manchester derby where the Frenchman was held responsible for Robin Van Persie's winner via free-kick. The 25-year old failed to do his defensive duties as Roberto Mancini criticised the midfielder in his post-match address saying, "In the last free-kick, we put only three players there," he said. "Were there three? We had two and a half (Nasri had his leg sticking out which deflected Van Persie's free-kick past Joe Hart). We didn't cover very well."
| | | | |
| --- | --- | --- | --- |
| Appearances | Goals | Assists | Trophies |
| 61 | 9 | 13 | Premier League, Community Shield |
With big transfer money comes great responsibility, but since his move in 2011, Nasri has failed to step up on a regular basis. During his final season at Arsenal, Nasri averaged a goal every 3 games but that has hardly been the case at City where his form has deteriorated. Although the midfielder is just 25 and has a plenty of football left in him, only time will tell whether the Frenchman can live up to his billing.
For Arsenal fans they can still question Wenger's decision to sell their star player at his peak, but seeing his current situation no one would expect any sympathy from the Gunners' faithful at this moment.
| | |
| --- | --- |
| | Kolo Toure - Struggling to become City's regular |
Part of Arsenal's 'Invincibles' squad of 2004-05, Kolo Toure was a potent figure in that back four of Arsene Wenger making 326 appearances in his 7 seasons at Arsenal. His imposing figure and tackling abilities were something that made him a top notch defender combining well with the likes of Sol Campbell, Lauren, and Ashley Cole. Toure went into the Gunners' history books as he scored the final European goal at the Highbury stadium against Villarreal.
He was soon rewarded for his efforts and handed over an improved four year deal. He failed to stay on four years though as he completed a move to the Etihad at the end of three seasons. Unlike Nasri and Adebayor, Toure was not hated by the Gunners faithful as many accepted his decision to move on after helping the club to glory.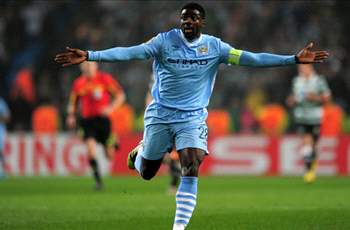 Toure has found it hard at Manchester
After his £16 million move to Manchester City, Toure has gone onto win 3 trophies compared to Arsenal's none since his departure but that does not explain the whole story. The centre-back has struggled to cement a regular spot in the team and ever since the arrival of Joleon Lescott and Matija Nastasic, and the Ivory Coast defender has mainly been found on the bench.
| | | | |
| --- | --- | --- | --- |
| Appearances | Goals | Assists | Trophies |
| 93 | 3 | 1 | FA Cup, Premier League, Community Shield |
The centre-back has had some touch times most notably his 6-month ban after failing a drug test. Once captain of this City side, Toure has found it hard to establish a place in the hearts of the City fans, something which he had successfully done at Arsenal.
| | |
| --- | --- |
| | Adebayor - Struggling between clubs since leaving Arsenal |
It was 20 minutes after the game restarted from his goal, he was sent off for a tackle on Kieran Gibbs as Tottenham were down to 10 men at the Emirates. Spurs went onto lose the game 5-2. Adebayor was taunted off by the Arsenal faithful chanting "What's the score, Ade-bay-or?"
It has gone horribly wrong for the Togolese forward ever since his departure from Arsenal to Manchester City in 2009. Adebayor bid farewell to the Gunners after scoring 46 goals in his final two seasons. A deal that sparked anger among fans, Adebayor was booed off by the Arsenal supporters as the two sides met for the first time since his move. Adebayor scored a towering header and ran towards the Arsenal section taunting them in his celebration. It was a reaction that angered the Arsenal fans. Since then Adebayor has just been another name for both the Citizens and the Gunners who managed just 19 goals in his 2 years of struggle at Manchester.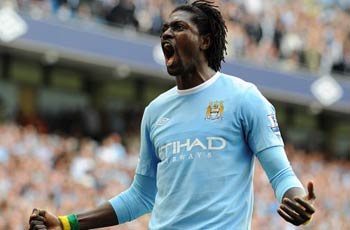 Celebration that ended his relationship with the Gunners
Since his transfer from Arsenal to Man City for £25million, Adebayor has represented 2 more clubs through loan spells at Real Madrid and Tottenham Hotspur, although he failed to replicate his Arsenal form. Although the striker had a good season at White Hart Lane, he now finds himself second choice to Jermaine Defoe.
| | | | |
| --- | --- | --- | --- |
| Appearances | Goals | Assists | Trophies |
| 121 | 48 | 18 | Copa Del Rey: 2010-11 |
Adebayor's stats since leaving Arsenal have hardly been outstanding managing only 48 goals, 2 more than what he managed during his final two seasons at Arsenal. Adebayor's motive for leaving Arsenal could be seen by many as a chance to win more trophies and although Gunners have not won a trophy since the striker left, Adebayor himself has a domestic Cup in Spain to show for. His time at Real Madrid could be seen as a successful one on paper, but it was hardly the case as he saw himself play a little more than what Kaka gets at the Santiago Bernabeu.
Not many get multiple chances to prove themselves at such reputed clubs, but Adebayor has not done justice to his talent or maybe he was just another over-rated striker!
| | |
| --- | --- |
| | Gaël Clichy - Only one who has raised his game |
One ex-Arsenal player who can still raise his head since leaving the Gunners can be Gaël Clichy. The French full back has been a regular starter for Roberto Mancini's side since his move to Manchester a couple of seasons back and was a key figure in guiding City to their first Premier League title in 44 years.
Usually overshadowed by Ashley Cole's domination in the left back spot, Clichy announced himself to European football once Cole left for Chelsea. Although he had to fight off William Gallas for a while but Clichy soon made that spot his own averaging 40 appearances in his last 5 seasons. During his time at Arsenal, Clichy was rewarded for his abilities when was voted in PFA Team of the year in 2008 and was then handed a contract extension. Although Clichy was not in the same mould as Ashley Cole, the Frenchman never let Arsenal feel the need of a new left back though his injuries restricted his playing time early on.
The French full back has not disappointed for City
Unlike most of his ex-Arsenal team mates, Clichy has done reasonably well ever since his £7 million move to the Etihad. Although he was rotated on a regular basis early on with Pablo Zabaleta, this season Clichy has made that spot his own shifting the Argentine to his more natural role of a right back.
| | | | |
| --- | --- | --- | --- |
| Appearances | Goals | Assists | Trophies |
| 53 | 0 | 4 | Premier League, Community Shield |
The French full back has been hard to replace for Arsene Wenger although the emergence of Kieran Gibbs has in a way filled the void left this season.
How do you stay up with football when on the move? With http://m.goal.com –your best source for mobile coverage of the beautiful game.