Brendon Netto




Comment

|

Europe




Follow on
The transfer situation involving Wesley Sneijder at the moment is as intriguing as it is contrasting to the one in the summer of 2011. The midfielder has gone from being one of the most coveted players in the world to an outcast at his club and an unwanted commodity in the transfer market in a spectacular turn of events.
Just one season on from winning the treble with Inter Milan under the astute guidance of Jose Mourinho, Sneijder was the object of Manchester United's desire when they approached the Dutchman prior to the commencement of 2011-12 season. The Premier League giants were absorbed by the prospect of signing the playmaker in a bid to replace the aging Paul Scholes and they came agonizingly close to doing so. However, the hefty transfer fee coupled with the player's wages proved to be the stumbling block.
The story behind the current state of affairs
Inter Milan have to bear a large chunk of the responsibility. Following their treble-winning season, Sneijder was regarded as one of the best players in the world and was well and truly on the radar of several European powerhouses. Having already lost their manager to Real Madrid, Inter were in no mood to part ways with their best players who were central to their success.
In a desperate attempt to keep Sneijder, they stretched themselves beyond their limits and offered him a new 5 year contract with an enormous pay packet. With UEFA's Financial Fair Play (FFP) regulations coming into the fray, the club soon realized that they could no longer afford his salary.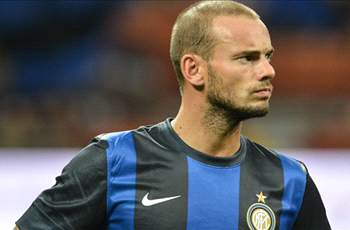 Even though they managed to offload Samuel Eto'o, Maicon and Julio Cesar, Sneijder's wages continued to hinder their deteriorating financial situation. In November, the club informed the player that he would no longer feature in the first team unless he agreed to a considerable pay-cut, a proposition the player refused to entertain which in turn led to an impasse between the two parties.
Two reasons why the mainstream clubs aren't bidding

Wage demands:
Had it not been for his huge wages, Sneijder may well have been halfway through his second season in the red half of Manchester by now. The wheels fell off the deal when the player's representatives refused to lower their demands while Inter refused to lower the asking price. Once again, his wages coupled with his transfer fee have put off potential suitors.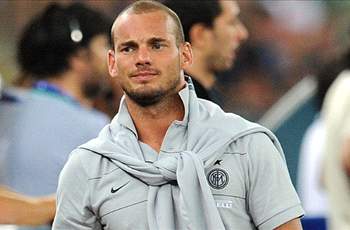 His wages remain an issue
Not many clubs are capable of paying the Dutchman's wages and those that do have the resources are now reluctant to do so in order to comply with FFP regulations. Manchester City have already arrested their spending in the transfer market and can ill-afford to take on another high-earner while fellow big spenders Paris Saint-Germain have insisted that they are not interested in signing the 28 year old.
The waiting game:
It is conceivable that the mainstream clubs are possibly being a little clever and are biding their time until the player's asking price drops further as Inter start to get desperate. With every week that passes by, the club takes a massive hit by paying huge wages to a player who doesn't even feature in the team anymore. They simply cannot afford to do that much longer and the sooner they get him off their payroll the better.
Under FIFA regulations, Inter risk losing Sneijder on a free transfer at the end of the season if they continue to enforce his exile from the first team. If he doesn't play in at least 10% of the club's official games by the end of the season, he will be granted the option to terminate his contract – further emphasizing the importance of selling him in January.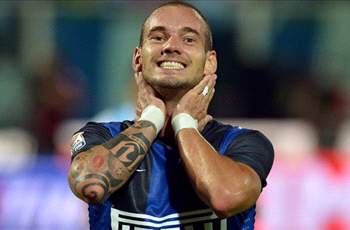 Inter risk losing him for free
The Milanese club wants a fee of at least £12 million for the midfielder but none of the bigger clubs are taking the bait just yet. "Each day a new club comes in for Wesley," Sneijder's agent, Soren Lerby revealed but apart from the obvious interest and queries, there haven't been any concrete offers from the big clubs.
Two reasons why the mainstream clubs SHOULD bid

He is a world-class player:
It was only a couple of years ago that many believed Wesley Sneijder to be the best midfielder in the world and deserving of the Ballon d'Or award. In 2010, he was named UEFA Club Midfielder of Year, he won the Serie A, Champions League and Coppa Italia, was a runner-up at the World Cup and was named Man of the Match four times in that tournament.
Astonishingly, he was not even named among the final three nominees for the prestigious Ballon d'Or but his class is nevertheless undeniable. The Dutchman no doubt still possesses the same quality and a glance at his statistics confirms that when he does feature, he remains just as effective as he was during that phenomenal season.
| | | | | |
| --- | --- | --- | --- | --- |
| Season | Games | Goals | Assists | Goals/Assists per game |
| 2009-10 | 41 | 8 | 16 | 0.59 |
| 2010-11 | 39 | 7 | 11 | 0.46 |
| 2011-12 | 28 | 6 | 9 | 0.54 |
| 2012-13 | 6 | 2 | 3 | 0.83 |
| Total | 114 | 25 | 39 | 0.56 |
He is still one of the best number 10's around and his aptitude as a playmaker enables him to dictate proceedings. His passing range is neatly complimented by his ambidexterity while his lethal shots from range and dead-ball ability earned him the nickname, 'The Sniper'. He remains a fantastic player for even the teams of the highest calibre to have and would prove to be an influential figure-head within the squad as well.
Value for money:
Eighteen months ago, United nearly shelled out £30 million for his services but at this juncture, an asking price of just £12 million should seem irresistibly inviting. His wages may amount to nearly £6 million a year but realistically speaking, it's impossible to acquire a player of his quality for much less in today's market. Clubs have got to put things into perspective and realize that even at his current cost, Sneijder is still a bargain.
Many believed that the £24 million Manchester United paid over the summer for Robin Van Persie was excessive for a 29 year old in the final year of his contract. However, in hindsight, the only alternative United would have had with respective to a striker who could have a similar impact to Van Persie's this season was to sign Radamel Falcao for nearly £50 million who is only three years younger. From that perspective, United completed a good bit of business.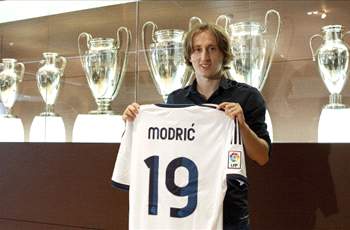 Real Madrid paid a lot more Modric
Similarly, recruiting the Inter outcast for a mere £12 million could turn out to be a fantastic deal since it's almost a certainty that a player of his measure would make a telling impact as well. Real Madrid needed a bid in the region of £33 million to prise Luka Modric away from Tottenham's clutches in the summer transfer window. When you take that into consideration, £12 million for a player who has achieved significantly more in his career than the Croat and is only a year younger seems like an absolute steal.
Add to the fact that as this transfer window starts entering its concluding stages, Inter may be tempted to reduce the asking price and it would be criminal if none of the top sides made a significant attempt to sign the Dutch international.
Galatasaray negotiations: A ploy or a realistic move?
The reports that emerged revealing that Galatasaray were in talks to sign the midfield star were interesting. The club's president, Unal Aysal claimed to have discussed the prospect of signing Sneijder with his Inter Milan counterpart, Massimo Moratti over dinner and seemed upbeat about the possibility of a deal. The deal should see the player be involved in the Champions League regularly and could be a good destination for his family. As it turns out, Inter have now even accepted a €10 million bid from the Turkish side and the final say rests with the player.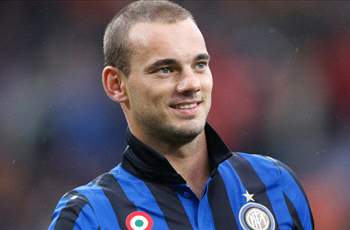 Would he really join Galatasaray?
Is this then an intelligent ploy to spark the bigger clubs into action? Perhaps Inter are hoping that this may prompt other suitors to make official bids sooner rather than later in fear of losing the opportunity to sign the Dutch prodigy. Of course, that notion in itself is highly speculative but there may be some substance to it.
Lerby stated earlier that his client would "only want to play for a top team" and has also hinted at the Premier League being of interest to the star. Furthermore, Lerby appeared unaware of the approach made by Galatasaray yesterday and refused to comment on the reports.
Only time will tell whether Sneijder will actually make the move to Turkey but with all due respect to Galatasaray, if the move does go through, it would be a massive injustice to his talent and career for that matter.
Which club do you think should move for Sneijder? Leave your comments below or discuss with the writer on Twitter @BrendonNetto.
How do you stay up with football when on the move? With http://m.goal.com –your best source for mobile coverage of the beautiful game.