Akarsh Sharma

Analysis

|

Premier League

Follow on
QPR manager Harry Redknapp isn't best known for his tactical nous. But what he does, or you would think he does, bring to the table is excellent man-management and motivational skills. And yet, QPR's abject performance on Sunday night was poor enough to rival, if not beat, performances under his predecessor Mark Hughes as the club's worst of 2012.
"I think I've seen [Luis Suarez] do that to everyone he's played against this year," said the QPR manager after seeing his team dismantled by the Uruguayan forward. Bizarrely, he also rhetorically asked "It's not something he's just suddenly done today, is it?" which further raises inquests into why the slippery forward was afforded the freedom of Loftus Road.
Ryan Nelsen, who replaced Anton Ferdinand, was one of four changes made by Redknapp following the home defeat to West Brom. He paired up with Clint Hill to form a central defensive pairing with a combined age of 69 (the warning signs were already hidden in that number).
Julio Cesar for Robert Green, Nedum Onuoha for Fabio and Samba Diakite for Alejandro Faurlin were the other three changes in QPR's 4-4-1-1 setup. Adel Taarabt, who had been enjoying a free role, once again tucked in behind lone striker Djibril Cisse.
Brendan Rodgers, who couldn't man the dugout due to an illness, made three changes of his own after the humbling his side received at Stoke. Jordan Henderson replaced Jonjo Shelvey as the most advanced player in the midfield trio, Raheem Sterling occupied the left wing in place of Suso and Joe Allen slotted-in to replace Lucas Leiva.
The impact of Henderson's introduction into the starting eleven was evident right from the word go. Liverpool's collective pressing high up the pitch was better and more aggressive than the previous match, and much more intelligent than it usual is with Shelvey involved. Both Sterling and Downing actively joined in with Suarez and Henderson to hunt in packs.
He also did well in bringing Suarez into the game more often than Shelvey usually does, although it could be argued that QPR offered little resistance to him doing so.
The match was over as a contest within the first half an hour when Daniel Agger towered above Hill and M'Bia to head in Liverpool's third goal, which like the previous two goals, was littered with shambolic, school-boy defending.
In the build-up, Downing and Gerrard took an unchallenged short corner (not dissimilar to the heavily scrutinized one which led to Southampton's third in Hughes' last match in-charge) resulting in the Liverpool skipper measuring a cross for his centre-back to head in. In fact, the corner kick itself came from allowing Suarez to run untracked behind the defence for the umpteenth time in the match.
The first two goals weren't much better from a defensive point of view. There was no defensive shield ahead of Hill or cover behind him when Suarez breezed past the defender to open the scoring. From ten yards outside the penalty area to five yards inside the box, Suarez ran unobstructed in a straight line (as opposed to his usual mazy runs). So poor was the home side's organization that neither Nelsen nor M'Bia could reach a position to even attempt a last-ditch challenge.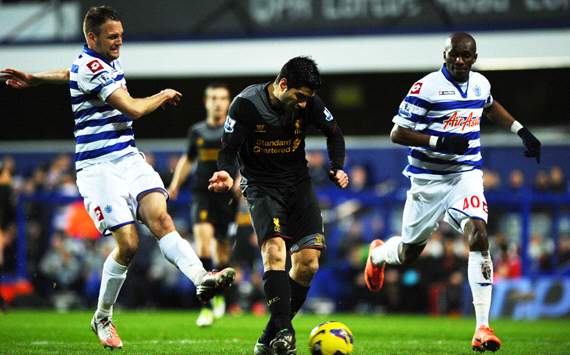 Luis Suarez ran the show and wasn't even fouled once in the first half
If Hill could be forgiven for being beaten on the deck by a player who has done the same to many in the league, the second was unforgivable. For Hill not only allowed Suarez to win a header off a long ball (the kind which is widely termed as a 'defender's ball'), he then feeble-mindedly dashed to station himself in the penalty box leaving Suarez and Downing to exploit a simple 2 versus 1 situation over a perplexed Armand Traore. Once again, Suarez was neither tracked nor challenged as he hammered in his second from the rebound.
This match wasn't a great reflection on Harry Redknapp's management, and in no way a step up from his predecessor. The lack of game plan (or its execution) was mystifying.
Surely, there ought to have been a strategy in place to deal with one of the slickest and most feared strikers in the world? There seemed to be none. When Suarez drifted deep into the midfield or into the channels, nobody looked to have been assigned the duty of picking him up. Quite incredibly, for a striker who has been clipped on the heels all season-long to prevent him from completing his cheeky turns, not once was he fouled in the entire first half.
In fact, QPR conceded only 2 fouls in the first half, which suggests there was no plan in place to break Liverpool's rhythmic passing. The transition from marker to marker (zone handovers) was truly appalling as well.
Had Redknapp done his homework, he would've known that Liverpool have recently struggled against teams that pressed aggressively high up the pitch (Stoke City) or energetically denied them space in the centre, thereby forcing them wide (Villa) and have thrived against teams who sat deep and allowed Liverpool to play as they like (Fulham).
But at Loftus Road, there was little to no pressing from the home side as Liverpool were allowed to play on their own terms. The home side were completely dominated in a 2 versus 3 situation in the centre of the park which should've been avoided with common knowledge that Liverpool play three central midfielders and that Adel Taarabt isn't going to help out defensively at all.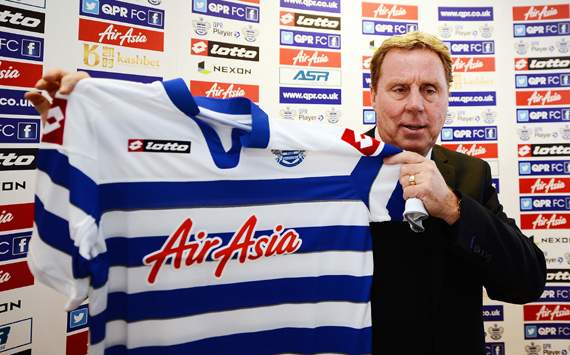 Redknapp is struggling to keep QPR's sinking ship afloat
The away side took turns in further overloading the centre with Suarez dropping deep to collect the ball and both Sterling and Downing moving inside. In fact, the two wingers crossed over in the middle of a move as early as the second minute of the match.
By the time Redknapp reacted to what was unfolding on the pitch, the contest was already over and Liverpool had taken the foot off the gas. He switched to three at the back after the third goal and introduced Shaun Derry (for Cisse) as the third man in the centre of a 3-5-1-1 formation in the beginning of the second half. Wright-Phillips and Armand Traore played as wingbacks and Jamie Mackie was the lone striker. But as Redknapp admitted later, it was purely damage limitation - "I had to change how we played and try to shut up shop. Maybe I should have done that from the start."
Nonetheless, it was a clinical performance from Liverpool and man of the match Suarez to end what has been a dismal 2012 for the club. Skipper Steven Gerrard also showed that in games when Liverpool aren't excessively harried on the ball, he still holds the ability to boss the midfield. He was the most involved player in the match, attempting the most number of passes (87) and producing the joint-most number of tackles (7). He is now placed joint-second for goal assists this season (6).
As for QPR, there seems to be little reason to be optimistic come 2013. "[The two centre-halves] are both 35 and they gave everything they've got," claimed Redknapp. The problem is that their "everything" still isn't good enough at this level. Perhaps, another desperate dip into the transfer market must follow.


Don't forget to let us know your views in the comments section or discuss with the writer on twitter @Akarsh_Official
How do you stay up with football when on the move? With http://m.goal.com –your best source for mobile coverage of the beautiful game.