When AC Milan bought Alexandre 'The Duck' Pato from Brazilian side Internacional, he was seen by many as the man to be the spearhead of the next generation of players who would continue to bring success to the Italian giants. The squad which was clearly ageing with veterans Paolo Maldini and Fillipo Inzaghi coming towards the end of their illustrious careers, looked to the likes of Kaka and Pato to continue doing what Milan knows best to do, win.
But no story is without its fair share of ups and downs. In Pato's case, the latter trumps the former by a huge margin. Although his first full season with Milan went quite smoothly, frequent injuries has seen The Duck miss out on many a game in Serie A and in Europe in subsequent seasons. A side that heavily relied on the guile of Kaka, Clarence Seedorf and Andrea Pirlo needed Pato to finish their well-orchestrated attacking moves.
With Kaka's departure to Real Madrid, Milan needed Pato's trickery and creativity to grind out wins. Instead they had to turn to veterans of yesteryear to pull out a rabbit from the hat everytime the team was in trouble. Milan legend Andriy Shevchenko was on loan at Diavolo after a disastrous time at Chelsea, Ronaldinho was deemed surplus at Barcelona to be snapped by Milan and Marco Borrielo did not convice then coach Carlo Ancelotti that he could fill the central striker's role. Filippo Inzaghi was slowly on the decline and Ancelotti had to use him sparingly to help Super Pippo last through a season.
| | | |
| --- | --- | --- |
| Season | Appearances | Goals Scored |
| 2007-08 | 20 | 9 |
| 2008-09 | 42 | 18 |
| 2009-10 | 30 | 14 |
| 2010-11 | 34 | 17 |
| 2011-12 | 18 | 4 |
| 2012-13 | 7 | 2 |
Pato's track record at AC Milan
(in all competitions)
The renowned Milan Lab was well-known for keeping the fitness of players well above 30 at top condition ensuring that the likes of Paolo Maldini and Alessandro Costacurta played well into their 40's for Milan. They had a task on their hands with Pato being a regular feature on the treatment table. When Carlo Ancelotti departed to Chelsea in 2009, he made attempts to lure Pato to London which were swiftly rejected by the Milan hierarchy. After Chelsea, in 2012, Ancelotti made another attempt to entice the Brazilian away from the San Siro, this time from the riches of Paris Saint-Germain (PSG).
The €35 million offer was an ideal opportunity for Milan to sell their injury-prone striker and use the funds to snap up long-term target Carlos Tevez from Manchester City. Despite citing differences with coach Massimiliano Allegri, Pato affirmed his desired to stay at the Italian city. Also Milan chose not to entertain the offer and once the winter transfer window closed, Pato repaid the faith to his paymasters by picking up a muscle strain that ruled him out for the remainder of the season.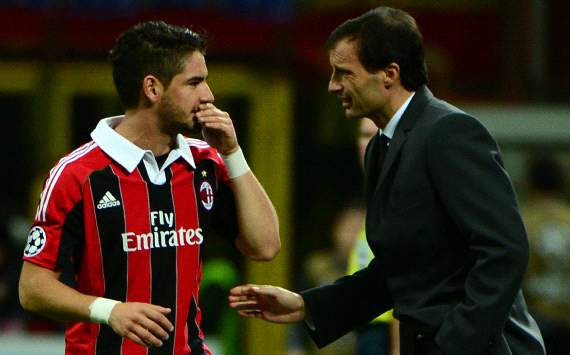 Pato rejected PSG's offer in 2012 despite differences with Allegri
Indeed, a look at statistics from the three transfer periods since the San Siro outfit's league winning term, shows that while the club spent somewhere in the region of 68 million pounds, they generated a whopping 87 million pounds out of player sales. Notably. in the last summer window the club spent only 21 million pounds in the market while re-cooping 68 million pounds with most of the money coming from the sales of Ibrahimovic and Silva to cash rich PSG.
One of the problems that AC had in the early part of the decade was their reluctance or inability to replenish an ageing squad. To put it in other words, they committed the cardinal sin of sticking by players who were too long in the tooth.
They are currently presided over by Italian media magnet and political strongman Silvio Berlusconi's. For all his political success, Berlusconi has had his fair share of controversies including bribery scandals and other financial conflicts. Recently, an Italian court ordered Fininvest Group, which is owned by the Milan owner, to pay 500 million euros in compensation to Compagnie Industriali Riunite in a long standing legal dispute. Berlusconi's personal financial difficulties have doubtless had a direct impact on Milan, further compounding their already fragile financial state.
When Milan lost Zlatan Ibrahimovic and Thiago Silva to PSG, this was seen as a way to balance the books when the country's economy was in shambles. This in addition to a mass exodus of household names like Clarence Seedorf, Gennaro Gattuso, Filippo Inzaghi and Alessandro Nesta, that were once an alias to Milan, resulted in the 7-time European Champions having a threadbare squad. At the same time, their rivals Inter and Juventus went from strength to strength in the transfer market. Giampaolo Pazzini was signed from Inter but has failed to recreate the form that made him a lethal striker at Sampdoria.
The onus was again on Pato, now 23 years of age, to finally shake off his 'always injured' tag and oversee a necessary transition for the San Siro side. Filippo Inzaghi's haloed Number 9 jersey was given to Pato. But again the Brazilian failed to live up to the hype as he was down to injury yet again in just the third training session of the season.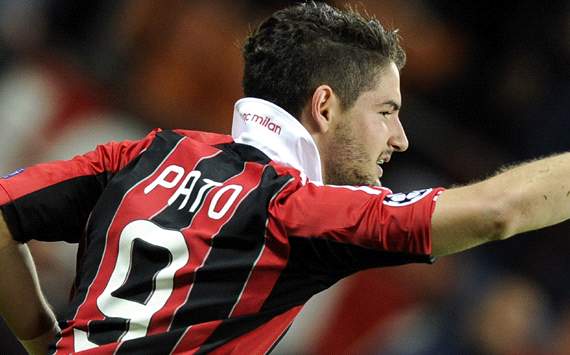 Pato has not done justice to the Number 9 jersey unlike his predecessor
Corinthians are reportedly the club that are vying for Pato's services with a €15 million offer during the January transfer window. Milan, in addition to the Pato bid, have to fret over the future of another Brazilian in their roster, Robinho, who is allegedly set on a move to Santos in Brazil though has denied the same. Robinho has scored two goals and set up three in his 10 appearances this season while his compatriot has managed seven apperances and scored two goals, both of which were inconsequential.
If Ibrahimovic and Thiago Silva were sold to PSG for economic reasons then Pato's offer from Corinthians is a serious no-brainer as the money received can be well-spent in acquiring some of Milan's other targets namely - Javier Pastore, Kevin Strootman, Daniele de Rossi and Mario Balotelli. All of these targets are high earners at their current clubs and Milan will need all the financial help they can muster if they are to tie any of these targets down to a contract.
An alternative approach would be to use some of the money to convince Robinho to stay at Milan as Massimiliano Allegri's side have just attained some momentum after a disastrous start to the season and the burden of scoring is on young striker Stephan El-Shaarawy who has thrived whenever he has the Brazilian in the playing XI on the right-hand side of a 4-3-3 formation.
| | | |
| --- | --- | --- |
| Formation | Goals Scored | Attacking Setup |
| 4-3-3 | 17 | Robinho, Pazzini, El-Shaaraway |
| 4-1-2-1-2 | 5 | Pazzini, El-Shaarawy, Boateng |
| 4-2-3-1 | 7 | Boateng, Emmanuelson, El-Shaarawy |
| 3-4-3 | 1 | El-Shaarawy,Pato, Emmanuelson |
| 3-5-2 | 2 | Pato, El-Shaarawy |
The option of a loan spell at Corinthians for Pato would have its fair share of pros and cons for Milan. On one hand Milan can choose to evaluate the Brazilian's progress in South America and see whether he does do well. If 'The Duck' does take to the waters of Corinthians well, then Milan can exercise the option of recalling him back to Italy.
On the other hand, Pato's move to Brazil will be closely monitored by Milan along with interested parties like PSG to see if the 23-year old's injuries do follow him back home. If he does not get enough playing time because of this, it could see the Brazilian club choosing not to sign him on permanently and will gladly let him return to Milan. It would mean a return to square one for the Diavolo who will be looking to keep the club financially stable.
If Milan do receive a concrete offer for their Brazilian prodigy they would do well to entertain it or it may just be another needless burden to a club which is already burdened by its past success and reputation in Italy and Europe.
How do you stay up with football when on the move? With http://m.goal.com –your best source for mobile coverage of the beautiful game.