Brendon Netto




Comment

|

Europe




Follow on
On Sunday night, Lionel Messi achieved the inevitable although up until his incredible goal-scoring form this year, even coming close to this particular feat was long since considered unthinkable. The diminutive Argentine scored his 85th and 86th goals of this calendar year against Real Betis to surpass the 40 year-old record held by the legendary Gerd Muller and he even added to that with a brace against Cordoba in the Copa del Rey on Wednesday night.
The two players are from completely different ages and to suggest that Messi has out done the former German and Bayern Munich star would be debatable. Yes, the Barcelona talisman has indeed notched up a greater tally but there is more to it than meets the eye.
As footballers, the two have vastly different styles. Messi is a fantastic dribbler who sets up other players and drops deep to get involved while Muller was your typical fox-in-the-box striker, clinical as ever but not a phenomenal player outside the penalty area. The reigning Ballon d'Or winner is probably the better footballer but as far as goal-scoring is concerned the contest is far more difficult to settle.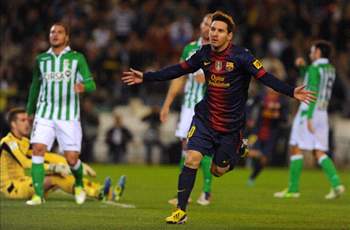 Messi surpasses Muller's record
Coincidently, there were a few who doubted both players. Muller's first Bayern Munich coach wasn't thrilled by his physique because he was short and stocky saying, "And what am I supposed to do with this weightlifter?" Decades later, a young Messi also failed to make a good first impression when a Barcelona scout said, "This kid would barely make a table footballer" on seeing him for the first time.
In many ways, Muller has always been underrated. Perhaps that has to do with the fact that he scored plenty of goals without blowing audiences away. In the seventies, a lot of fuss was made over the more spectacular skills of Pele, Johann Cruyff, George Best and Franz Beckenbauer. Muller never had a trademark move like the 'Cryuff turn' or the amazing dribbling ability of Best but the equation was simple as far as he was concerned: chance = goal.
"I wanted that goal – that was all.





- Gerd Muller

Messi graduated from Barcelona's famed La Masia academy and was eased into an already formidable first team at the tender age of 16. By the time Messi was a regular in the first team, players like Ronaldinho, Andres Iniesta, Samuel Eto'o and Xavi Hernandez were leading the side to a La Liga title and a subsequent Champions League triumph in the following year. When the Argentine took over as their talisman, he raised them to a completely different level but he had some of the best players in the world to help him do it.
Had Messi been born in the country he now resides in, there would never be any question of his claim to be regarded as the best footballer ever. Spain have dominated the international circuit since 2008 but Messi's Argentine national side has never lived up to its billing and the forward in particular has come under criticism for failing to replicate his club form for the national team. However, in his record-breaking year, Messi seems to be out to silence critics having scored 12 times in 9 games. As things stand, there will always be a massive void in the little genius' list of accolades for as long as he doesn't possess a World Cup winning medal.
Messi
vs
Muller
3 Champions Leagues
5 La Liga titles
2 Spanish Cups
2 European Super Cups
2 Club World Cups
Major Club Honours
3 European Champions Cups
4 Bundesliga titles
4 German Cups
1 Intercontinental Cup
1 European Cup Winners' Cup
Olympic Gold 2008
Major International Honours

European Championships 1972
FIFA World Cup 1974
Appearances: 353
Goals: 285
Goals/Game Ratio: 0.81
Club Record
Appearances: 709
Goals: 655
Goals/Game Ratio: 0.92
Appearances: 76
Goals: 31
Goals/Game Ratio: 0.41
International Record
Appearances: 62
Goals: 68
Goals/Game Ratio: 1.10
Muller joined Bayern Munich in contrasting circumstances. The club was not the German and European powerhouse it is today. In fact, they were languishing in the second tier of German football. Muller scored 41 goals from 34 appearances in his first season to fire them into the Bundesliga. With the help of fellow greats Franz Beckenbauer and Sepp Maier, he made Bayern a dominant force both domestically and in Europe.



"Without Gerd Muller, we'd probably still have huts on our club grounds today."






- Franz Beckenbauer (speaking on Muller's impact at Bayern Munich).
With the national team, Muller maintained a stunning record of 68 goals in just 62 games. He lifted the World Cup and European Championship with Germany and scored crucial goals along the way.
However, as far as their clubs during their most prolific years go, Messi and Muller could be considered to be on a level playing field. We are all familiar with the overwhelming dominance of Barcelona at present but by 1972, Bayern were a great team in their own right. They were in the midst of winning three consecutive league titles and went on to emulate a similar feat in Europe in the coming years.
Muller took to the field in an age when defending was not a lost art but a practiced and perfected skill. Defenders were big and robust while crunching tackles were far more prominent in the game. Today, a player may receive a yellow card for a hard tackle inspite of playing the ball first on account of it resembling 'dangerous play'. Free-kicks and penalties were not handed out so casually and neither were yellow or red cards, allowing defenders the upper hand.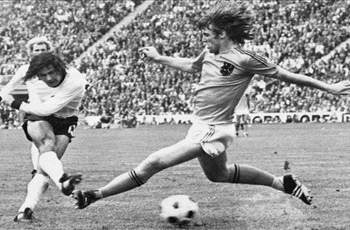 Muller scored goals for fun in 'tougher' times
The modern game has benefited attacking players to a great extent. Out of fear of giving away a penalty or a free-kick in a dangerous area, defenders often tend to hold back their challenges giving forwards a notable advantage. What must not be overlooked is the fact that 14 of Messi's 86 goals this year have come from the spot while Muller didn't take penalties at all back in 1972.
In Muller's day, the ball was heavier and didn't dip and swerve like it does today. The boots were heavier as well and weren't meticulously designed to suit different kinds of players. Studs today can be bought as per requirement, wingers can avail of those that are light in order to compliment speed and agility, strikers are offered those that improve first-touch control and are designed for precision-shooting while there are even studs built for endurance. The pitches were nothing like the perfectly cut grass we witness today and the standard of quick-passing that Barcelona thrive on was non-existent.
In spite of these among other factors that went against him, Muller scored 85 goals in a calendar year and he did it with six fewer games than Messi without the help of penalties. To a certain extent, Muller's goals were more significant as it helped Bayern win the league and Germany to win the 1972 European Championship.
Muller did have a hint of magic to his game as well. If he had the ball in a dangerous position, he had an incredible knack to make space and get a shot away. He hardly ever scuffed an attempt, normally when he hit a ball, it stayed hit. His emphatic finishes earned him the nickname "Der Bomber" which unsurprisingly translates to "The Bomber". Perhaps Muller's entire career was summarized with the utmost simplicity by the very man himself when he said:
"When I got the ball, I smashed it in."






- Gerd Muller ('Der Bomber')

Lionel Messi's outstanding achievement deserves every bit of the plaudits it has attracted and the Argentine will go down as one of the best if not the best player to ever grace a football pitch. However, let's not forget the efforts of the legendary Gerd Muller who played in an era when defences were uncompromising, the ball did not swerve ridiculously and fouls were hard to come by. Messi and Muller are both tremendous goal-machines but let's not allow one's achievement to overshadow the other lest this generation's beloved Messi is cast aside when hopefully another superstar surpasses his records several years down the road.
How highly would you rate Muller's achievement? Leave your comments below or discuss with the writer on Twitter @BrendonNetto.
How do you stay up with football when on the move? With http://m.goal.com –your best source for mobile coverage of the beautiful game.