SPECIAL
By Ben Hayward | Spanish Football Writer
'Two thousand zero zero party over, oops, out of time
'.
So sang Prince on the title track of his 1982 album, promising to party 'like it's 1999'.



Atletico

Madrid will share similar sentiments on Saturday if the capital club can conquer city rivals Real Madrid - because they have not beaten
Los Blancos
since the final year of the last millennium.
The Madrid derby is always a hard-fought fixture and one which

Atleti

aficionados want to win more than any other. Alas, the last time those fans tasted success over their neighbours came back in 1999, 13 years and a month ago. Time has moved on, but

Atletico

have not - at least not in this clash.
And the world is a very different place to when Jimmy-Floyd

Hasselbaink

hit two goals to help claim a 3-1 victory for

Atletico

in the derby at the Santiago

Bernabeu

. October 30, 1999 was the date - and fans on the red and white side of the Spanish capital have been remembering it ever since. Now, though, with

Atleti

eight points clear of Madrid in La

Liga

(and just three behind Barcelona), perhaps it is finally time to record another win over Real and recall a new success - this time for all the right reasons.
When I woke up this

mornin

', could've sworn it was judgment day
(Prince, "1999")
It will be for

Atletico

's players and their coach, Diego

Simeone

. The Argentine issued a passionate rallying cry to his squad ahead of Saturday night's capital clash and will hope to become the first

Atleti

coach since Claudio

Ranieri

to lead his side to a win over Madrid.
So as Simeone's side set out to end an unlucky 13-year streak and prepare to party like it is 1999, we take a look at just how different life is more than a decade on from the
Colchoneros
' last successful derby date.
MOURINHO AT BARCELONA; SIMEONE A WINNER WITH LAZIO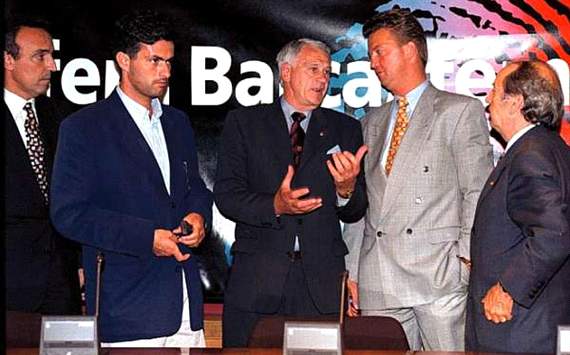 Spanish football was nothing like its current state back in 1999, and here is the evidence to prove it.
Jose

Mourinho

was coaching in Spain. The Portuguese, however, was not at Madrid, but Barcelona as an assistant to Louis van

Gaal

. After winning the

Copa

del

Rey he had told Catalan fans: "

Barca

, in my heart, today, tomorrow, and forever ..."
Diego

Simeone

had already spent three seasons as a player at

Atletico

, but was just starting a successful season with new club

Lazio

, where he went on to win

Serie

A and the

Coppa

Italia

in 1999-2000. He would later return for a second spell at the Vicente Calderon as a player - and then as coach.
Ronaldo was a Brazilian - nobody had heard of Cristiano yet. The Portuguese made his Sporting debut three years later, at the age of 17.
Falcao

was also a Brazilian -

Radamel

was a young boy finding his feet at Colombian amateur side

Lanceros

Boyaca

, which would disappear the following year.
Florentino Perez had yet to take over as president of Real Madrid - for the first time!
Vicente

del

Bosque

had recently been installed at Madrid, while

Mourinho

's assistant

Aitor

Karanka

was on the bench for the match against

Atletico

, along with

Iker

Casillas

- the sole survivor in today's team.
Barcelona fans still loved Luis

Figo

. His controversial move to Madrid came a year later.
The Catalan club had yet to win the Champions League. Their sole success in Europe's premier club competition had come in 1992 - in the old European Cup.

Barca

have since won three Champions Leagues (in 2006, 2009 and 2011) and Real Madrid two (in 2000 and 2002).
Pep Guardiola was still a decade away from revolutionising football. In 1999 he was captain of Barca.
Lionel

Messi

was a 12-year-old boy with growth problems in Argentina. He moved to

Barca

the following year and now has three

Ballon

d'Or trophies to his name.
FRANCE WORLD CHAMPIONS; ZIDANE REIGNING BALLON D'OR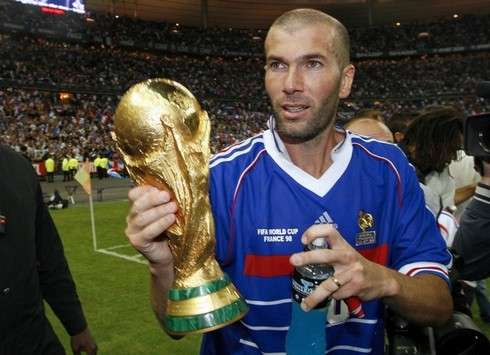 But it was not just La Liga. Things were very different in football as a whole ...
France were reigning World Cup winners after claiming the trophy at home in 1998.

Zinedine

Zidane

, still with

Juventus

, held the

Ballon

d'Or, but the next Golden Ball was won by

Rivaldo

.
Spain had yet to go beyond the quarter-finals of a World Cup and had won just one European Championship - back in 1964.
Sir Alex Ferguson had just been knighted after leading Manchester United to the treble, but the Scot was still only halfway through his incredible 26-year tenure (so far) at Old

Trafford

.
Manchester City had just won promotion to the second tier of English football, but hardly looked like future Premier League champions at that point.
England's 'golden generation' had yet to deliver at international level, but David

Beckham

was optimistic of success after the appointment of new coach Kevin

Keegan

earlier in 1999.
Sheffield Wednesday, Coventry City, Bradford City and Wimbledon were all in the Premier League, while

Venezia

,

Perugia

and

Piacenza

played in

Serie

A. Palermo have since sacked 27 coaches.
The golden goal was still used by Fifa and Uefa. They reverted back to standard extra time in 2004 after the European Championship in the same year.
Paul

Gascoigne

was still turning out for

Middlesbrough

in the Premier League, although his England career had ended a year earlier. Roberto

Baggio

, Carlos

Valderrama

and

Lothar

Matthaus

were all still playing as well, while Diego

Maradona

had retired just two years earlier. The Argentine celebrated his 39th birthday on the night

Atletico

beat Madrid.
He and Pele were still arguing. Actually, some things do not change ...
BILL CLINTON US PRESIDENT; SPAIN USED THE PESETA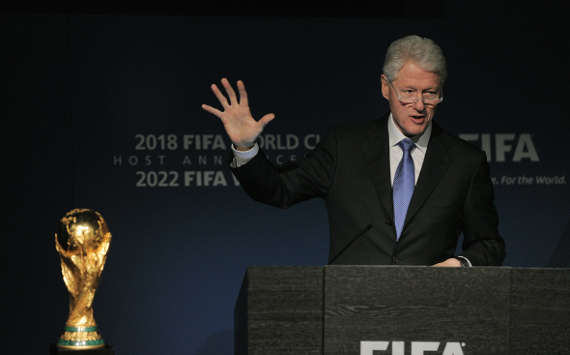 Away from the football field, life in 1999 is almost unrecognisable from today's society ...
Bill Clinton was still President of the United States and George Bush was the old guy who could not win a second term. The Twin Towers were still standing in the centre of New York.
Hugo Chavez had become President of Venezuela earlier in the year. Despite a frosty 13-year relationship with the United States and health problems, he is still going strong.
Spain still used the peseta. The Euro had not yet been introduced. Now, its future is very much in doubt.
Rafa

Nadal

had not hit a ball on the ATP Tour, while Lance Armstrong had months earlier claimed the first of his seven Tour

de

France titles (of which he now has none).
The 11th season of The

Simpsons

had only recently begun, with episode #230 (

Treehouse

of Horror X) airing in the US the night after the Madrid derby. The show is now into its 24th season, with a total of 514 episodes having been made. Pierce

Brosnan

was James Bond.
In 1999 only 24 users per 100 inhabitants in the developed world used the internet, according to the International Telecommunication Union (ITU). In 2012 that number is now more than 74 users per 100 inhabitants.
Social networks such as

Facebook

and Twitter did not exist. A tweet was a high-pitched, chirping sound made by a young or small bird.
iPods were not around and phones were not smart. A Blackberry was still just a fruit.
The Y2K bug was a global concern. It turned out to be nothing. And everyone was talking about the millennium, even though nobody could spell it.
Beyonce

was the pretty one from Destiny's Child and had not yet become a global phenomenon on her own, while nobody had heard of

Stefani

Joanne Angelina

Germanotta

(or her stage name Lady Gaga for that matter). Prince was a 'symbol' and wasn't using his original name, but went back to being Prince again after 1999.
Follow Ben Hayward on