Aditya Bajaj




Comment | Serie A



Follow on
Disputes over contracts, player strikes over wages and club initiated lockouts on players are common phenomena in football. In fact, ever since the advent of the Bosman ruling back in 1995 that allowed players without contracts to move to a club of their choice as 'free agents', these have been anything but rare.
Just that in Italy, they are rampant.
In the 2005-06 season, two budding Italian stars of the future in the last year of their contracts were either frozen out completely from the squad or handed a few substitute appearances by the clubs. Vicenzo Iaquinta was destined for greater things in his career, but was meted out with such a treatment by Udinese so he would be forced to sign a contract which would allow the club to fetch some profit from his sale rather than seeing him leave for free next summer. Antonio Cassano, similarly, was treated the same way by Roma who were a much bigger club back then but due to their financial difficulties tried to arm twist 'FantAntonio' into signing an extension for the same reason.
What the club took advantage of was the fact that this was a season preceding the World Cup in Germany, and with Marcelo Lippi having made his criterion for selection clear, the clubs knew the duo could not afford to lose playing time and would eventually sign the dotted lines. Well Iaquinta succumbed to the cruelty and extended his contract, while Cassano being Cassano bore with the club's mistreatment and was sold to Real Madrid for a paltry £3 million.
That Iaquinta travelled with Lippi to Germany and Cassano did not, is a different story all together but these two clubs set a really bad precedent as to the extent to which a club could go to mint as much money as possible from players who are nothing but saleable assets. Outside Italy, that same season Michael Ballack was allowed to see out his contract with Bayern Munich before gracefully moving to Chelsea for free, while Robert Pires did the same at Arsenal before moving to Villarreal without being frozen out by these clubs.
Three years later in 2009, Goran Pandev had to take the help of the courts to have his contract rescinded with Lazio after he was frozen out by the mercurial Claudio Lotito and today one of his former team-mates at Inter faces a similar trauma although amidst circumstances completely different from his predecessors.
When Inter won the treble in the 2009-10 season, Wesley Sneijder – then just a season old at the club - was rewarded for being the protagonist with club President Massimo Moratti awarding him a new improved contract where his wages were almost doubled from €3.5 million to 6 after tax to be paid through till the end of his contract in 2015. All seemed well and good, until the departure of Jose Mourinho led to a dip in form for the Dutchman directly impacting the club as no less than five managers in two seasons were asked to re-invigorate the Netherlands international and get him playing like he did under the 'Special One'.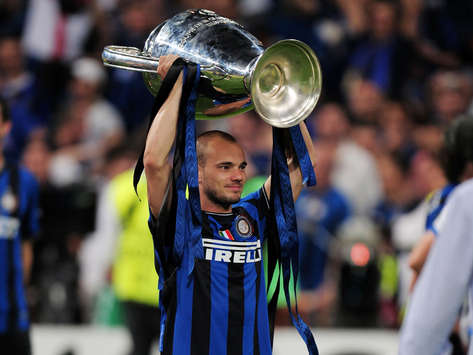 A Winner in 2010, Wes Sneijder has been banned from Twitter this season over his contract
Four out of those five have been sacked, while current boss Andrea Stramaccioni has successfully led the side without him and Sneijder is now considered more of a liability or a luxury Inter can simply not afford on their wage-bill anymore.
Under the current financial clout, having let go of players like Samuel Eto'o, Maicon, Julio Caesar and Lucio to balance their books and reduce the overall expenditure on player wages just like their cousins AC Milan, the club's situation with Sneijder is understandable. Also given that he has not been the same player as he was during his first season with the club and the fact that without him they have managed to pull off a better success rate (Inter have won 66 % of their games in his absence since 2010) than with him on the roster, it also justifies their stand where they have asked him to take a 30% cut on his pay and extend his contract by a year to 2016. Add to that the amount of matches he has missed for Inter in two years and its seems like the player has no case whatsoever.
But what's not fair is the way the club has gone about to achieve what it wants which is very similar to what clubs in Italy have done in the past, only that Sneijder still has another 2 ½ years in his contract and at 28 is by no means a finished player.
The fact is that the he is entitled to what he earns as the club signed him on a long term contract and given his stature back then, they felt he was worth every penny he took from them for his services. But because things have taken a different turn and his team-mates have learned to live in his absence, is it fair to freeze him out of the squad and literally bully him into doing something against his wishes?
Certainly not.
From Inter's point of view, it's a win-win situation. With Cassano and Philippe Coutinho doing well as the trequartista in Stramaccioni's 3-4-1-2 they don't need him as despite the team's barren run since that defeat of Juventus, they went on a 10 game winning streak well in his absence and looked more like a unit. So even if Sneijder does not agree to their terms, with more than 2 years in his contract he can still fetch the club a good amount in the January transfer market somewhere in the region of €15-20 million with AC Milan and PSG amongst those rumoured to be interested. If he does succumb to his demand, which look highly unlikely given the possibility of moving to pastures new, Inter will basically have him play for them a year extra till 2016, without him earning virtually nothing more than what he'd earn in his current contract that ends in 2015.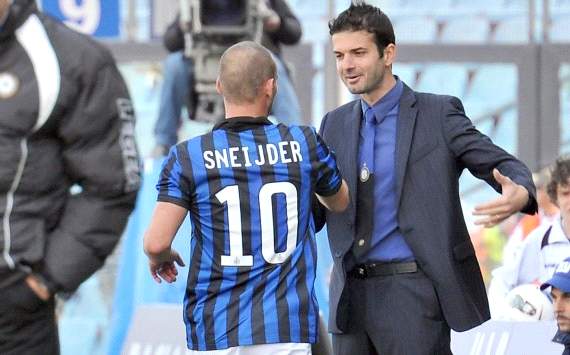 Andrea Stramoccioni no longer considers Sneijder an indispensable member of the squad
Also, with the World Cup in 2014, if Sneijder - who would be 30 by then - performs as well as he did in the previous edition, Inter will still be able to play hardball and settle for a high transfer fee from his suitors with still two years to go in his new contract as opposed to the one year under the current one that ends in 2015, which would not bode well with the club's financial interests.
But what about Wes?
His suitors have certainly died down over the past of couple of years and understandably so. His never ending flirtation with Manchester United seems to have seen the end with Sir Alex well equipped in the attacking third and signing him as a replacement for Paul Scholes guarantees no success as he's a much better attacking midfielder than a central one. Besides, it's by no means a long term solution to their midfield crisis. Anzhi Makhachkala on the other hand just recently announced they don't need him anymore.
The name of AC Milan has been doing the rounds, and though he could be a useful signing to them like several Inter players in the past, would it make sense for the Rossoneri to splash something close to €15 million on a player with such high wages and not completely in form, given their own financial difficulties? This leaves only PSG and eternal favourites Manchester City as the ones likely to make any attempt to lure the midfielder away from the San Siro with his desired salary but such a scenario is still a long shot.
So what options does he have? Should he continue to play hardball with Inter instead but risk being frozen out of the squad at this age and further detriment his value in the transfer market, when his contemporaries elsewhere are reaching their peak? Or should he succumb to Inter's demands and take a huge pay cut and risk losing his status and prestige not only at the club but before his admirers who have idolized him since that magical night in Madrid back in the summer of 2010?
Maybe given the status of both parties involved it would be fair enough for them to perhaps reach out on a settlement where the club gives him a second chance to prove that he is still worth it or else sign the new contract on a reduced salary or maybe even leave gracefully to another club in January.
But whatever the case, the big question Massimo Moratti should be asking himself is whether a treble hero and a Champions League protagonist who helped bail the club out of years of obscurity in the continent just two years ago, deserves to be treated like this?
How do you stay up with football when on the move? With http://m.goal.com –your best source for mobile coverage of the beautiful game.