Brendon Netto




Analysis

|

England




Follow on
With the departure of club legend Didier Drogba over the summer, the path was cleared for Fernando Torres to take centre stage and finally produce the kind of scintillating form that has eluded him ever since he swapped the red of Liverpool for the blue of Chelsea. Roman Abramovich spent big to procure the services of Eden Hazard and Oscar in the hope that the duo would assist Juan Mata in the creative department which would supply Torres with the service he longed for. However, things haven't gone according to plan and new manager Rafa Benitez claims that the Chelsea number nine is still starved of the service he requires.
When a striker of Torres' reputation and indeed expense, scores only 19 goals from 88 appearances, it's easy to criticize him incessantly and for the most part it is justified. At the moment he averages about £2.6 million per goal and so it's hardly surprising that he's been the victim of several jokes and banter from opposing fans. The Spaniard should definitely be held responsible partly or perhaps even to a great extent but after careful observation, it stands to reason that the entirety of the blame cannot be solely attached to him.
One has to consider the system he played in and the kind of players he played with during his prolific spell at Liverpool. The odds of Benitez's arrival restoring Torres to his former glory are slim but it can only be beneficial for the striker which is perhaps one of the advantages of the former Liverpool manager's appointment.
Chelsea have lacked natural width for a good few years now and adding creative players to their ranks over the summer hasn't addressed that issue. Even though their style of play has improved significantly on account of the new arrivals, that fluidity has remained fairly narrow on the pitch and has served to congest proceedings. The ball only goes wide when one of the full-backs push forward and now that Benitez is in charge, their forward runs are bound to be restricted in favour of a more organized approach.
Having an attacking midfield trio of Hazard, Mata and Oscar was a mouth-watering prospect going into the season and Chelsea might have expected them to provide Torres with an abundance of assists but unfortunately it doesn't quite work that way. The problem that arises is that they all end up operating in roughly the same space.
Chelsea vs Stoke positioning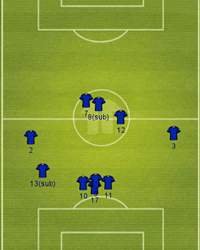 Above is the average positioning of the Chelsea midfield during the game against Stoke City earlier in the season. It clearly depicts that Hazard(17), Mata(10), Oscar(11) and Torres(9) are roughly occupying the same space with Torres almost hidden among them. You can also see the natural width Victor Moses(13) brings to the side when he was introduced as a substitute although even he is quite narrow in relation to Ivanovic(2) which shows the reliance Chelsea have had on their full-backs to provide the width in attack.
Mata may don the number 10 jersey but the fact is that Chelsea have three number 10s in their line-up. They do play some neat stuff with each other but their link-up play normally bypasses Torres who eventually ends up being more of a bystander than the focal point of the attack. As soon as Mata or Hazard get possession, their initial instinct is to cut inside and drive into a central area thus congesting the space on the edge of the opposition's 18 yard box.
In stark contrast, Albert Riera and Dirk Kuyt were deployed on either flank for Liverpool when Torres was in his prime. Riera offered good width down the left hand side and had the ability to whip in teasing crosses. Even though Kuyt didn't exactly hug the touchline, his industrious play and intelligent runs worked to good effect.
| | |
| --- | --- |
| Liverpool 2007-09 | Chelsea 2012-13 |
| | |
This is not to say that getting players wide and delivering crosses into the box is the way to get the best out of Torres. However, what it does do is stretch the play and creates the space between defenders for the Spaniard to exploit. Torres is accomplished in running the channels, especially those in between the full-back and centre-back but the congestion within Chelsea's midfield means that the opposition's back four is normally tight and compact rendering it impossible for him to do that.
Another problem is that Chelsea don't possess a midfielder in the mould of either Steven Gerrard or Xabi Alonso. Gerrard in particular enjoyed a sensational partnership with the former Liverpool number nine who admitted that the England captain is the best player he's played with.
There is no real distributor of the ball among the central midfielders at Stamford Bridge while Mata, Hazard and Oscar's creativity is almost exclusive to the final third of the pitch. John Obi Mikel and Oriol Romeu are too defensive and primarily serve to protect the back four. Ramires is energetic, does a lot of running and provides the drive from midfield while Frank Lampard has always been more of an attacking midfielder.
Gerrard has created a lot of chances for Liverpool this season, second only to Luiz Suarez. When he receives possession, he is immediately looking to play an early ball to release Suarez or Raheem Sterling, much like he used to for Torres. Furthermore, he and Alonso had the vision to see a long pass and the ability to execute it when Torres darted in behind defenders.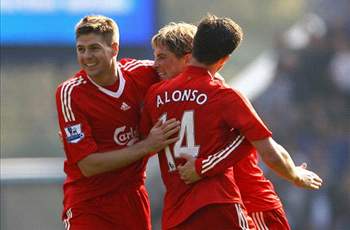 Torres enjoyed the company of Gerrard & Alonso
Torres thrives when he has players who can release the ball early and set him on his way with a quality long-ball over the top of defences. How many times have we seen that kind of ball played successfully at Chelsea?
When a counter-attack is on, Torres peels off a defender and makes a run in behind but none of the Chelsea midfielders are keen on playing that long ball so early. Instead, they bring it forward themselves by either striding forward with it or playing a few short passes between them. This is far more time consuming than a long-ball over the top and hence it allows the opposition to get back in numbers and before you know it, Torres is crowded out once again by the time the ball reaches the final third. The only opportunity for a goal then is if the ball is cut-back for one of the onrushing midfielders who have the luxury of arriving unmarked while Torres stands helplessly around the penalty spot with two or more defenders around him.
This is not to say that Chelsea never play long passes because they can be direct at times but the ones they play up to Torres invariably require him to bring it down with his back to goal rather than running on to it behind the defence. He is most effective when he is supplied with long balls that allow him to pick up possession in between the centre-back and full-back.
All this may seem an awful lot of work for the rest of the team just to get one player firing again but had Chelsea done their homework before securing the services of the Spaniard, they would have known that these are some of the things that help him flourish. Andre Villas-Boas was desperate to sign Luka Modric when he was appointed and had he succeeded, Chelsea's midfield could have had a genuine distributor but having failed to sign him, the club should have invested in a similar player this summer instead of flooding the squad with attacking midfielders. Tweaking a few aspects of their system could get Torres scoring again, it may not seem like much but often it's the attention to detail that can make all the difference.
Take Andy Carroll for example, Liverpool presumably bought him as a replacement for Torres but he endured a tough time at Anfield. However, towards the end of last season when Steven Gerrard returned from a lengthy injury spell, Carroll started to look a lot more effective and that is no coincidence. Of course, he didn't exactly go on to be prolific but he did start bagging a few goals and proved to be a constant threat in the opposition's box.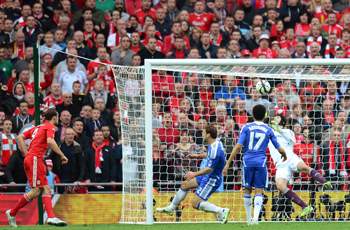 Carroll scores in the FA Cup final last season
Gerrard's delivery from distance had a huge impact on Carroll's performances. Even though the team were still not playing the direct style of football that suits the towering centre forward, he was able to feed on the delivery from Gerrard every now and then who would either drift wide to send in a cross or punt the ball forward into a dangerous area from a more central position. His substitute appearance in the FA Cup final against Chelsea last season immediately comes to mind when he scored and nearly grabbed the equaliser as well as he created havoc in Chelsea's penalty area towards the end of the game.
Torres is incredibly short of confidence, he seems to have lost a half a yard of pace and doesn't look nearly as sharp as he used to. In all likelihood, adhering to a system that suits him the most probably won't return him to the devastating form he produced at Liverpool but it should get him a lot more goals than he's scoring at the moment. Benitez's introduction is pretty much the final card Abramovich has to play to get Torres firing again. If Chelsea adopt the style of play the Spanish tactician will look to employ, we could see a much improved Torres who may finally get the 'right' kind of service he so desires even though he may never return to his prolific best.
Can Rafa Benitez solve the Torres conundrum? Leave your comments below...
How do you stay up with football when on the move? With http://m.goal.com –your best source for mobile coverage of the beautiful game.