Goal.com's 'Tactical View' looks at how Brendan Rodgers' early change steadied Liverpool, while Andres Villas-Boas and Mark Hughes left it too late.
Akarsh Sharma
Analysis | Premier League
Follow on

It is always refreshing to see a proactive move from any manager, especially when it comes off. The norm is to wait till the second half, or at least till half time, to make changes to your starting line-up. This could be because early substitutions are essentially the sign of a manager accepting that his first-choice plans have failed, or are likely to fail over the course of the match.
Although inspired substitutions and tactical changes have been a recurring theme in the Premier League with the usual suspects (the likes of Chicharito and Edin Dzeko) grabbing the headlines for their spectacular rescue acts, they've usually been reactive or desperate changes – made when the team is in dire need of goals late in the match. And in United or City's case, the quality of options on the bench makes such a choice easy.
On Saturday, as Wigan sprayed the ball around the greens of Anfield with little or no resistance from the home side, Brendan Rodgers decided to make a bold move only thirty five minutes into the match. Off went Suso, who had been the brightest spark on the pitch for the Reds and had come closest to scoring, to be replaced by the much-maligned Jordan Henderson.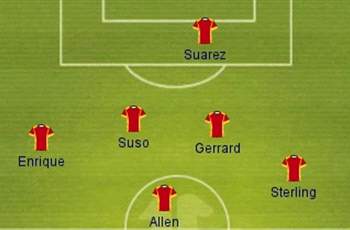 Liverpool's front six before the substitution
The loss of creativity in this substitution puzzled many of the already disgruntled home supporters, especially considering that a makeshift left-back was being played on the left-wing and now the midfield trio had little creative spark. In addition to that, the supporters had been itching to see Suso deployed in his preferred central role rather than on the wings.

However, the substitution was made to wrestle control back from Wigan. What it also did was pay rightful respect to the visiting team. Roberto Martinez's Wigan, playing in their customary 3-4-2-1 (or 3-4-1-2) are too well-drilled a unit to be out-passed by the current Liverpool side. In fact, in the narrow defeat at the Liberty Stadium, Wigan had more possession and had completed more passes than Swansea which is no mean feat in itself.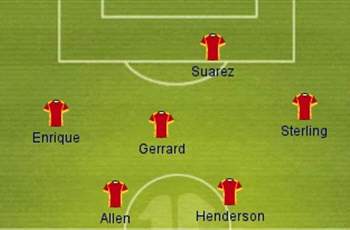 Liverpool's front six after the substitution
It was a similar story at Anfield – Wigan attempted 447 passes compared to Liverpool's 418 and the away side also edged ball-retention with 51.1% possession. The most noticeable part of the first half was how big the pitch at Anfield had looked. Martinez and Rodgers share similar ideologies – stretch the game and make the playing area large when you have the ball, but make the playing area small with aggressive pressing when the opponent has it.
Wigan had been successful in giving the Reds a run around in the first half by opening up huge spaces – a Ben Watson shot after a long sequence of patient passes being one example. This meant that when Liverpool did eventually win possession, the distances between the Red shirts were much larger than desired.
Suso was too advanced to form little triangles with his midfield partners, which in turn affected Suarez's involvement. Suso's average position in the match was actually higher than Suarez. This affected the connectivity of Gerrard and Allen with the Uruguayan striker who, for the first half-hour of the game, saw little of the ball compared to the previous matches.


The average position of Liverpool's players which shows
the large distance between Suso and Gerrard
Rodgers' substitution immediately worked. Liverpool played in a more traditional 4-3-3 with Enrique pushing well forward, rather than assuming an ordinary 4-4-1-1 when Suso was on the field. With Henderson supporting Allen in a deeper role, Liverpool pulled back Wigan's possession from over 57% mid-way through the first half to just over 52% at half-time.
Once they went ahead after profiting directly from a mistake in the opposition defence, Liverpool were in total control throughout the second half. Henderson did not thrive under Kenny Dalglish when he was mainly deployed as a right midfielder, but his tidy style of play seems to be something that Rodgers has plenty of faith in (having also deployed him as a right wing-back in the second half at Goodison Park).
Unlike his predecessors, Brendan Rodgers has been refreshing in his slightly unconventional ways thus far. In the second half, Anfield was buzzing like old times and if Liverpool have indeed begun to revive their home fortunes, you may look back at Rodgers' bold early substitution and say that was where it all began.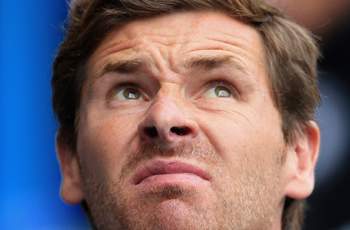 AVB too slow in making changes
For eighteen minutes, Villas-Boas' brave decision to play Jermaine Defoe and Emmanuel Adebayor together looked to have been a masterstroke. In his short stay on the pitch before a reckless challenge ended his match, Adebayor showed why he was chosen over Clint Dempsey and Gylfi Sigurdsson in a similar role.
Although the system was touted as the basic 4-4-2, it was still the customary 4-2-3-1 with Adebayor playing behind Defoe. He had shown at the Etihad Stadium the week before, that he was quite adept at dropping deep and carrying the ball forward. At The Emirates, Arsenal's defensive midfielders were struggling to cope with Adebayor's pace and power; the Togolese striker comfortably fending off two or three Gunners at will.
Arsenal were fortunate to be only one goal down when Adebayor slid into Santi Cazorla and was given his marching orders. Once he had left the field, Mikel Arteta and Jack Wilshere were virtually freed from their defensive duties and Santi Cazorla began to stamp his authority on the game.
Defoe, who is incapable of bullying the opposition off the ball, was isolated up front and Sandro and Huddlestone were stuck in a 3 versus 2 situation in the centre. Villas-Boas changed to 3-4-1-1 in the second half that worried Arsenal, but for nearly half an hour, he saw his team getting battered and chose to not make changes. When he did, it was already too late.
Mark Hughes' bizarre choice
Although poor defending at set-pieces eventually led to QPR's defeat against Southampton, The Hoops manager Mark Hughes chose to play Esteban Granero on the right side of midfield. It is a mystery why he would play his most talented and gifted central midfielder in that position but it clearly did not work. Hughes shifted Granero back into central midfield at the beginning of the second half but Southampton were already two goals ahead and the home side were desperately chasing the game.
In QPR's most impressive performance at home, the 1-1 draw against Everton, Granero had pulled the strings from the centre – attempting the most number of passes and registering second-highest touches on the ball. Against Southampton, Granero was only the fourth-highest passer and his involvement (in terms of touches) was only 3/4ths of his involvement against Everton.


Don't forget to let us know your views in the comments section or discuss with the writer on twitter @Akarsh_Official
How do you stay up with football when on the move? With http://m.goal.com –your best source for mobile coverage of the beautiful game.