Aditya Bajaj




Analysis

l Champions League

Follow on
This mid-week will be juicy.
Group E, which was supposed to be relatively easy for two of the so called European giants but not so much, all of sudden finds itself in a complicated situation with defending champions Chelsea, Ukrainian champions Shakhtar Donetsk and Italian champions Juventus all in contention to get through to the knockout rounds ringing a myriad of permutations and combinations which no doubt will go down to the wire until the final match day in December.
Shakhtar travel to Denmark to face an already eliminated FC Nordsjælland and while a Ukrainian victory is expected at the Farum Park putting them in a fairly comfortable position to qualify, it's the battle at the Juventus stadium in Turin that has a major casualty written all over it. A defeat for Juventus coupled with Shakhtar's victory in Farum, will signal the Old Lady's end in the competition while a draw would leave the Italians dependent upon Chelsea's home fixture against the Danes, a situation they would most likely not pin their hopes on.
But a reverse for Roberto Di Matteo's men would mean that Chelsea will be in real danger of being the first defending champions to bow out of the competition in the group stages itself in the history of the Champions League as they will no longer be the master of their own fate.
While it's easy to speculate on a lot of things before kick-off, looking at the current form of both teams and their tactics over the course of this season, it won't be foolish to cash in on an Italian victory when Antonio Conte's men line-up against a battered Chelsea side which is low on confidence and is well aware of the fact that there is every chance that the Bianconeri's 3-5-2 and the midfield trio of Claudio Marchisio, Arturo Vidal and the eternal Andrea Pirlo will outnumber, outrun and eventually outclass the Londoners at home.
Chelsea's midfield duo of Ramires and John Obi Mikel will find it hard to cope with Pirlo's suave and seamless passing from a deep lying playmaking position, and in Vidal and Marchisio the Old Lady possess two of the most brutal destroyers in the game who can run the length and breadth of the field tirelessly, audacious enough to even burst forward to provide a constant attacking threat to the opposition sharing a total of 28 goals between them over the past one a half seasons.
Couple that with the pair of Kwadwo Asamoah and either one of Mauricio Isla or Stephen Lichsteiner as wingbacks, and you have a 5-man midfield behind the two strikers, marauding and pressing a Chelsea side which is heavily dependent on the attacking quartet of Juan Mata, Oscar, Eden Hazard and Fernando Torres who will find it difficult to impose themselves on the opposition like they do back home in the Premier League where the game is more open from both ends.
Chelsea (L) & Juventus (R) - Average player positions at Stamford Bridge on 20 Sep 2012



More than their strong midfield, it's the merits of the 3-5-2 over Chelsea's 4-2-3-1 that Juventus will hope to take advantage of. It's the non-stop engine like work rate of their wingbacks that will cause real problems to the likes of Juan Mata and Eden Hazard who will constantly find themselves on the back foot and outstretched by Asamoah and Lichsteiner respectively while Oscar in the centre of the Chelsea trident along with the defensive duo of Mikel and Ramires will be forced to lockdown the ever-present midfield trio at the centre for Juventus cutting down Chelsea's attacking threat by leaps and bounds.
Fernando Torres as the lone striker on the other hand, will find himself isolated in the company of three centre backs Leonardo Bonucci, Giorgio Chiellini and Andrea Barzagli entrusted with the responsibility of guarding Gigi Buffon and his goal-post. Juventus attack in huge numbers and in clusters with Pirlo pulling the strings building attacks and marshaling the game, and Chelsea will look to take advantage on the counter but that's exactly where they will find themselves locked out against the well-organized centre backs of the Italian champions.
If the Italians attack in numbers, they defend in the same fashion with the wingbacks tracking back immediately to cover the centre backs and the midfield trio forming the second shield of defense leaving the striking duo of Quagliarella and Vucinic to be ready for the switch from defense to attack. Also it's the co-ordination of the wingbacks, that's of paramount importance to Conte's tactics as their tireless running and positional awareness prevents them from getting overpowered by the opposition while also helping in the smooth transition on the counter where Mikel and Ramires will have to be very vigilant in breaking down this threat from the centre as they will find themselves against the midfield trio of Pirlo, Vidal and Marchisio while Chelsea's full backs are busy dealing with Asamoah and Lichsteiner.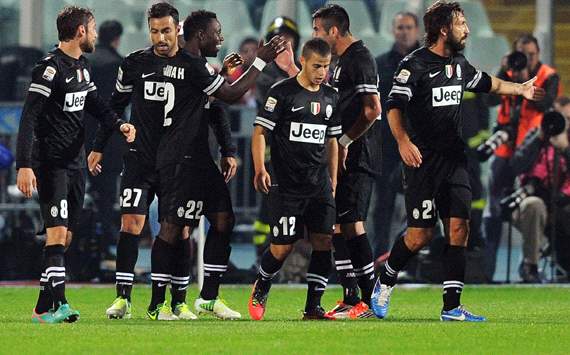 They hunt in a pack
This is exactly where Di Matteo's men find themselves in the danger of getting outnumbered by the well spread-out midfield of Juventus.
But Conte's tactics have their own weaknesses as well, and this is where Torres who has been a thorn infront of the brilliance of Mata, Oscar and Hazard will look to use his experience as a forward if not a goal scorer like he used to be not long ago.
While he is expected to see less of the ball thanks to the blanket of defenders around him, it's his positional sense that Di Matteo should look to exploit in Chelsea's favour. A move wide by the Spaniard at the right time will force one of Juventus' back three to drift away from the his position leaving a void in defense for the opposite winger. It's here that either one of Mata or Hazard will look to cut in towards the centre to make use of the void created by the defender tracking El Nino's movement out wide.
Turning the tables on the Bianconeri backline who all of sudden will have found themselves outnumbered, this is where Oscar will look to use his creativity to exploit the lapses at the back. Also, if one of Juventus' wingbacks fails to fall back on time, Chelsea's midfield will find itself attacking the gaps that Bonucci, Barzagli and Chiellini may find difficult to close down due to the numerical disadvantage.
Also, the Old Lady's obvious lack of a world class striker may come back to haunt them in the most important test they face since their surge to the top last season. While their midfield is definitely their biggest strength, the team's over-reliance on the same to score may backfire in a match they cannot afford to drop points whatsoever.
But looking at the form of the two teams, it's Juventus again who seem to have the upper hand despite having seen their 49 game unbeaten streak broken by Inter a couple of weeks back, which surprisingly has only made them stronger given the results that ensued following that heart-break in Turin.
Breaking their European hoodoo, a four goal thrashing of Nordsjælland was followed by an even more ruthless drubbing of Pescara by six. This weekend's stalemate at home against Lazio was solely down to Federico Machetti's heroics as he single-handedly won the Biancocelesti a point, and even the greatest of strikers would have found it difficult to get past the Italian that evening.
Form Guide: Juventus (L) and Chelsea (R) - last five games in all competitions


Serie A




Juventus 0-0 Lazio

Premier League




West Brom 2-1 Chelsea

Serie A




Pescara 1

-6 Juventus

Premier League




Chelsea 1-1 Liverpool

Champions League




Juventus 4-0 FC Nordsjælland

Champions League




Chelsea 3-2 Shakhtar Donetsk

Serie A




Juventus 1-3 Inter Milan

Premier League




Swansea City 1-1 Chelsea

Serie A




Juventus 2-1 Bologna

League Cup




Chelsea 5-4 Manchester United
Chelsea on the other hand have not won a single league game since that drubbing of Tottenham about a month ago, throwing away their lead at the top of the table having lost against Manchester United and drawing the likes of Swansea and Liverpool before losing out to West Bromwich Albion this weekend. The needless win against United in the Capital One cup was hardly a consolation, while they just about managed to get past Shakhtar Donetsk in the crucial Champions League tie at home which has kept them alive in the competition.
This game is a battle purely on the tactical level due to huge differences in the character of the formations employed by these two sides which are as different as chalk and cheese. While Juventus are used to playing against the usual four man backline in the Italian league as used by Chelsea, it's the European champions who will find themselves on the back foot because apart from Manchester City, whom they are yet to face this season, and Wigan, no other team in England has tried the 3-5-2 and all of a sudden they find themselves against a team that has championed it over the past one year or so.
The difficulties were evident in the home game back in September where despite going up by two goals, they allowed the Italians to come back on level terms getting outnumbered time and again throughout the ninety minutes at Stamford Bridge. This time they would however, look to learn from their mistakes desperate to put on a better show away from home against a side which has a lot at stake all tied up to this one fixture.
So who will be come out unscathed in the end? Not long before we find out.
Like we said, this mid-week will be juicy.
Don't forget to let us know in the comments section below or discuss on twitter@adityabajaj

How do you stay up with football when on the move? With http://m.goal.com – your best source for mobile coverage of the beautiful game.