Brendon Netto




Analysis

|

England




Follow on
"Why always me?" was the question Mario Balotelli jestingly asked everyone when he scored in last year's Manchester derby at Old Trafford. It was in reference to the banter he faced at the time for setting his house on fire using fireworks. The question was more of a statement regarding his numerous antics which had a knack for finding their way to the back pages of English newspapers. At the moment though, the real question on everyone's mind is - why still him?
The Italian's talent and ability were never under any doubt but his poor temperament and inconsistency has always made playing him seem like a gamble. With the erratic Balotelli, managers just have to roll the dice and hope for the best. His volatile nature could either see him score a crucial goal when the team needs it the most or see him lash out and get sent off in the most unsavoury of fashions.
When he first arrived in the blue half of Manchester, the City fans took to him immediately. He had the flair to thrill and the personality to entertain. He became the unlikely hero for the Citizens and a rather comical villain for their rivals. He was and still is a gold mine for the press, contributing to countless column inches. Neutral fans and pundits were amused by him while also being blown away by the occasional flash of brilliance.
However, after more than two years of far more off-field antics than good performances, the general mood towards the 22 year-old has inevitably soured. He is consistently regarded as more of a liability than an asset to the team and his wildcard status is starting to lose its appeal. He was left out of the squad against Tottenham entirely and reports claim that the forward was spotted out on the town partying just 12 hours prior to the game.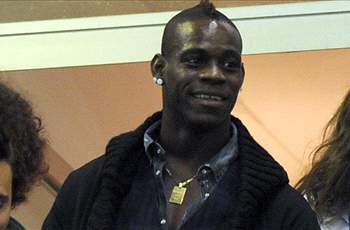 Balotelli was dropped for the Tottenham game
In all fairness, he didn't exactly break any rules because he already knew he wouldn't be playing but the act could still be deemed irresponsible as an untimely injury leading up to the game could have required the Italian to be drafted into the squad. As a professional, he should have been prepared for such a situation but expecting that kind of level-headedness and sense of responsibility from someone who has had his car impounded over 27 times is unrealistic to say the least.
The Italian has never been much of a team player either and is always likely to disrupt the dressing room. On the pitch, he can seem utterly uninterested at times and notoriously gives his colleagues steely looks when he isn't happy with their passes while he isn't shy of fighting with one for the right to take a free-kick either. On the training ground, he has been involved with numerous bust-ups and can hardly be a model of team spirit.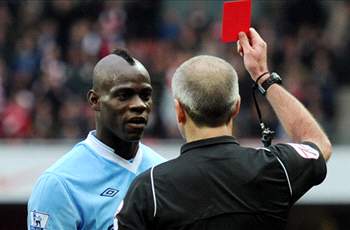 He is always a liability
Speaking of his role in the squad, Balotelli hasn't come near any of his fellow strikers as far as performances are concerned this season. Carlos Tevez and Sergio Aguero are the preferred striking duo and their performances make it hard to argue against their selection and even harder for anyone else to take their place. Just ask Edin Dzeko, who can barely earn a start for himself even though he seems to score vital goals every time he's summoned from the bench.
| | | | | | |
| --- | --- | --- | --- | --- | --- |
| Player | Games | Starts | Goals | Assists | Minutes/Goal |
| Sergio Aguero | 11 | 8 | 4 | 1 | 180.0 |
| Carlos Tevez | 15 | 10 | 4 | 5 | 224.4 |
| Edin Dzeko | 14 | 7 | 7 | 1 | 95.6 |
| Mario Balotelli | 13 | 6 | 2 | 2 | 206.3 |
City's strikers' statistics this season
While Dzeko is visibly working hard and breaking his neck to get into the team, Balotelli is yet to open his account in the league this season and looks content with his place on the bench. Yes, he scored a crucial penalty in the Champions League fixture against Borussia Dortmund to earn his side a valuable point but that is as far as his contribution goes for the current campaign.
His goal-scoring record is not bad at all for City but it is still dwarfed by that of his fellow strikers. Dzeko may not be as naturally gifted as him but Roberto Mancini can rely on the Bosnian international while he dare not put any faith in Balotelli. The Italian tactician bought the striker from Inter Milan but has since grown exasperated by his immaturity and recklessness.
The relationship between Mancini and Balotelli is often likened to that of a bickering old married couple. Mancini once hauled the striker off the pitch after his audacious attempt at a back-heel with only the keeper to beat during a friendly against LA Galaxy. The two were involved in a heated exchange as the substitution was made. On another occasion however, Balotelli immediately sprinted away to embrace Mancini after scoring an important goal against Everton.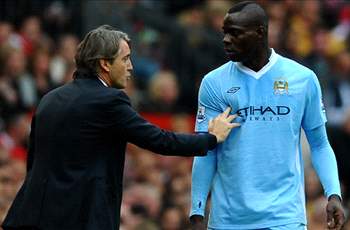 His love-hate relationship with Mancini
Jose Mourinho faced plenty of problems with the young striker as well during his managerial stint with Inter and has described him as "unmanageable" while Mancini has opted to put it far more bluntly in the past by calling the forward "crazy".
Balotelli belongs to a rare breed of players whose antics have been tolerated for their talents but that tolerance only lasts as long as they deliver the goods on the field. Paul Gascoigne is a fitting example with regard to Balotelli's humorous ways. The perpetual prankster, 'Gazza' was regarded as the best English player of his generation but his drinking was always an issue. In spite of that, he was regularly played despite showing up late and often under the influence of alcohol. His struggles with substance abuse and mental illness eventually brought his career to an end and rather than riding off into the sunset, he was viewed as a fallen hero even before his retirement.
Balotelli doesn't need to look too far for a player whose ability supersedes his erroneous ways. Carlos Tevez refused to go on as a substitute against Bayern Munich last year and walked out on the club for over three months. In spite of his huge spat with Mancini who declared that he would "never play for Manchester City again" and the club's attempts to find a suitor for the Argentine in the January window, Tevez returned and proved to be just the spark the team needed to ignite their surge at the tail-end of their title-winning league campaign. His hat-trick at Carrow Road immediately comes to mind and was a strong reminder of what he is capable of. Fast-forward to this season and Tevez is once more an integral part of the squad.
One could argue that Mancini's man-management hasn't been upto scratch. Managing players like Balotelli is a fine art and not many have the patience to master it. Sir Alex Ferguson's management of the effervescent Eric Cantona is an ideal example. The Frenchman famously said that he had never faced the wrath of Sir Alex and is one of the few players to escape the famous 'hairdryer' treatment. Ferguson similarly managed Cristiano Ronaldo years later to equally good effect.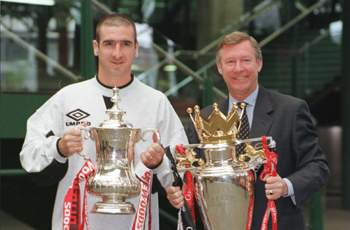 Sir Alex managed Cantona expertly
Kenny Dalglish somewhat controversially defended Luis Suarez against racist allegations last year and Brendan Rodgers has defended him again this season in light of the accusations made against the forward for simulation. The Uruguayan is by far their best player and in order to keep him happy at the club and performing on the field, the 'hand on the shoulder' method is undoubtedly the way to go. Suarez has responded by being the joint top-scorer in the league so far despite Liverpool's lowly league position.
Instead of using a similar approach, Mancini has resorted to dismissing the striker's antics as 'crazy' time and again while openly criticizing him in the media. However, you've got to feel for the City boss because Balotelli is nowhere near the class of Cantona, Ronaldo and Suarez but probably out does them all with his indiscipline.
Balotelli can boast of being on the 23-man shortlist for this year's Ballon d'Or but his nomination has come under some scrutiny and rightly so. With a mere 17-goal haul for City last season and only a few good moments at the European Championships, it's baffling that the Italian finds himself among such elite company. The decision is increasingly contentious when you consider the players who were excluded. Robert Lewandowski, Marco Reus and Edinson Cavani were far more prolific than the City forward while his teammates Joe Hart and David Silva were also overlooked despite recording the most clean sheets and assists in the league respectively.
One of the top 23 players in the world?
So, why always him? Perhaps it's his knack for attracting attention to himself that makes the contributions of other players go unnoticed but that's just speculative. The answer continues to evade us and the rest of the football world but really it should be irrelevant. The relevant question in this moment in time is why is he still at Manchester City? With the club's interest in Radamel Falcao and the rumours linking Balotelli to a move back to Italy, we may not be asking that question for much longer.
Should Manchester City persist with Balotelli or should they sell him? Leave your comments below...
How do you stay up with football when on the move? With http://m.goal.com –your best source for mobile coverage of the beautiful game.