Akarsh Sharma

Analysis

|

Premier League

Follow on
Over the course of the last 8 seasons, Chelsea and Liverpool have met on 32 occasions in all competitions producing contests ranging from eight-goal thrillers to on-field chess battles. However, when they kick-off on Sunday, the contest will have an unfamiliar feel to it.
On the one hand, this season's Chelsea are a slick, dynamic and offensive team - the most entertaining side since Roman Abramovich took over the club in 2003. On the other hand, Liverpool are in the process of developing an entirely new philosophy under Brendan Rodgers, which is yet to take a firm shape. Interestingly, and somewhat against the home-away norm, the away side is the one that is expected to hog possession and attack patiently, while the home side (with three dynamic midfielders cut loose) is expected to make lightning quick attacks. Consequently, there may be a lot of mid-game adjusting to do for the two managers.
Here's a look at five tactical points that are likely to govern the outcome of the game:
Role of the strikers - Luis Suarez vs. Fernando Torres
The deficiency of strikers in the squad is a problem that both Liverpool and Chelsea share. However, both teams play with only one full-fledged striker. Chelsea play Fernando Torres as a solitary man upfront in a 4-2-3-1, while Liverpool deploy Luis Suarez as the main centre-forward in a 4-3-3 formation. In their styles, the two are very different type of forwards.
Luis Suarez likes to receive the ball at his feet, prefers to take an extra touch or two, loves to drift in from wide positions and enjoys dropping deep to play as a pseudo playmaker. Torres, on the other hand, is (or perhaps was?) most lethal when he receives the ball on the run, prefers to be at the end of attacking moves, isn't adept at creating chances for others and doesn't frequently drop too deep either.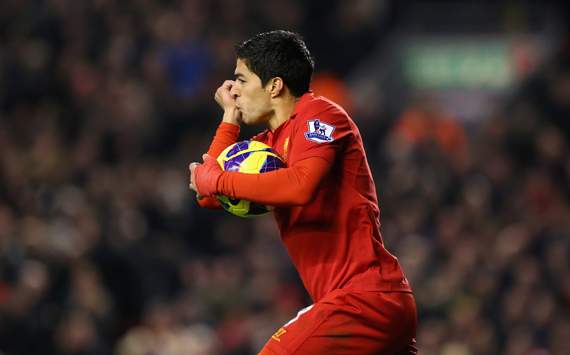 Suarez has been Liverpool's pseudo playmaker..
Suarez carries a much greater burden of scoring goals for Liverpool than Torres does for Chelsea, since the Blues have a much higher number of goal contributors. Suarez has netted 7 (54%) of Liverpool's 13 goals in the league, while Torres has netted only 4 (18%) of Chelsea's 22 goals. The Uruguayan has attempted an average of 36.3 passes and 6.3 shots per game, compared to the Spaniard's 21.5 passes and 2 shots per game. The above numbers clearly indicate the difference in the level of involvement of both the players.
The movement of the two strikers will be an aspect to keep an eye out for, although their roles as solitary strikers will be very different. Suarez will drift all over the place, either join-in in midfield or swap with wingers at times, in an attempt to get hold of the ball and drive towards the penalty area.
Torres, on the other hand, will play a traditional lone striker role but has moulded himself into a more selfless player this season. He will hold up the ball, lay it off to his three attacking midfielders and will make intelligent runs as a decoy to assist the same trio.
The central midfield battle
The Reds will try to dictate the pace of the game through its midfield which focuses on unspectacular ball retention. But Chelsea's midfield, in theory, seems to have all the resources to dismantle their counterparts in red.
It has the breaking speed of Ramires, a ball winner in Obi Mikel and a player with exceptional technical and attacking ability in Oscar (or any of the other two attacking midfielders on rotation). All three of these characteristics are missing from Liverpool's midfield trio of Allen, Gerrard and Sahin; and Rodgers would've certainly noted that.
Playing a feisty midfielder like Jonjo Shelvey instead of Nuri Sahin - who has often been too soft in matches – could make sense but comes with risks such as volatility of the player. Another option for Rodgers is to play Suso in the centre. In his half-hour central midfield stint in Russia in mid-week, Suso showed immense ability and comfort on the ball and was heads and shoulders above any other player on the pitch in this aspect. His technique is perfect for Rodgers's style but his inexperience pushes him down the pecking order.
Liverpool's midfield is also in danger of being overrun. The Reds' wide forwards or wingers prefer to stay high up the pitch rather than make things narrow in the middle. In such cases, Hazard and Mata's habit of cutting inside could heavily outnumber the Reds in midfield.
Liverpool could exploit Chelsea's flanks
The most predictable route to hurt Chelsea is by exploiting the freedom given to its front four, especially since it leaves the flanks susceptible to attacks. In their attempts to make quick and incisive forward bursts, Chelsea's three attacking midfielders are often caught high up the pitch and quite central (relative to their designated positions) with little intention of falling back; especially in Eden Hazard's case. Manchester United recently exploited Chelsea's left flank and Shakhtar Donetsk did the same in mid-week.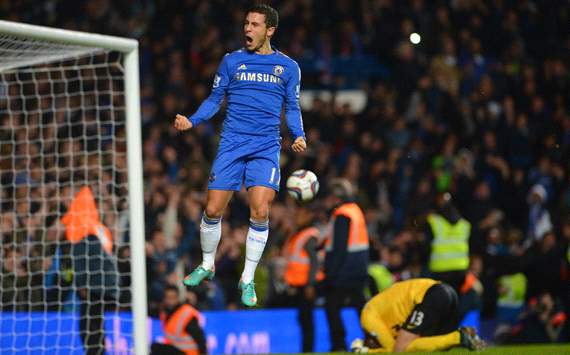 Hazard's isn't the best at tracking back..
Ashley Cole has been ruled out of the match and will be replaced with Ryan Bertrand, who will have to make spontaneous choices in the middle of the game. He will be required to provide width down the left since Hazard has a habit of moving into the centre but this will leave plenty of space behind for Suarez to drop in and exploit. To take advantage of Chelsea's flanks, a natural wing pairing of Raheem Sterling on the right and Stewart Downing on the left may just be a better bet for Brendan Rodgers rather than deploying Suso in a makeshift role once again.
The return of Glen Johnson will be a massive boost for Liverpool on Sunday, especially considering that Skrtel is likely to be out with a virus. Although the young right back Andre Wisdom is solid in defence and one of the brightest prospects currently at the club, he provided little in terms of a potent attacking threat down the right. Along with a makeshift winger in Suso ahead of him, it made for a very lopsided Liverpool formation.
Johnson has been adventurous as a left-back for the majority of this season. He'll be Liverpool's weapon in pinning Bertrand back in his own half and thus, cutting off Hazard's support on the left. Last season, the England full-back made a characteristic burst into the penalty area late in the game, nutmegged Ashley Cole and finished with aplomb to earn his club a win at Stamford Bridge. And he is very well capable of repeating the same.
Rodgers may need to compromise again
One of the most promising aspects of Liverpool's draw at Goodison Park was Rodgers's willingness to compromise with his style. Under immense pressure from Everton, he switched to five at the back (three central defenders with two wing-backs) and relied on Suarez and Sterling's pace on the counter. In that Merseyside derby, Liverpool compromised with their usual ball-retaining set up (only 44% possession) and chose to play a smarter, more incisive game which nearly paid dividends in the end.
On Sunday, after soaking in pressure from Chelsea's fluid front four, Liverpool might be better off switching from defence to attack faster than their usual speed in order to catch the same front four ahead of the ball.


Which of these do you think will decide the game? Don't forget to let us know your views in the comments section or discuss with the writer on twitter @Akarsh_Official
How do you stay up with football when on the move? With http://m.goal.com –your best source for mobile coverage of the beautiful game.