Aditya Bajaj




Analysis

l Serie A

Follow on
"That's a goal God would have normally helped me score. I don't know what happened. I crossed my chest as I came onto the pitch, so this doesn't really make sense."
That was an 18-year old Bojan Krkić questioning his Catholic faith three and half years ago in 2009 when he missed a sitter in the Champions League semi-final clash against Chelsea which was eventually settled by an Andres Iniesta screamer as Barcelona went on to the finals on away goals.
He is 22 now, plays for Milan and despite having a torrid last season under Luis Enrique at AS Roma, has taken things on his stride, coming back strong, delivering the goods for his team and in the process helping a beleaguered manager buy some more time on the bench.
Rational and mature like never before, if his last three performances are anything to go by, Milan may have finally found that player who fits naturally to plug the hole behind the striker with elegance, guile and suavity.
Perhaps, Allegri's constant tinkering with the formation thanks to the abnormally high pressure from all footballing circles calling for his head never really gave the former Barcelona striker a chance to prove why he was rated so highly at the Catalan club, so much so that he was only sent away with a unique buy back clause highlighting his importance to his parent club in the future.
Unwilling to take any risks, it took the Rossoneri coach a long time to finally drop his former star Kevin Prince-Boateng to the bench but he was equally reluctant to use Bojan in his place. Instead he switched to a 3-4-3 to play to the strengths of another out of form signing Giampaolo Pazzini.
Finally it was only after Palermo exposed the fragile foundation of the formation in the first half at the Barbera, that Allegri finally decided to resort back to a back four with an ultra offensive structure desperate to save his job switching to what looked like a 4-2-4 sending in Bojan to add to the artillery upfront.
And boy, did the diminutive forward grab that opportunity with both hands or what!
His introduction not only helped Milan claw back to level terms having been down by two for much of the game, but it also did well to knock some sense into Allegri's head that for the first time his team played more like a unit in a formation they had a good understanding of.
Bojan's pace and mazy runs all over the pitch took away much of the pressure from a certain Stephan El-Shaarawy's young shoulders so the Italian could concentrate on scoring which was the need of the hour and he did exactly that. That superb performance was followed by an even better one against Chievo giving Milan their biggest win of the season as they went about thrashing the Verona side by five goals to one to make a statement that finally the transition may have started to click as all four of the attackers upfront in the form of El-Shaarawy, Pazzini, Emmanuelson and Bojan himself got on the scoresheet to complete an emphatic victory.
It may be too early to officially announce that Milan are back, but their performance against Malaga has proved that the team is taking steps in the right direction, despite the unfortunate draw at the San Siro against the team which until kick-off had one of the best records in the Champions League this season.
Bojan did not score any, nor did he assist Pato's goal but he still came out as the Uefa top player of the match thanks to his heroics as he calmly settled behind Pato as the playmaker, a slot Milan have been struggling to fill since Boateng's slump in form.
Allegri may take credit for the sudden reinvigoration, but he has so much to thank Bojan for turning up with top performances like these. But the tough job of being the man in charge for the former Cagliari boss starts now.
With back-to-back fixtures against Fiorentina, Napoli and Juventus coming up as the season progresses, November as Galliani suggested could prove to be season defining for Milan. Already looking to climb up the table having lost much ground over the past two months, victories in these fixtures will certainly help the Rossoneri get back in contention for the crucial Champions League spot, a target they can at no point lose sight of.
To achieve that, Allegri has to do away with his constant tinkering, get over his stubbornness and make sure he does not disrupt the momentum selecting his players wisely. Robinho's return can prove crucial as he will be an upgrade from Emmanuelson and with speculations over his future, the Brazilian will be desperate to prove he is still fit to play top flight football rather than retreating back to the comforts back home.
More daunting will be the task of fitting in Boateng given that the current line-up looks more like a team with the quartet of El-Shaarawy, Pato, Emmanuelson (who could be replaced by Robinho) with Bojan behind them creating further difficulties for the Ghanaian to find a place for himself.
Keeping squad rotation in mind, Allegri would do well to give some players a much needed rest and having a player of Boateng's quality on the bench doesn't really seem like a bad option, more so when it will only create a competition for places amongst the players which is always healthy for any club. Also statistics prove that the former Ghana international midfielder's numbers of tackles have declined ever since he was chosen to play as the playmaker he never was for Milan, where his obvious deficiencies in that role have been exposed by Zlatan Ibrahimovic's departure.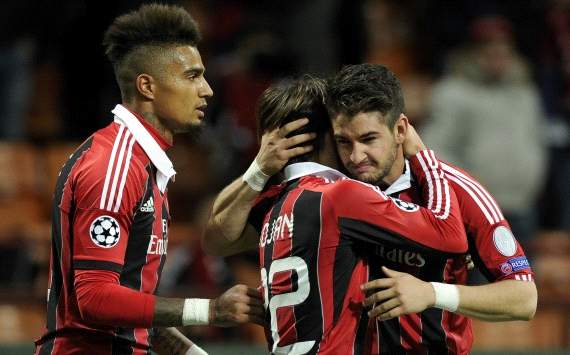 Kevin Prince Boateng | Overshadowed by Bojan, is it time for him to play a deeper role in midfield?
He was always a box-to-box midfielder who could run tirelessly winning tackles along with an attacking prowess like none other and a ferocious shot. He was excellent for Ghana in the 2010 World Cup in that role and that's exactly why Milan signed him in the first place. It's only due to Clarence Seedorf's age and declining form that he was asked to fill in as the trequartista last season, a role he made his own only until the departure of Ibrahimovic.
Maybe it would be worth trying him alongside Riccardo Montolivo as the daredevil shielding the defence and being the channel between the defense and the attacking third with the Italian concentrating on his playmaking duties. Nigel De Jong hasn't really looked sharp, while Massimo Ambrosini cannot be started every week thanks to his age and Allegri should take up the opportunity to find a place for the Prince who cannot be left on the bench given the amount of talent buried inside of him.
All in all, a crucial few weeks ahead for Milan and with the team brimming with confidence week after week it will be up to their boss to keep them motivated and stick to the current 4-2-3-1 so as not to hinder the present momentum. Alexandre Pato is back with a goal, but he still needs to be handled carefully, having him rotated alongside Giampaolo Pazzini and given the right amount of time to come back, he can play a crucial role.
More important, however, will be sticking with Bojan in his current role behind the striker as hampering his confidence right now could peg Milan and Allegri back to square one.
How do you stay up with football when on the move? With http://m.goal.com –your best source for mobile coverage of the beautiful game.