Akarsh Sharma

Comment

|

Premier League

Follow on
In last weekend's Merseyside derby, Luis Suarez dived. Again. The gesture held significance beyond the realms of a hotly-contested derby and beyond simple banter with an opposition manager. This was a new Luis Suarez – one who seems to have made a conscious decision to take the fight back to English football. Yet, this was pretty much the Suarez of old – an expert in provocation.
If you thought Suarez was going to dodge the limelight at least in matters that were completely under his control, you were wrong. If you thought he was being gradually worn down by criticism, your claims were utterly dismissed.
At the end of the same match, when most players would've lost their marbles following such an atrocious offside call, Luis Suarez simply smiled and jogged back. It wasn't the response of a beaten man, but that of an accepting one. His 'aggressive dissent' towards referees has been gradually giving way to a rueful, sarcastic smile.
What is clear to him now is his fate, his standing, his legacy in English football – that of a pantomime villain, a figure of hate, a target of relentless abuse, a gem of a controversial football player. What is clear to him now is that he could build hospitals and free clinics in England's every city, make donations to multiple charities across the UK, or do community service every day after training, and still end up no better in the eyes of the general public than he is now. So, why bother?
It is simply a nationwide witch-hunt. And Suarez knows that now. It isn't new to him anymore; a sense of injustice has become routine both on and off the field.
He has seen his club lose to Antonio Valencia's theatrical fall, while being denied a penalty for more contact at Sunderland. He was completely hacked down in the box at Carrow Road, only to look up and see the offender jumping around as if it was preposterous for Suarez to end up on the floor. He has seen Shane Long fall to a feather touch from Daniel Agger at The Hawthorns, but saw Mertesacker's blatant pullback at Anfield go unpunished. He has been at the receiving end of a deliberate stamp by Robert Huth which was hardly given a post-match mention, while his malicious (and perhaps, not even as deliberate) tackle on Sylvain Distin was worthy of headlines and tweets.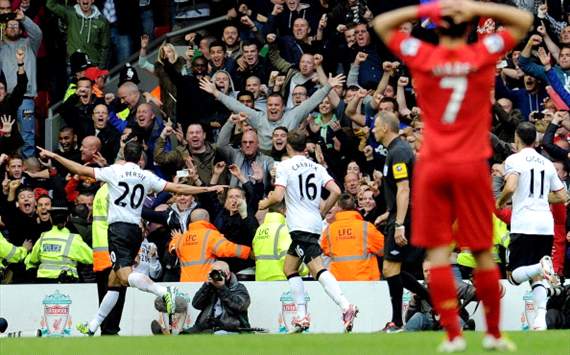 The Uruguayan was the English FA's scapegoat (in proving their stance against racism) when he served an 8-match ban for admitting using the term "n*****o" which is a common nickname in his native land, but has seen England's John Terry given a 4-match ban for allegedly uttering the words "f*****g b***k c**t". But Terry was cleared in the court of law, you would ask? If "f*****g b***k c**t" with clear video evidence could be proved as anything but a racist connotation in England's criminal courts, then Liverpool's lawyers would've had a field day justifying Suarez's use of "n*****o".
Suarez has also recently been at the receiving end of FIFA vice-president Jim Boyce's pathetic attempt to get into the world's good books when he named the Uruguayan in his comments on simulation. The witch-hunt, then, spanned the world and everybody wanted to be a part of this.
This is not to suggest that Suarez is an innocent man. He deserved his ban, if not entirely for racism, then for ignorance. But Liverpool's mishandling of the whole situation compounded his misery. Suarez does dive, does tap defenders' heels, does complain and moan on a football pitch and most of the times, he does it when he is well aware of what he is doing. This is not unique. It is a common characteristic of most modern day footballers, except that they are hiding behind the Suarez-dominated headlines.
There are only a finite number of times you could use the argument that Suarez's past actions lead to the cynicism and injustice directed towards him. To Suarez and Liverpool, that finite number had been crossed a long time ago. To the rest of the world, that number is a long way away.
El Pistolero isn't playing to serve as an ambassador of the beautiful game and you can't blame him for doing so. He is playing exclusively for the communities that stand by him, which currently encompass Uruguay and Liverpool along with who he left behind at Ajax in Netherlands.
If recent indications are anything to go by, Suarez seems to have come to terms with who he is expected to be in England. And Liverpool finally seem to have a flawed genius of their own – a number 7, a world-class flair player, an Eric Cantona. He isn't as charismatic as Cantona by a long shot, but never since the Frenchman has such a talented footballer divided opinion in England.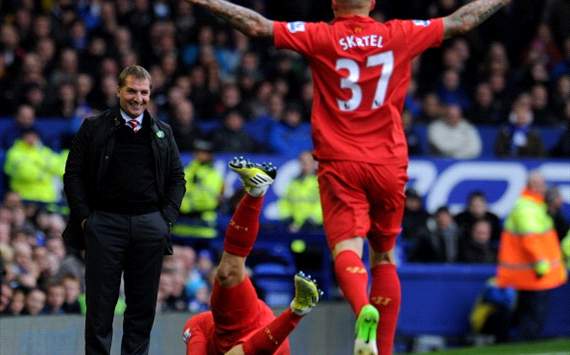 If you drive down football's memory lane, the greatest of footballers are remembered for their ill-advised actions but simultaneously hailed as 'legends' and not vilified for being a disgrace to football. They all exhibit common traits – unique style of football, love for the game, affection to controversy, hero to their own, villain to the rest, a rebellious attitude and a ruthless, competitive streak. Such players were eccentric, unorthodox and irrational. These are the players that draw attention towards them, but carry a team on their own. And Liverpool were in desperate need of one.
Diego Maradona is hailed as the greatest of all time, even after scoring with the 'Hand of God' and failing a drugs test at USA'94. A statue of Zidane's infamous head butt is erected in Paris in memory of the moment when his personal interests cost his nation the World Cup.
Didier Drogba, a colossus of a footballer, was on par with the worst of divers and play-actors but is still considered a jovial figure in the game. Serial diver Jurgen Klinsmann's first goal celebration in England was a mock dive, before he went on to become the player of the year. Carlos Tevez completely ridiculed the sanctity of a football club and a football manager last season, but still starts for his club and is hailed by the supporters.
Thierry Henry, according to the Irish, blatantly cheated France into South Africa 2010. Paolo Di Canio pushed a referee in England and made fascist salutes in Rome. An entry in Eric Cantona's endless list of misdemeanors was to launch himself, feet first, into the crowd to attack a fan and he was still hailed as 'King Eric'.
Roy Keane deliberately attempted to end the career of another professional footballer and abandoned his country during a World Cup. Wayne Rooney nearly joined bitter-rivals City after handing in a transfer request. The last three players have served as captains for Sir Alex Ferguson - the same man who so vehemently labeled Suarez 'a disgrace to the game'. Fergie was right in looking out for his own and right in giving them another chance, just like Liverpool are right in looking out for Suarez as he is over-persecuted.
BBC's Ben Smith recently said, "(Suarez's) ban for racially insulting Patrice Evra has been served and he has the same right to a fresh start as any other rehabilitated offender." England hasn't let Suarez exercise this right. If it had, Suarez's on-field antics may not have been taken in such a toxic manner.
His diving riposte to David Moyes was a declaration of acceptance of who he is expected to be in England – an anti-hero to Liverpool, a villain to the rest. Suarez brings with him plenty of baggage, but he is also the answer to Liverpool's prolonged wait for an eccentric, albeit controversial, genius.
Don't forget to let us know your views in the comments section or discuss with the writer on twitter @Akarsh_Official
How do you stay up with football when on the move? With http://m.goal.com –your best source for mobile coverage of the beautiful game.