COMMENT
By Kris Voakes | Italian Football Writer
For many, Andrea Stramaccioni came out of nowhere back in March to become Inter boss in the space of 36 hours - his excellent work with the club's Primavera side having gone largely undetected by those not personally invested in the Nerazzurri. But, seven months on, his name sits alongside some of the most prestigious coaches in the club's history following a run which has typified him both as a person and as a leader.
Inter have won their last seven games in all competitions, a purple patch that has seen them rise from sixth to third in Serie A and confirm their place as favourites to progress from Group H of the Europa League. On the face of it, it may not seem like a massive feat for a club that were champions of Europe just two years ago, but it is a huge step in the right direction for an organisation that was on its knees this time last year.
On the day Stramaccioni led Inter's young guns to a penalty shoot-out win over Ajax in the inaugural NextGen Series final, the first team went down 2-0 to Juventus, in Turin, to mark the end of Claudio Ranieri's spell in charge. The following day, the fresh-faced boss was promoted to the hotseat and immediately went about remodelling the Nerazzurri blueprint.
Short-term targets were not vital to the 36-year-old. He could have insisted on a back-breaking attempt to reach the Champions League, especially given the club's financial state, but instead opted to oil the wheels that had stiffened on the blue and black wagon. A respectable haul of 17 points from a possible 27 saw Inter qualify for the Europa League, but just as important was the unity he had instilled in the side within those first six weeks as coach.
INTER THE RECORD BOOKS | Strama's streak equals the legendary Herrera

| | | |
| --- | --- | --- |
| COACH | SEASON | WINNING RUN |
| Roberto Mancini | 2007-08 | 13 games |
| Roberto Mancini | 2006-07 | 11 games |
| Giovanni Trapattoni | 1988-89 | 8 games |
| Gigi Simoni | 1997-98 | 8 games |
| Claudio Ranieri | 2011-12 | 8 games |
| Helenio Herrera | 1961-62 | 7 games |
| Andrea Stramaccioni | 2012-13 | 7 games |
In the summer, the club continued in Stramaccioni's vision of quietly getting the job done. Just as his introductory press conference had been overshadowed by Mario Balotelli's impromptu visit, his first transfer campaign was shuffled away from the spotlight due to the events at Juventus and AC Milan in particular.
The exits of Julio Cesar, Douglas Maicon and Lucio – cornerstones of the treble-winning Nerazzurri – were met with comparative silence thanks to the troubles across the city. Likewise, the arrivals of Samir Handanovic, Rodrigo Palacio, Alvaro Pereira and Walter Gargano went largely unmentioned. It was perhaps only when Antonio Cassano arrived that the majority really paid attention to the fact Inter were suddenly threatening to challenge once again.
Now they are back in the top three having done similar work on the pitch, going quietly about their business while the headlines have been written elsewhere. With flexibility in their system, a squad unity which has not been seen since the days of Jose Mourinho and a knack of scoring goals at the right times to win tight games, the Nerazzurri have the 'silent assassin' look about them at the moment.
Perhaps the most telling attribute of Stramaccioni has been his excellent use of the squad. Rather than adopt the approach of others – most notably Antonio Conte – of using his first XI wherever possible, instead he has shown confidence in a rotation policy, with changes made depending on opponents, tactics and circumstances. He has also been able to adapt to his squad, bringing in a back three which was ridiculed under the guidance of Gian Piero Gasperini, but has now been welcomed as a necessary change.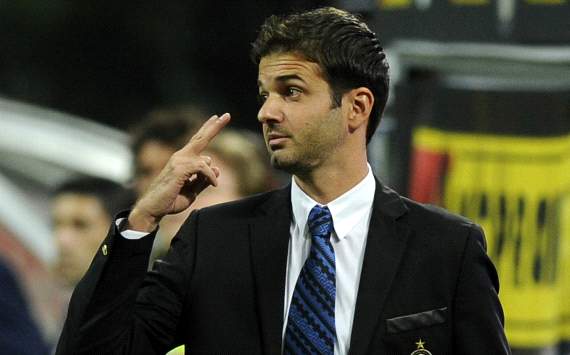 Eyes on the prize | Stramaccioni has quietly gone about his business since taking over
He has also shown a knack for dispassionate decisions, ignoring bandwagons in favour of particular players in order to get the best from his side. Fredy Guarin quickly became a fans' favourite at San Siro, but his technical attributes have yet to be matched by any tactical direction, all too often leaving him failing to contribute for 90 minutes. The result? Stramaccioni has used him increasingly sparingly, giving the Colombian time to come to terms with the demands of Serie A football. The same can also be said of Pereira, while the progress made without Wesley Sneijder in the side has been excellent, considering many Interisti believed the midfielder's presence would be key to any hopes of progress this term.
Stramaccioni remains somewhat unproven, with two Milan derby victories his biggest honours so far as a senior coach, but with only 18 Serie A games under his belt he is making excellent progress. After Wednesday night's clash with Sampdoria, he takes his side to Turin for their first visit to Juventus Stadium since Ranieri's final act as Inter boss.
It will be the biggest game yet of Stramaccioni's fledgling coaching career, but he will approach it in exactly the same way in which he has tackled every other match so far. And then, win, lose, or draw, he will continue to quietly go about his work as he attempts to take Inter back to the top. It is the modus operandi of every silent assassin.