Brendon Netto




Analysis

|

Champions League




Follow on
When the defence is as porous as Manchester United's has been this season, it would normally spell disaster for most teams but the Red Devils have enjoyed a flourishing attack that has served to counter such adverse effects. In fact, Sir Alex Ferguson is so confident of his attacking line that he has gone as far as to claim that his side are capable of winning the Champions League if they can keep their defenders fit.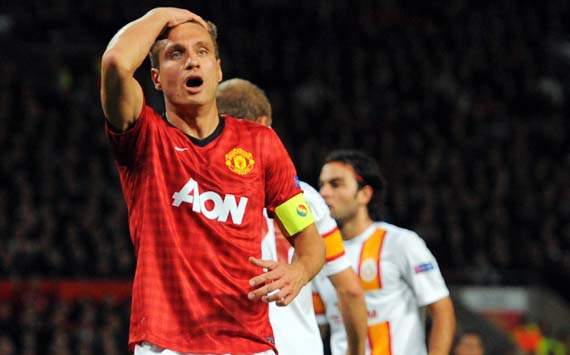 Don't be fooled by the simplicity of that statement for in reality, maintaining a fit defence has proved to be a herculean task for United since the start of 2011. Last season, they suffered 39 major injuries (two weeks or more) to their first team squad, more than any other team in the Premier League. Coincidently, Manchester City had to deal with only 7 such injury set-backs, the least in the league.
United's defence has been particularly vulnerable to injuries and the likes of Darren Fletcher, Michael Carrick, Antonio Valencia and Ryan Giggs have featured in the back line at various times as a result. Phil Jones and Chris Smalling have shown glimpses of their supreme potential but have succumbed to injuries far too often since their arrivals. Nemanja Vidic was absent for most of last season and is already facing a lengthy spell on the side-lines in this term as well. Rio Ferdinand's back problems have been well documented and it seems as though staying fit is always a challenge for him. If his condition continues to deteriorate, likening him to the recently retired Ledley King may not be too far-fetched.
An unfit and faltering defence have seen United concede 15 goals in 12 games this season, keeping only three clean sheets. If Sir Alex is serious about challenging for the Champions League, keeping his defenders fit will be high up on his list of priorities.
Irresistible Strike Force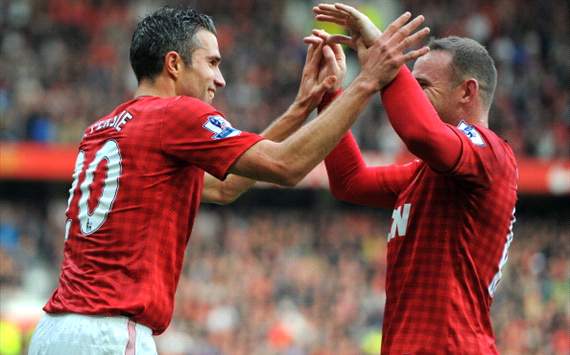 However, United fans can take comfort in their abundantly talented strike force which seems to be firing on all cylinders. Sir Alex's £24 million summer acquisition has unsurprisingly been at the center of their success in front of goal. Robin Van Persie has picked up from where he left off last season and has taken no time whatsoever to settle down in his new surroundings.
Wayne Rooney has been a revelation since his return from injury, scoring 2 goals and assisting 4 in the last four games. He also scored thrice for England during the international break. The understanding he has forged with Van Persie in such a short time has been very encouraging. The Dutchman has already bagged 8 goals in 11 appearances for United as things continue to look up for United in attack.
Rooney has always displayed an aptitude as a playmaker and his assists have served as fitting evidence. However, Van Persie's arrival takes Rooney's game to a whole new level. The Englishman now has a genuine match-winner much like himself to combine with. He has a quality player beside him to receive his passes and can also rely on him to return the favour.
Even as individuals, both players provide supreme goal scoring ability but their combination with regard to their movement and link-up play with each other has been truly sublime and an absolute nightmare for defenders. Keeping the duo fit and firing throughout the season will be essential to the team's success domestically as well as in Europe.
Danny Welbeck and Javier Hernandez have responded well to Van Persie's arrival. They have looked to lift their performances when they get the opportunity rather than sulk on the side-lines. Hernandez's performance against SC Braga last night gives Sir Alex a real selection headache ahead of the cruicial league game against Chelsea on the weekend.
| | | | |
| --- | --- | --- | --- |
| | Games | Goals | Assists |
| Rooney | 4 | 2 | 4 |
| Van Persie | 4 | 3 | 2 |
In the games the duo have started together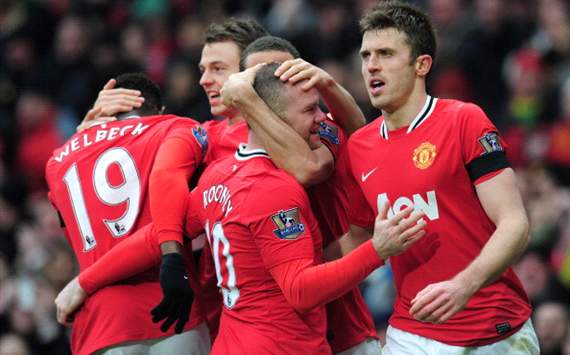 Sir Alex has devised a system that offers far more protection to the defensive line than the two-man central midfield of a 4-2-3-1 system. The diamond midfield has effectively proved to allow United more control over proceedings by dominating play in the middle of the park. The diamond is made up of Michael Carrick who sits at its base while Tom Cleverley and Shinji Kagawa play as left and right central midfielders respectively. Wayne Rooney completes the diamond by filling in the space behind the two strikers.
This system does not offer natural width with which Manchester United have always been associated. One could argue that it contradicts the principles of the club and even though Ferguson acknowledges that, he is quick to point out its many advantages. The Scot believes that their ability to play with or without wingers gives them an air of unpredictability which their opponents will find difficult to live with.
A packed midfield also ensures that United see more of the ball while providing cover for their defence. With the likes of Kagawa, Rooney, Van Persie and Cleverley at his disposal, Sir Alex definitely has the players to successfully operate within this system. The system may not have worked well against Braga last night but had the defence squeezed further up the pitch like they did in the second half, they may not have conceded as easily as they did.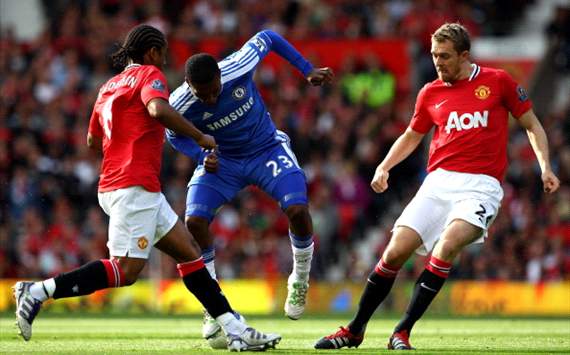 Paul Scholes' ability as a deep-lying playmaker is second to none but when the veteran is played in a two-man midfield alongside the reliable but slightly sluggish Michael Carrick, they can be overrun by stronger teams. Cleverley is not one to do too much of defensive work either, not for lack of commitment but simply because he is more effective in an advanced role.
The need then arises for an all-action midfielder with the willingness to get forward and also the ability to track back quickly. Sir Alex had hoped that Anderson would develop into such a player for United but injuries have severely stunted the Brazilian's progress. However, when he does come on, there is a marked improvement in the energy and mobility aspects of the midfield department. His lackadaisical passing is often a source of frustration for his teammates and manager alike but there's no doubting the energy he brings to United's engine room.
Darren Fletcher is perhaps the less extravagant but far more reliable option to anchor the midfield. Unfortunately, the fact that he is still making his way back from his bout of ulcerative colitis means that he isn't at his optimum levels yet and won't be used in high-intensity games. United fans will hope that the Scotland captain can get back to his best and feature for the first team on a regular basis.
Regardless of whether they employ traditional wingers or opt for a diamond midfield, a burst of energy in the middle against the stronger opposition will be essential to United's chances in the Champions League.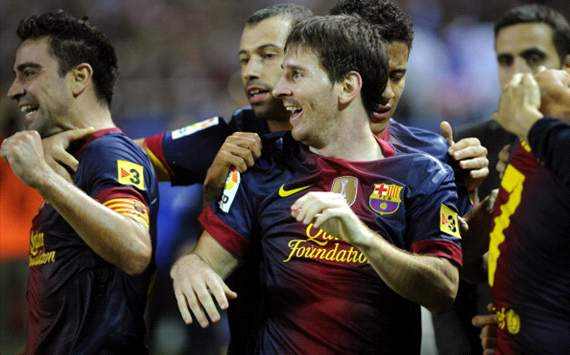 Manchester United can take solace in the fact that they aren't the only major club in Europe who are scoring and conceding goals for fun. Barcelona have suffered their own injury crisis in defence this season which has kept Carles Puyol and Gerard Pique sidelined. They have been conceding plenty of goals but are always capable of out-scoring their opponents. Their 5-4 win over Deportivo La Coruna epitomizes their form this season.
Comparing the two European powerhouses is not the intention here as Barcelona are widely regarded to be a few levels above United. However, their fortunes at both ends of the pitch this season bear a stark resemblance and shouldn't be ignored.
| | | | | | | | |
| --- | --- | --- | --- | --- | --- | --- | --- |
| Team | Games | GF | GA | GF Avg. | GA Avg. | Total Goals | Total Goals Avg. |
| Manchester United | 12 | 29 | 15 | 2.41 | 1.25 | 45 | 3.75 |
| Barcelona | 13 | 35 | 18 | 2.69 | 1.38 | 53 | 4.07 |
From the table above we learn that United's atrocious defending this season has still been a little better than Barcelona's while the Catalans have balanced it out by having a slightly higher goal scoring average. The total goals average of both teams points to the fact that they are two of the most entertaining sides to watch this season.
STAT -
Manchester United have gone behind in 8 of their 12 games this season and have come back to win 6.
Barcelonal have gone behind in 7 of their 13 games this season and have come back to win 5.
Verdict:
Out-scoring the opposition seems to have worked to a certain extent for the Red Devils this season but when facing opposition of the highest calibre, it won't be enough. Keeping their defence fit this season will go a long way to making them contenders for the Champions League but it is too early to tell whether they have what it takes to go all the way. Once the defence is solid and they can beat teams convincingly, maybe they could be within the frame and considered among the favourites to win the coveted trophy.
Can Manchester United win the Champions League if their defence is kept fit? Leave your comments below...

How do you stay up with football when on the move? With http://m.goal.com –your best source for mobile coverage of the beautiful game.