Back in 2004, Rangers fans came closer than anyone knows to the extraordinary prospect of Lionel Messi, or indeed Andres Iniesta, playing on loan at Ibrox
THE REVISED AND UPDATED EDITION OF 'BARCA: THE MAKING OF THE GREATEST TEAM IN THE WORLD' - PUBLISHED BY BACKPAGE PRESS - IS NOW OUT IN PAPERBACK AND ACROSS ALL DIGITAL PLATFORMS

Alex McLeish has always had an adventurous outlook on how to add quality to his squads. He has always loved European football and his early managerial success, at Hibernian in Scotland, centred around his imaginative recruitment of the former France defender Franck Sauzee and Russell Latapy, a magical midfielder from Porto – this when Hibs had been relegated from the Scottish Premier League.
As Rangers manager, he succeeded with Mikel Arteta, a La Masia graduate, Jean-Alain Boumsong and Dado Prso. However, during the 2003-04 season he came closest to the greatest coup of his career.
McLeish recalled: "Jan Wouters was my assistant at Ibrox at the time and I asked him whether or not he knew Frank Rijkaard and if he'd be willing to get in touch to check if there were some quality youngsters who might benefit us because of their talents, but who could gain experience in Scotland before returning to Barca.
"Jan told me that he was slightly friendlier with Rijkaard's assistant, Henk ten Cate, and our scouts had already been aware of Leo Messi's growing reputation at youth level.
"We didn't have a big budget at the time and the previous season we'd taken some bigger-name players on free contracts or low transfer fees but higher wages. This time, we thought that the fans might be a little bit more understanding if we brought younger or less experienced players, but who were evidently of good quality.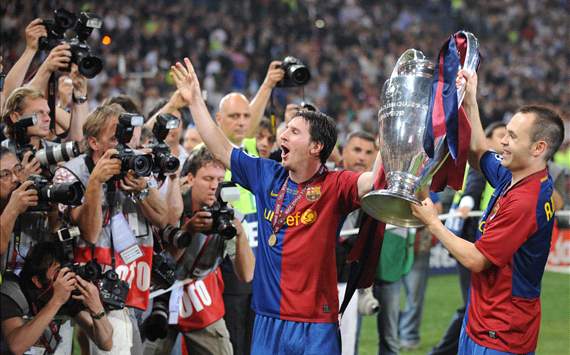 Not all roads lead to Glasgow | The duo celebrate their European Cup win in Rome


"Ten Cate and Jan Wouters had chats about us taking Messi on loan, but the guidance from Henk was that he was probably too young and possibly too slight to get benefit from Scottish football. Our view was that Barca were probably hedging their bets at the time. Even then, they knew how good he was and they must have thought that letting him go to British football might be a risk because of the tough tackling and the physicality, but they were also obviously unsure about how quickly he might actually make the Barca first team. We caught them just in the middle of that process of working out what they wanted to do with Messi, but during the discussions Henk said to Jan that we should do ourselves a favour and take Iniesta on loan instead.
"I think his exact words were, 'This boy is going to be a world beater', which he proved against the Netherlands in South Africa. Henk told us that Iniesta 'sees the picture in front of him', earlier than anyone and that he's got a great pass and an ability to beat people.
"Eventually we made a formal enquiry; I think it would have been towards the end of the 2004-05 season. But Messi played brilliantly in the Youth World Cup and Barcelona were sure that they wouldn't loan him. Then Iniesta scored in a big pre-season game which meant that the club couldn't really loan him out without losing face. It was a pity nothing worked out because I'd been really excited at the idea of one of them coming for a season.
"The other thing about Messi was that my kids were into that Championship Manager game and they'd told me about him when he was only 12 or 13, that he was going to be a superstar."
"The other thing about Messi was that my kids were into that Championship Manager game and they'd told me about him when he was only 12 or 13, that he was going to be a superstar"



- Alex McLeish, former Rangers coach



Ferran Soriano was one of Barca's two vice-presidents at the time and recalls well the fierce debate galvanized by Rangers' determination to take either Messi or Iniesta on loan.
"At the time of the Rangers interest there were lots of discussions about Iniesta. I remember Henk defending his logic saying, 'The guy's small, he doesn't have the strength, maybe we send him elsewhere for a couple of years and then we'll see'.
"He liked Mark van Bommel, for example, a symbol of which is the Champions League final in 2006, where they [Rijkaard and Ten Cate] started with Van Bommel and the game changed when Iniesta came on for him.
"In those discussions about whether to loan to Rangers, history and tradition played a role. I remember [Txiki] Begiristain and [Joan] Laporta, the old guys, the local guys, defending Iniesta very, very strongly and saying, 'No, this guy has talent, he has to stay', and they were proved right.
"It wasn't easy to argue because the guy is small and at the time our rivalry was with Chelsea. We had several Champions League games against them. He was playing against guys like [Michael] Essien, who is three times bigger than him. So, it was a tough debate. Now it wouldn't be an issue, but it was tough then."
www.backpagepress.co.uk
Follow Graham Hunter on