Brendon Netto




Analysis

|

Bundesliga




Follow on

"GOALS win games" - a statement so true, it simplifies the objective of the sport like no other. Whether you elect to punt the ball forward or emulate the 'tiki taka' style of play, at the end of the day its the end product that counts. We, at Goal.com, have an obssession with goals and their importance as our name suggests. While doing our best not to over-complicate things with our infatuation with this partucluar aspect of the game, we will be presenting a statistical as well as tactical evaluation of all the top teams in Europe and will try to render a verdict on where these teams lie in the goal scoring department. Today, we analyse the fortunes in front of goal for a team which has been scoring for fun over the past few seasons. Bayern Munich are desperate to win the Bundesliga this season and they have been the quickest off the blocks.
Even in pre-season, Bayern Munich's deadly force in attack was ominous. Three of their fixtures ended with scorelines that read 11-0, 0-15 and 0-17. An average of 2.30 goals per game over the last three seasons is nothing short of exceptional. However, the German giants have already scored 26 goals in just 8 Bundesliga games this season at an average of 3.25 goals per game. What makes their results all the more impressive is their defensive record which shows only two goals conceded with 6 clean sheets so far.
| | | | | | | |
| --- | --- | --- | --- | --- | --- | --- |
| Season | GS Home | GS Away | Home Avg. | Away Avg. | Total | Total Avg. |
| 2009-10 | 56 | 56 | 2.24 | 2.15 | 112 | 2.19 |
| 2010-11 | 60 | 56 | 2.72 | 2.33 | 116 | 2.52 |
| 2011-12 | 77 | 42 | 2.96 | 1.50 | 119 | 2.20 |
| Total | 193 | 154 | 2.64 | 1.97 | 347 | 2.30 |
In recent times, Mario Gomez has been the premier striker at Bayern. With Jupp Heynckes' men playing with a lone striker, the German international was the ideal front man. An injury has sidelined him for the early part of this season and new signing Mario Mandzukic has done exceptionally well to take his place.
a>
Mario Mandzukic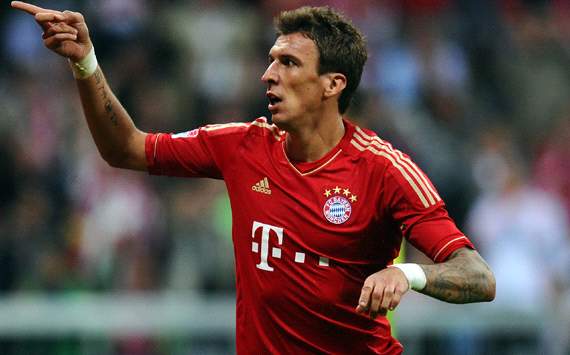 A year wise representation of Mario Mandzukic's contribution, in terms of goals and assists, for Bayern Munich..
| | | | |
| --- | --- | --- | --- |
| Season | Apps | Goals | Assists |
| 2012-13 | 12 | 10 | 2 |
| Total | 12 | 10 | 2 |
Key Figures -
1) Mandzukic has scored a goal every 85.4 minutes so far in his debut season for Bayern.
Mario Mandzukic was one of the stars for Croatia in the 2012 European Championships over the summer and was snapped up by Bayern soon after the tournament. He has started his career in Munich in superb form. He has already reached double figures for the season and it is owing to his prowess in front of goal that Mario Gomez may not walk back into the side when he recovers from his injury.
The Croat has served to emulate Gomez's role in the first team quite accurately. He brings the same sort of aerial ability and physical presence to the attack. He holds up the ball well and can bring his teammates into play. He is also a couple of strides quicker than the towering German and uses that pace to his advantage.
Strengths - Aerial Ability, Finishing, Hold-up play
Area Of Improvement - Dribbling, Creativity, Passing
Recent Form - Mandzukic has been in sensational form for his new club and could not have hoped for a better start. With 10 goals in 12 appearances so far, he has been a brilliant focal point in attack for the team and has served to soften the blow of having Gomez ruled out through injury.
b> Mario Gomez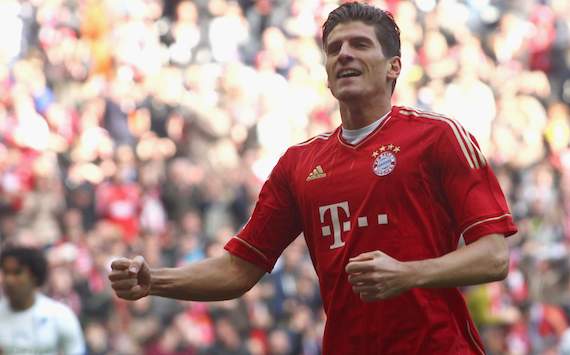 A year-wise representation of Mario Gomez's contribution, in terms of goals and assists, for Bayern Munich..
| | | | |
| --- | --- | --- | --- |
| Season | Apps | Goals | Assists |
| 2009-10 | 45 | 14 | 8 |
| 2010-11 | 45 | 39 | 7 |
| 2011-12 | 52 | 41 | 7 |
| 2012-13 | 0 | 0 | 0 |
| Total | 142 | 94 | 22 |
Key Figures -


1) Gomez has scored a massive
34
% of the
235
goals Bayern have scored over the last two seasons.
Gomez was a talismanic figure for Bayern over the past couple of seasons and his goal scoring record speaks volumes of how much the side have banked on him for goals. The striker's aerial ability has been a feature in the Bayern side in recent times. He anticipates crosses very well and regularly gets on the end of them.
His ability to hold up the ball and bring the players around him into the game has been pivotal to so many attacks the side have thrived on. When he does return from injury this season, he may face stiff competition from Mandzukic for the lone striker role in Bayern's system but seniority will no doubt be on the German international's side.
Strengths - Aerial Ability, Finishing, Hold-up play
Area of Improvement - Dribbling, Creativity, Passing
Recent Form - The powerful striker has been subjected to the sidelines so far this season. He is expected to make a comeback to the first team next month but no date has been specified yet.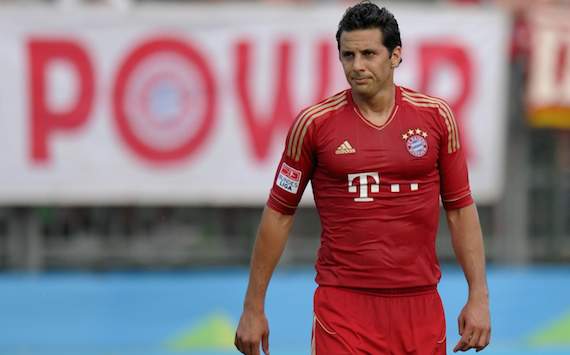 Claudio Pizarro

When Mandzukic and Gomez and both fit and available, Pizarro will have to be content with waiting in the wings. With Mandzukic enjoying a rich vein of form, Pizarro has predominantly been used as a substitute this season and the 34 year old's role on the periphery of the first team looks set to continue.
The attacking options Bayern Munich possess in midfield is capable of rivalling the best in Europe. The central midfield is well equipped with the likes of Bastian Schweinsteiger, Toni Kroos, Javi Martinez and Luiz Gustavo all supremely talented and dominating when slotted in there. The chief creators are Franck Ribery, Thomas Muller and Arjen Robben. Defenders simply cannot live with the attacking trio and keeping them quiet is virtually impossible.
Ribery and Robben bring an abundance of pace and trickery from the flanks while they are both capable of delivering quality crosses into the box and scoring plenty of goals themselves. Thomas Muller is one of the golden boys at Bayern having graduated from their youth system. He has good pace and creativity while his technique is as good as anyone's in world football. The consistency with which he performs stands testament to his level of maturity which extends far beyond his years.
Franck Ribery

Thomas Muller

Arjen Robben

Appearances: 203




Goals: 72


Assists: 104


Appearances: 204




Goals: 73


Assists: 62


Appearances: 98




Goals: 32


Assists: 35

1) Ribery makes an assist every 1.95 games.
2) Arjen Robben either scores or assists once every 1.5 games.
3) Muller has either scored or assisted a goal once every 43.46 minutes for Bayern this season.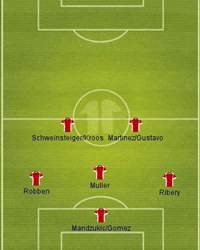 4-2-3-1
Bayern Munich's formation and system is pretty straight forward. The opposition always know exactly how they will set up and what roles will be assigned to each player but that doesn't mean that they can do much to stop them. The quality the German outfit possesses usually comes to the fore and bulldozes any sort of resistance they might face.
The fluidity of the system is second to none as their quality wingers stretch the defence and create spaces in the middle for other players to attack. They are strong all over the pitch and it is exceedingly difficult for the opposition to attempt to block one route to goal as that may leave another route wide open. The pace with which they attack leaves defences in turmoil.
Bayern Munich do not have an ellaborate strike force but an efficient one. They have strikers who fit into the system and finish off the abundance of chances created by their rather ellaborate midfield. The creativity from the supporting cast really does offer the strikers numerous chances served on a platter. Taking into consideration the manner in which they have started this season, this could be Bayern's most prolific season for a while.
Form: 3.5

Aerial Ability: 4.5
Finishing
:
3.5
Overall: 4
Do You Agree With Goal.com Ratings? Don't Forget Let Us Know About Your Views In The Comments Section..
How do you stay up with football when on the move? With http://m.goal.com –your best source for mobile coverage of the beautiful game.