Aditya Bajaj




Analysis

|

Serie A



Follow on
Goal.com continues to bring to you an in-depth statistical and tactical look of the striking department at some of the biggest clubs in Europe. In the latest edition of the Super Striker Series, we post mortem the front liners of one of the biggest and the most widely celebrated Italian club around the world in the form of AC Milan, who have been struggling to come to terms with a sudden but necessary period of transition.


Milan have probably made the worst start to their season in the Berlusconi era. The current team, also touted as the weakest in the Italian business tycoon's time as president, has been so disastrous infront of goal, that one would not need stats to describe the state of affairs at the Via Turati. Having sold, probably the best true striker in the world to PSG, along with the world's best defender in Thiago Silva, no one really expected magic from the club right away, but no one could have imagined that they would stoop down to levels so low that there are already doubts about the remainder of the season where even a Champions League spot looks too much to ask for one of the most successful club in the world.

However, what's been more embarrassing is the fact that the attack has been too shy to score this term, with nineteen year Stephen El-Shaarawy often found showing the big boys how to use their shooting boots. Serie A is a very tactical league, and as it has been noticed in the past, scoring in Italy is not as easy as it outside, but Milan's attacking stats are anything but respectful.

The team has averaged around 1.80 goals per game over three seasons at home, while on the road it has been a paltry 1.47, but this season, it's an embarrassing 0.5 at home and 1.3 otherwise.

Yes, the season is just 7 games young, but the gap between the top team and defending champions Juventus and Milan is already a staggering 12 points, while the Rossoneri are still eight points of course the more realistic target of qualifying for next season's Champions League as they lie as low as 11th on the table, two points better than the last team standing atop the relegation zone.

Enough said about a team that not long ago, was in talks of launching a serious assault on the Champions League this season after a long gap. Yes, they have always been slow starters historically, but this time around things are different and it's evident.
| | | |
| --- | --- | --- |
| Season | Home Average | Away Average |
| 2009-10 | 1.59 | 1.21 |
| 2010-11 | 2.21 | 1.21 |
| 2011-12 | 1.80 | 2.00 |
| 2012-13 | 0.50 | 1.30 |
Milan have been lifeless at home having won just one against Cagliari, in what was a very dead performance while in the Champions League, which by their own admittance, is in their genes, the club managed an embarrassing draw against Belgian champions Anderlecht, somehow scraping through with 3-2 reverse against Russian champions Zenit where many thought they had seen the real Milan albeit for the first 15 minutes or so!
Pippo Inzaghi has retired, Antonio Cassano has once again done what he does best and Zlatan Ibrahimovic has been sold to the big spending PSG. Big pill to swallow for any team that relied on the right mixture of youth and experience, as this season they are led by a has-been wonder kid Alexandre Pato, who is yet to feature for his side, Robinho who is yet to hit the right notes having struggled with injury like his countrymen, Inter Milan cast away Giampaolo Pazzini, former Barcelona by-product Bojan Krkić and a nineteen year old Stephen El-Shaarawy who seems to have benefited the most from the current situation as he has rightfully proved to be the only saving grace for the Rossoneri.

Massimiliano Allegri has used his strike force in everything from a 4-3-1-2 to a 4-3-3 and from a 4-3-2-1 to the currently in fashion 4-2-3-1 in a space of 9 matches all season, obviously stating his desperation as he struggles to find the right formation to best use whatever he has at his disposal.
a) Stephen El-Shaarawy: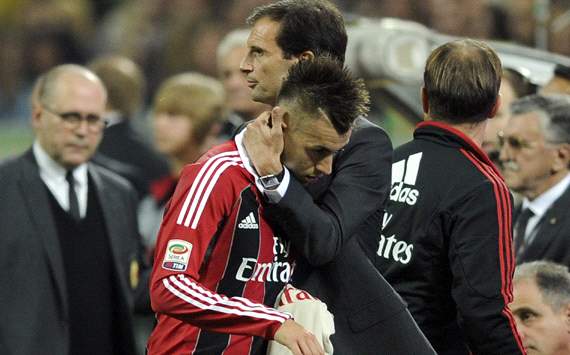 Club
Season

App

Goals
Assists
AC Milan


2011-12

28

4

3

2012-13

8

5

0

TOTAL
36
9
3
Key Figures -
1) He became AC Milan's youngest ever goal scorer in the Champions League at 19 years and 342 days, when he scored their first against Zenit in the second group game of this season.
2) El Shaarawy has been responsible for 57 % of Milan's goals this season, sitting behind Steven Jovetic of Fiorentina who has contributed 63% of Fiorentina's goals.
It was widely speculated that this would be the season of the Pharaoh, and season of the Pharaoh it is. A true opportunist, El-Shaarawy has made the most of the summer's high profile departures and truly leads the line with 5 goals this season in 8 games. He has made the best start by any forward in Milan colours in recent years beating even the likes of Zlatan Ibrahimovic and Alexandre Pato who have led the line in the past.

Not a true striker by any dimension of the game, the Egyptian-Italian forward is a clever support striker who plays off the number nine. He can rightfully claim to have the creative eye of Antonio Cassano and the cutting edge upfront of former Milan legend Andriy Shevchenko just with that extra bit of pace. Was never given much playing time last season, having lagged behind the likes of Ibrahimovic, Robinho and Pato in the pecking order, he has been burdened with the responsibility of being the man in the attack by Allegri, and he has not disappointed the beleaguered coach one little bit. Credited with the duty of 'creativity', the striker has gifted the fans with a lot of goals in a time when the attack is literally going through a period of recession.

He can play as the support striker in a 4-3-1-2, as a winger in a 4-3-3 and in a Cristiano Ronaldo kind of role on the left in a 4-2-3-1, pretty much highlighting his versatility in being a fit in any system the coach wishes to try.
Strengths - Pace, creative instinct, shooting, dribbling, passing.
Area of Improvement - Inexperience, control, passing and stamina.
Recent Form - El-Shaarawy has been a revelation this season, as he currently sits atop the goal scoring charts for Milan with 5 goals in 8 games in all competitions. Still nineteen, the youngster has a lot to learn but with the kind of maturity he has shown, he might just prove to be Milan's knight in shining armour if he continues in the same fashion with consistency. His performances have impressed all and sundry with the likes of Shevchenko already calling him the next generation superstar and a national call up for Italy by Cesare Prandelli shows how highly he is regarded in the peninsula.
b) Giampaolo Pazzini: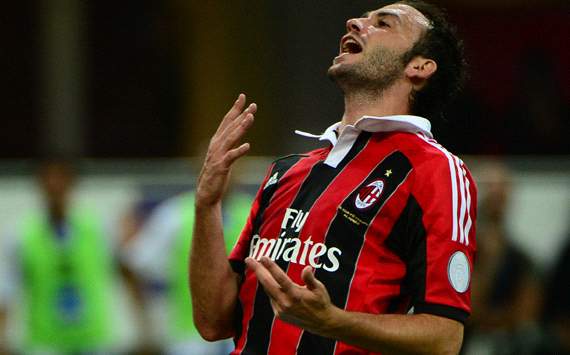 Club
Season

App

Goals
Assists
AC Milan


2012-13

9

3

2

TOTAL
9
3
2
Key Figures -

1) Pazzini hold the record of scoring the first goal and the first hat trick at the new Wembley stadium during a 3-3 draw against the English U-21s for Italy U21.

2) He won the Uefa Under-19 European Championships back in 2003 and a Coppa Italia with Inter during the 2010-11 season.
When Milan swapped 7 million euros and Antonio Cassano with city cousins and rivals Inter Milan back in August, many had suggested that the Nerazzurri had received the better end of the deal with the Pazzini having been treated as nothing but a cast away at the blue of the San Siro. However, on his first start in the red and black, the Italian international scored a hat trick which by no means was impressive, but nevertheless important as it gave Milan vital three points taking off some pressure from Allegri's shoulders. His performance drew comparisons with Milan legend Pippo Inzaghi, with many considering him to be the suitable heir to the former striker who had an eye for goal like no other striker during his prime.

A typical number nine just like Inzaghi, Pazzo's performances ever since have been nothing but that of a pedestrian striker who has often been found wanting on the field with his static play often the problem with the attack. Lacked with a continuous source of service, Pazzini's style of play does not allow him to get more involved with the rest of attack and midfield and in today's game he's a complete misfit for the Rossoneri unless he's provided with an opportunity on the platter.

He is expected to be replaced by Alexandre Pato who is expected back against Lazio after a long injury lay off and if the Brazilian finally manages to shrug off his injury woes, Pazzo will be used as nothing more than an impact substitute, a role more suited to the player supposed to have an instinct for goals at any given time during a match.

A classic striker, but certainly a lot of grades lower than his predecessor Zlatan Ibrahimovic who is easily among the top three players in Europe today.
Strengths - Positional sense, goal poaching abilities.
Area of Improvement - Passing, holding on to the ball, lack of involvement with the midfield.
Recent Form - Pazzo made an impressive start to his Milan career with an important hat trick against Bologna away from home, finally hoping to shrug of his woes that started ever since the departure of Samuel Eto'o from Inter. He has been nowhere involved since then in the scheme of things leaving Milan virtually with 10 players whenever he is given the opportunity to play. Such has been his contribution to the attack since that glorious night against the Rossoblu.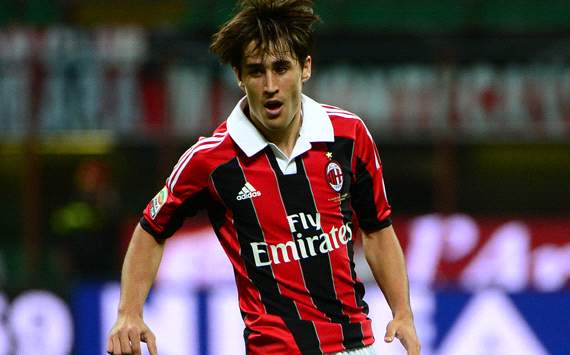 a) Bojan Krkić:
While at Barcelona, he was considered a protégé, coming up through Barcelona's famed youth academy La Masia, he was immediately slotted into the first team when Pep Guardiola took over from Frank Rijkaard back in 2008 as an 18-year old. However, a couple seasons later when former Barcelona B team coach Luis Enrique took over at AS Roma, Bojan was sold to the Italian giants but amidst a very complicated contract whereby, Barcelona still hold a 'buy-back' contract on the player next season, signifying his importance to the Spanish club's plans for him in the future and his potential.
However, a lackluster season in Rome meant he would be loaned back to Milan this season and so far he hasn't really been given that much of an opportunity as was expected when he was brought in as an emergency signing in the dying moments of the transfer window. Best suited to play in a 4-3-3 on either wing, Allegri has used him the lone centre forward in his 4-2-3-1 and his short stature makes him look totally lost amongst the sea of well built defenders in the Serie A.
With the return of Pato and Robinho, he will have more of a role to play from the bench, but certainly not a bad option to increase your squad depth upfront. There's certainly more to come from the 22 year old.
b) Alexandre Pato and Robinho:
Primarily Milan's first choice weapons to lead the attack, the Brazilian duo have barely made an appearance this season due to niggling injuries, hence finding themselves on the bench in our list in favour of Stephen El Shaarawy and Pazzini who have been leading the line in their absence.
There is absolutely no doubt about what this dynamic duo can bring to the side, and with their return certainly Milan will look sharper in front of goal. Pazzini has been wasteful while El Shaarawy is not really a finisher, and with the Brazilian contingent almost ready to get the engines running for the season, with their return Allegri will no longer have an excuse if Milan continue to flounder in attack. Playing a 4-3-3 with Pato in the center of the attack flanked on either wing by El Shaarawy and Robinho will make this team one of the fastest and the most potent attack in the peninsula, even in the absence of Zlatan Ibrahimovic, which pretty much sums up the larger role both Pato and Robinho need to take over, as they are now among the senators in the team and have to rise up to the occasion.
Fans will finally hope to see the real Milan, once the Samba pair is back to lend some much needed flair, pace and edge to an attack which has been anything but lethal so far this season.
Bojan

Pato

Robinho

Appearances: 6




Goals: 0


Assists: 1


Appearances: 143




Goals: 61


Assists: 17


Appearances: 89




Goals: 25


Assists: 20

Having stuck to a rigid 4-3-1-2 all throughout his tenure at Milan, effectively covering up his flaws through Ibrahimovic's brilliance, Allegri has been so far very flexible this season as he continues to work out the right system to support his attack. He has a wide array of midfield to support the men upfront, but at the same time has to make sure it shields a very weak defense at the back with Nigel De Jong and Riccardo Montolivo featuring regularly in the midfield ever since their summer move to the Via Turati.

Kevin Prince-Boateng has been a shadow of himself this season, and there have been doubts as to whether he really was that good or was just made to look that way by the brilliance of Zlatan Ibrahimovic, whose departure has also had similar side effects on Antonio Nocerino who was the bargain of the season last year. Once main reason for Milan's despicable record so far is that along with the service, goals from the these players who were among the best in the league last season, are missing. Boateng has looked clueless all throughout the season while Nocerino has lost his place in the starting lineup, which sums it all for the pair.

Once Pato and Robinho are back, Allegri will probably do well to play a 4-3-3 with Montolivo as the creative lifeline and De Jong and Nocerino shielding the defense alongside the Italian maestro. Boateng was never a trequartista or a playmaker, but he can certainly get back to his previous role as one of the three central midfielders.

Currently however, with Allegri choosing to go with the 4-2-3-1, the Prince plays right in the hole behind the striker and needs to get the wheels running if at all he wants to cling to first team slot.

Milan have enough depth with the likes of Urby Emmanuelson, Mathieu Flamini, Massimo Ambrosini and Kevin Constant waiting in the wings. Captain fantastic Ambrosini still has a role to play in midfield while Emmanuelson has been given enough opportunities to prove his mettle. If only the Dutchman could curb his over enthusiastic approach to the game and be a bit more useful, he could come close to fulfilling his potential.
The Support Cast
Riccardo Montolivo

Kevin Prince Boateng

Nigel de Jong


Appearances: 7




Goals: 0


Assists: 2


Appearances: 69




Goals: 12


Assists: 10


Appearances: 7




Goals: 0


Assists: 0

1) In the 2011-12 season, Antonio Nocerino was the second top scorer in the team with 10 goals to his credit behind Zlatan Ibrahimovic who lead the charts in the Serie A.

2) Kevin Prince-Boateng is yet to score this season even though he has had an average of 4.8 shots on goal per game in 9 matches for Milan.
The Possible Combinations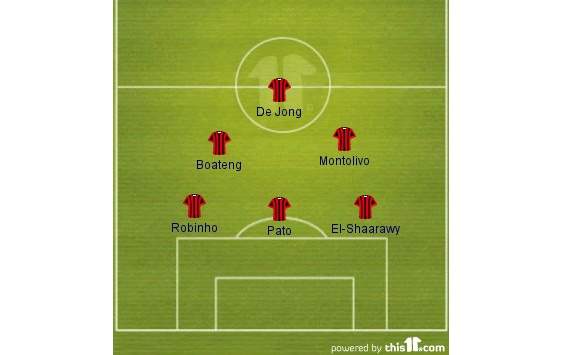 As mentioned earlier, with the return of Pato and Robinho, using a 4-3-3 with 'the duck' as the target man alongside Robinho and El Shaarawy supported by Boateng, Montolivo and De Jong definitely looks like the best option for Massimiliano Allegri, if at all he intends to play to the strengths of his players. He has enough bench strength to replace his first choice players with the likes of Pazzini, Bojan, Ambrosini, Nocerino and Emmanuelson waiting in the wings.
A 4-2-3-1 does not look like a bad option either, but the lack of natural playmaker upfront to play in the hole behind the striker means it may not be as effective as the 4-3-3 which suits the current players more than any other formation. Milan have been masters of possession this season, having had a passing rate of 86%, with a cutting edge in the attack, the only missing link to get back to winning ways.
Milan are yet to fire in all cylinders clearly missing Zlatan Ibrahimovic's magic up front to create goals out of nothing. However, Stephen El Shaarawy has been in fine form and the club can hope he can continue his rich vein of form which will only be helped with the return of Pato and Robinho once they are fully fit and raring to go. If at all they are to make any use of Pazzini, the midfield will have to work harder and there has to be more service down the wings or else he is just a waste of personnel upfront. Bojan looks like an able back up, but that's about it.
With the gap increasing between them and the top pile of the table day by day, and having drawn in the likes of Malaga and Zenit in the Champions League, the seven time European Champions need to wake up and pull up their socks as it would be difficult to recover from the kind of slump they find themselves in.
So far, a disaster but they have improved with every match and will definitely be a different side after the international break is over.
Form:
Aerial Ability:
Finishing:
Overall:
(NB: Ratings based on only the performances of "out and out" strikers and not the supporting team.)
Do You Agree With Goal.com Ratings? Don't Forget Let Us Know About Your Views In The Comments Section..
How do you stay up with football when on the move? With http://m.goal.com –your best source for mobile coverage of the beautiful game.